SMOKING CAUSES COUGHING (FUMER FAIT TOUSSER)
(director/writer: Quentin Dupieux; cinematographer: Quentin Dupieux; cast: Gilles Lellouche (Benzene), Anaïs Demoustier (Nicotine), Vincent Lacoste (Methanol), Jean-Pascal Zadi (Mercury), Oulaya Amamra (Ammonia), Alain Chabat (Chef Didier-voice), Benoite Chivot (Lezardin); Runtime: 77; MPAA Rating: NR; producer: Hugo Selignac; Magnolia Pictures; 2022-France-in French with English subtitles)
"An inconsequential and demented surreal sci-fi comedy."
Reviewed by Dennis Schwartz

An inconsequential and demented surreal sci-fi comedy by French writer-director Quentin Dupieux ("Rubber"/ "Deerskin"). It meanders all over the place to get only a few laughs for its efforts. It never reaches the absurdist highs imagined by Dupieux.

Alain Chabat (only a voice, as a drooling rat puppet) orders the ragtag group of vigilante superheroes called the Tobacco Force – Benzene (Gilles Lellouche), Nicotine (Anaïs Demoustier), Methanol (Vincent Lacoste), Mercury (Jean-Pascal Zadi), and Ammonia (Oulaya Amamra) – to suppress the giant turtle Lezardin with cancer causing chemicals before the alien can destroy the Earth.

What follows such battles is a mandated retreat, where the superheroes rest for their next mission by sitting around the campfire telling campy scary stories of former battles.

It's a goofy film, not for all tastes, aside from being weird it did little for me aside from making me gag at times over its gimmicky presentation. I think its only audience will be found on the underground film circuit.

It played at the Boston Underground Film Festival.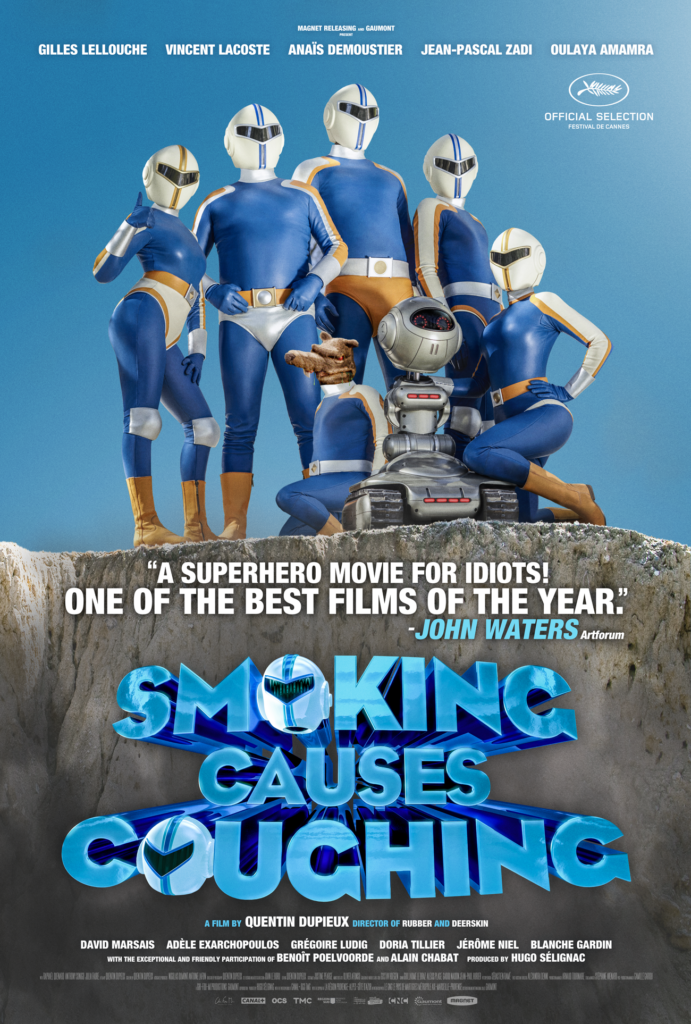 REVIEWED ON 4/10/2023  GRADE: C+