SLALOM
(director/writer: Charlène Favier; screenwriters: Marie Talon/Antoine Lacomblez-collaboration; cinematographer: Yann Maritaud; editor: Maxime Pozzi-Garcia; music: Nicolas Weil/Sylvain Ohrel/Alexandre Lier; cast: Noée Abita (Lyz Lopez), Jérémie Renier (Fred), Marie Denarnaud (Lilou), Muriel Combeau (Catherine), Maïra Schmitt (Justine), Axel Auriant (Maximilien); Runtime: 92; MPAA Rating: NR; producers:Edouard Mauriat/Anne-Cécile Berthomeau; Panache Productions/A Jout2Fete release; 2020-France/Belgium-in French with English subtitles)
"The only thing lacking was a story with more depth."
Reviewed by Dennis Schwartz

Co-writer and director Charlène Favier ("Is everything possible, Darling?") presents an engaging coming-of-age tale about a 15-year-old French skier, Lyz Lopez (Noée Abita), who is drawn into an abusive relationship with her middle-aged French coach, Fred (Jérémie Renier). Favier admits to much of the material drawn from her own personal experiences. It's a well-told downer story but one that needs repeat telling since it keeps recurring in our #MeToo generation. For starters, just think back to the USA Gymnastics scandal that broke in 2016.

Favier's co-writer is Marie Talon. The film is set in the beautiful French Alps.

Fred and live-in partner Lilou (Marie Denarnaud) run a residential skiing program for high school athletes who show enough potential to possibly make France's Olympic team. Those chosen must maintain good grades while training hard. It's a grind without an emotional support system.  Lyz excels as a downhill skier.

Lyz's parents are nowhere to be seen. Her divorced mother (Muriel Combeau) has just landed a new job in far away Marseilles and dad is an absentee. Her coach's young girlfriend Lilou is outgoing and friendly, while the cocky skier hopeful, Max (Axel Auriant Blot), comes on to her but she's not interested. Her best friend at the site is fellow skier Justine (Maïra Schmitt), who offers good advice.
Her manipulative coach, a former pro, is good at his job, who has a tough love approach to his disciplined training program–as he offers an approval-withholding approach to training and pushes the driven athlete to go beyond her limits. Unfortunately, she's naive and he's a professional womanizer, and its questionable if he can be trusted around such a pretty female athlete.

The subdued story held my interest even if it's a familiar one. The location shots are beautiful. The acting by the two main characters is outstanding. The production values for this well-crafted film are excellent. The few skiing shots were well done. The only thing lacking was a story with more depth.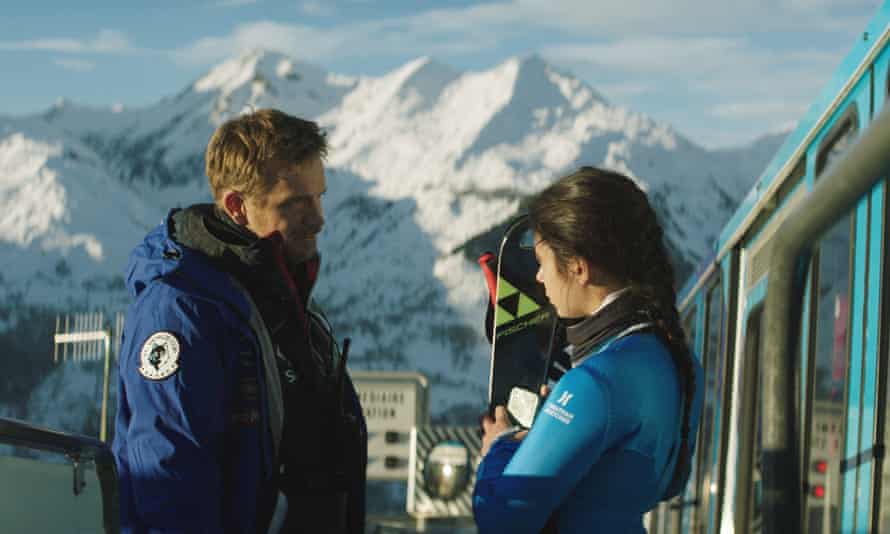 REVIEWED ON 4/11/2021 GRADE: B-