SILVER SKATES
(director/writer: Michael Lockshin; screenwriters: Roman Kantor/based on the Mary Mapes novel Hans Brinker or Silver Skates; cinematographer: Igor Grinyakin; editors: Mariya Likhachyova/ Dmitriy Slobtsov; music: Guy Farley; cast: Fedor Fedotov (Matvey), Sonya Priss (Alice), Yurjy Borisov (Alex), Aleksey Gubskov (Nikolai Nikolaevitc), Kirill Zaytsev (Arkadiy), Cathy Belton (Ms. Jackson), Timofey Tribuntsev (Petr); Runtime: 130; MPAA Rating: NR; producers; Petr Anurov, Nikita Mikhalkov, Leonid Vereshchagin: Kit Film Studio/Netflix; 2020-Russia-in Russian but dubbed into English–there's also a Russian subtitled version)
"It's a tedious romance that has nothing to say and says it for a 130 minutes."
Reviewed by Dennis Schwartz

This is the first Russian Netflix Original. It's also the feature film debut for Russian filmmaker Michael Lockshin, in a bland, overlong, escapist period big-budget romance film modeled after Romeo and Juliet but loaded down with political and obvious truths about women's rights and the horrors of aristocracy. Lockshin co-writes with Roman Kantor. It's based on the Mary Mapes novel Hans Brinker or Silver Skate.

It's 1899 in St. Petersburg, Russia, and the Tsar rules. The fastest skater in town is the 18-year-old Matvey (Fedor Fedotov). He delivers pies for a local baker by skating over the frozen ice, but joins a gang of pickpockets with Marxist beliefs, led by Alex (Yurjy Borisov), after unjustly fired from his job. The skates were given him by his poor, sickly TB father, Petr (Timofey Tribuntsev), the town lamplighter, who needs his son's money to get treatment from a German doctor in Baden Baden.

Alice (Sofya Priss), the wealthy daughter of Minister Nikolai Nikolaevich Vyazemsky (Aleksei Guskov), an aristocratic dignitary who despises free thinkers and radicals, pushes his unhappy feminist daughter to forget about studying chemistry in college and marry a social-climbing count, the handsome Captain Prince Arkadiy Tarisov (Yuri Borisov). He's safe because he's a defender of the aristocratic status quo, who desires the attractive Alice to be his trophy wife.

Matvey meets Alice when he climbs up on her palace balcony after being egged on by the gang. Also there is Arkadiy, who has been placed in charge of the Speed Skating Gendarme Squad. The squad is made up of soldiers with billy clubs skating after the pickpockets and vowing to put an end to them.

But Alice falls for Matvey and goes out with him.

It's a tedious romance that has nothing to say and says it for a 130 minutes.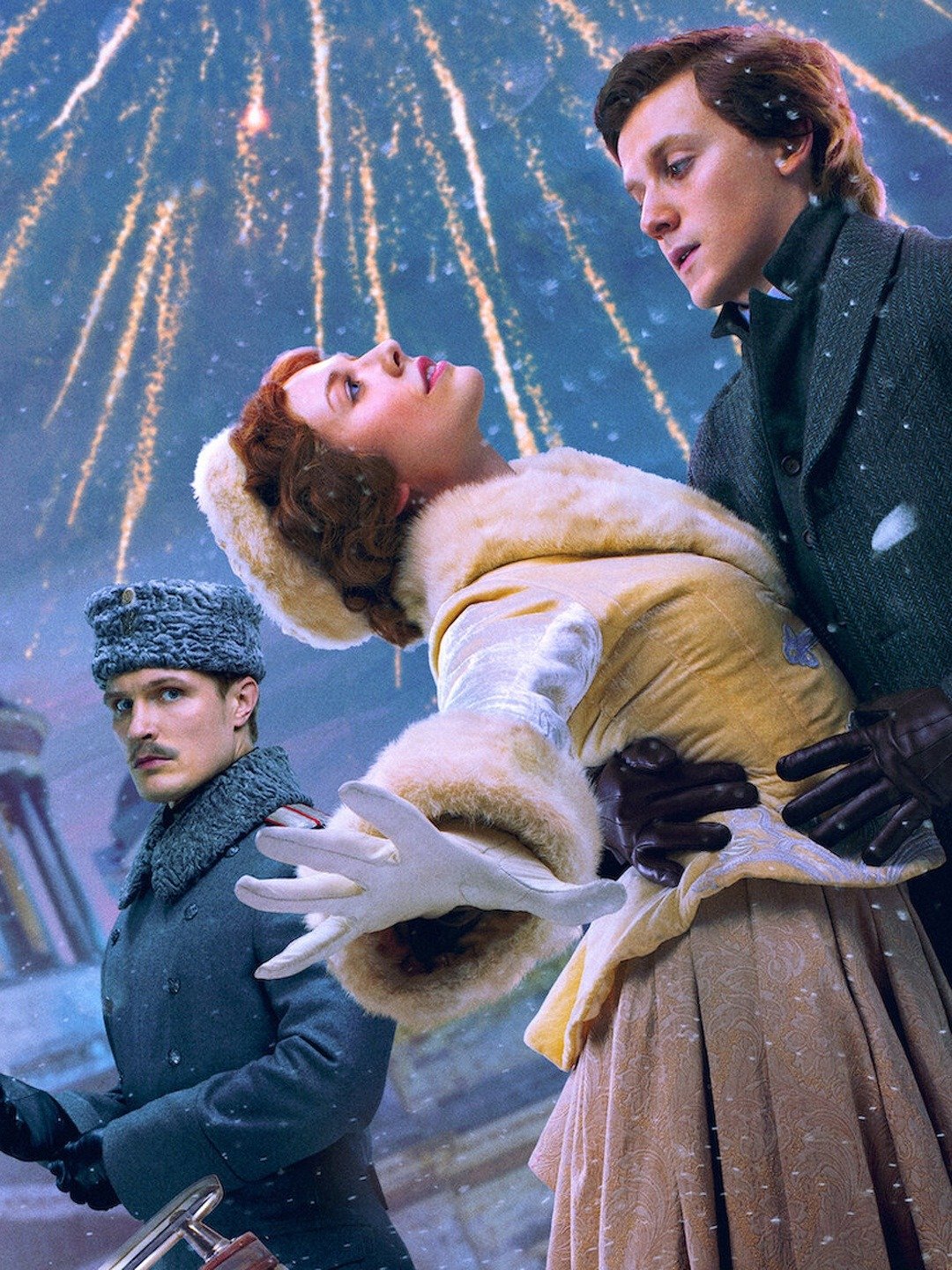 REVIEWED ON 7/1/2021 GRADE: C