SILVER DOLLAR ROAD
(director/writer: Raoul Peck; screenwriter: lizzie Presser; cinematographers: Mayeta Clark, Antonio Rossi, Henry Adebonojo; editor: Alexandra Strauss; music: Alexel Aigul; Runtime: 100; MPAA Rating: PG; producers: Remi Greilety, Blair Foster, Hebert Peck, Raoul Peck; Amazon Studios; 2023)
"Powerful racial justice story about the court fight over a valued waterfront property."
Reviewed by Dennis Schwartz

Documentary filmmaker Raoul Peck ("The Young Karl Marx"/"I Am Not Your Negro") tells the powerful racial justice story about the court fight over a valued waterfront property (65 acres in Carteret County, N.C.) between a shady white land developer (Adams Creek Associates) and a Black family who are fighting to keep the land they inherited in 1865 after Emancipation.

Mamie Reels Ellison's great-grandfather, a former slave, was given the land located on the Silver Dollar Road by the government. The large family of farmers and fishermen have lived on this land for generations, and that they are in danger of losing it because of some trickery doesn't seem right. Historical context becomes part of the emotional court-driven story, as do other social issues.


The legal trouble for the Black family began in the 1970s when a Reels patriarch, Mitchel, not trusting the Southern courts, died without leaving a will. His land though successfully passed onto his children, became challenged in the court when one of the co-owning relatives secretly sold the land to a developer through a legal loophole.


The film however spends most of its time showing us the two women and their relatives as they go about their daily business, as they anxiously wait out the court verdict. There are home videos, old family photos, interviews and a birthday celebration for Mitchel's daughter, the matriarch Gertrude, on her 95th birthday in 2021.
 
All sympathy goes to the Black family in this heartfelt story about racism, the class-divide and the ugliness of gentrification.

It tells the story of the Reels family, as told by Mamie Reels Ellison and her niece Kim Renee Duhon, two resolute Black women fighting to protect their ancestor's land and also their brothers and uncles Melvin and Licurtis, who were incarcerated for eight years for refusing to leave their contested homes.

The Black family of former slaves is in a costly and dispiriting long drawn out fight for the land they rightfully own with the harassing real estate developers, who have deep pockets and cold hearts. The developers are doing everything they can to break the spirit of the Black family. It's plainly a fight against systemic racism that shows the failure of the American justice to work properly.

The film is based on the 2019 ProPublica article and film that highlights the ways the legal system is exploited to limit land ownership in the Black community.

Maybe the film, though effective, was too gentle and should have been more hard-hitting.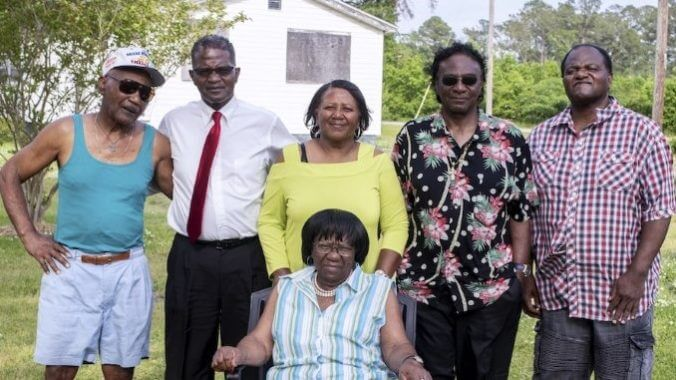 REVIEWED ON 10/21/2023  GRADE: B