SHOWING UP
(director/writer: Kelly Reichardt; screenwriter: Jonathan Raymond; cinematographer: Christopher Blauvelt; editor: Kelly Reichardt; music:Ethan Rose; flute by André Benjamin; cast: Michelle Williams (Lizzy Carr), James LeGros (Ira), Lauren Lakis (Terri), Theo Taplitz (Craig), Orianna Milne (Janet),  Heather Lawless (Marlene), Matt Malloy (Lee), Judd Hirsch (Bill),  Hong Chau (Jo), Amanda Plummer (Dorothy), Maryann Plunkett (Jean), John Magaro (Sean), André Benjamin (Eric), Todd-o-Phonic Todd (Radio DJ), Ted Rooney (Ted); Runtime: 108; MPAA Rating: NR; producers; Neil Kopp, Vincent Savino, Anish Savjani: A24; 2022)
"A film with such a dismissive plot that it shouldn't be good but is very good."
Reviewed by Dennis Schwartz

A downbeat indie art drama about the human condition by the talented filmmaker Kelly Reichardt ("Wendy and Lucy"/"Meek's Cutoff"), in her eight film, that's co-written by her and Jonathan Raymond. Kelly Reichardt and Michelle Williams work well-together for the fourth time in this lightweight but sublime comedy, set in Portland, Oregon. A film with such a dismissive plot that it shouldn't be good but is very good.

The 30-something Lizzy Carr (Michelle Williams) is the stressed-out and struggling introverted sculptor, a secretary at Portland's Oregon College of Art and Craft, who is a week away from opening a new gallery show (with six small ceramic female statues (made for the film by the Portland ceramicist Cynthia Lahti), that could make or break her career. Lizzy is guilt-ridden as she's nursing a wounded pigeon back to health, who was injured in her bathroom by her cat Ricky and when tossed into the street it was returned to her by her irritating landlady (Hong Chau) to nurse back to health. Her nerves are tested when she must deal with her pain in the neck landlady, also an artist, who hasn't gotten around for the last two weeks to fixing her hot water problem (therefore no showers). Meanwhile her temper is tested when Eric (André Benjamin, aka André 3000), an artist and assistant at her school, accidentally ruins one of her statues by leaving it in the kiln too long.


Her mother (Maryann Plunkett), divorced from her sculptor father (Judd Hirsch), is an administrator and her boss in the same college where she works. Her dad has no sympathy for her artistic desires and offers no help to her at this critical time. She must also deal with her troubled bipolar brother (John Megaro), who also has artistic leanings. He is occupied digging a huge hole in his back garden.

What the film lacks in passion, there's plenty of charm to make up for that. It's an easy watch that tells us a lot about the art world.

It premiered at the Cannes Film Festival.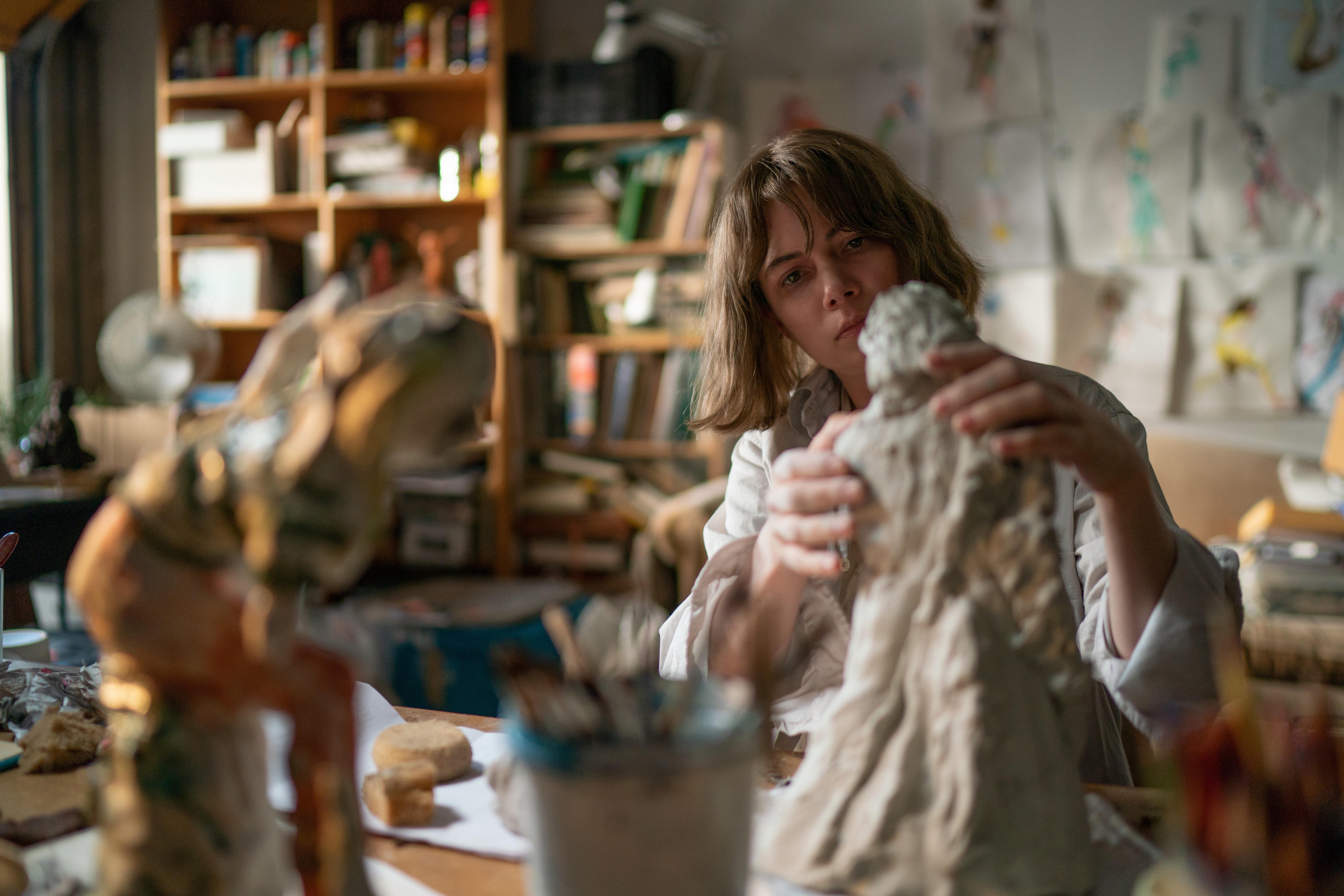 REVIEWED ON 6/14/2022 GRADE: B+