SHIVA BABY
(director/writer: Emma Seligman; cinematographer: Maria Rusche; editor: Hanna A. Park; music: Ariel Marx; cast: Rachel Sennott (Danielle), Molly Gordon (Maya), Polly Draper (Debbie), Dianna Agron (Kim), Fred Melamed (Joel), Jackie Hoffman (Susan), Danny Deferrari (Max); Runtime: 77; MPAA Rating: NR; producers: Lizzie Shapiro/Katie Schiller/Kieran Altmann; Neon Heart Productions/A Utopia Release; 2020)
"Writer-director Emma Seligman's quirky comedy is her impressive debut feature."
Reviewed by Dennis Schwartz

Writer-director Emma Seligman's quirky comedy is her impressive debut feature. It's based on her short film of the same name that played last year's TIFF Next Wave Film Festival.

The bisexual Danielle (Rachel Sennott) is a twentysomething senior at NYU, who still has no major (taking courses in media and feminism).

In the afternoon, there's a graphically shown sexual encounter (filmed in an unclear focus) between Danielle and the older Max (Danny Deferrari) in his apartment, as the part-time pro prostitute and student turns a trick for cash from a regular client. Coming from the tryst to meet her pushy and clueless parents–Debbie and Joel (Polly Draper and Fred Melamed)– to sit shiva (a week long Jewish ritual mourning period) at the home of a relative she hardly knew, after missing the funeral. One of the shiva sitters is her vulnerable ex-girlfriend Maya (Molly Gordon), her former lover, who can't stop staring at her.

The petulant and not particularly likeable coed, whose parents pay her tuition while she complains they treat her as a child, takes in the shiva by treating herself to the bagels and lox, mingling with the other guests she's known forever, and gossiping with them over personal matters while not willing to reveal much about herself.

The young actress brings her internal anxieties out in the open, as she makes the shiva watch all about her in a good cringe-worthy way. To add to her discomfort her sugar daddy Max and his successful shiksa (gentile) wife Kim (Dianna Agron) and their baby enter as unexpected guests. Meanwhile Debbie insists on introducing her daughter to Max, obviously unaware how well she knows him.

It's a squirmy setting, one that remains for the rest of the film–no escape here.

The film's Success hinges in how uncomfortable we are in this setting and still somehow enjoy it. That can be attributed to such a talented filmmaker and actress. While Maria Rusche's handheld camera work, laying on us many mind-blowing closeups of a nervous Danielle, finely reveals the coed's agitation as she becomes more and more rattled as the shiva goes on. The guarded laughs are many and they come at the expense of the viewer's discomfort watching so many flawed characters interact in such a smarmy way.

Shiva baby is a poignant film that shows us a gathering together of family and friends over a burial, whereby the filmmaker doesn't even try to sweeten the characters so we can think better of them. In some odd ways this movie reminds me of The Graduate, where the adult world looks dishonest and detestable, while the young people's world doesn't look all that better or promising.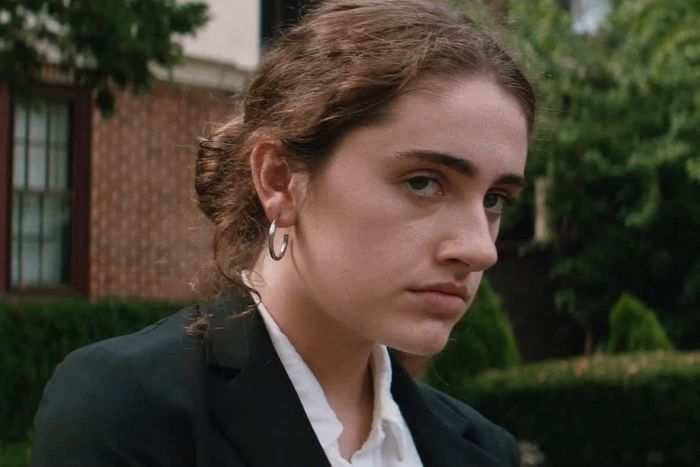 REVIEWED ON 4/9/2021  GRADE: B+