SELF-RELIANCE
(director/writer: Jake Johnson; cinematographer: Adam Silver; editor: Ryan Brown; music: Dan Romer; cast: Anna Kendrick (Maddy), Andy Samberg (Himself, Comedian), Natalie Morales (Tommy's ex-girlfriend), Jake Johnson (Tommy),  Biff Wiff (James), Emily Hampshire (Herself), Mary Holland (Tommy's sister), John Hans Tester (Anders), Bjorn Johnson (Magnus), Makini Manu (Sumo); Runtime: 90; MPAA Rating: NR; producers: Ali Bell, Joe Hardesty, Jake Johnson; Lonely Island; 2023)
"The high-concept comedy sitcom never did anything for me."
Reviewed by Dennis Schwartz

The actor Jake Johnson, star of the New Girl television show, in his directing debut, offers a wacky comedy with a plot that resembles David Fincher's The Game. It opens with a Ralph Waldo Emerson quote: "To be yourself in a world that is constantly trying to make you something else is the greatest accomplishment."

Tommy (Jake Johnson) is an office worker living a boring life that lraves him stuck in a rut while living at home with his mom, and that he has no more contact with his former girlfriend (Natalie Morales) who dumped him.

One day the dark web reality show send the famous comedian Andy Samberg (Himself) to pick him up in a stretch limo and take him to a warehouse in an undisclosed location, where a couple of eccentric TV execs offer him a million dollars to be hunted for thirty days. The trained hunters from around the world can track him anywhere, with only one rule: they can only kill him if no one else is in danger. Thereby if he manages to stay close to someone else — friends, family or even strangers — he should win the million dollar prize. Tommy accepts the challenge.

Tommy tells his family what he signed up for, and they abandon him. He then hires a homeless man, James (Biff Wiff), to be with him at all times. He posts personal ads on Craig-ist to see if someone else is playing this game. He will hear from Maddy (Anna Kendrick), a pathological liar, and learn she's also in this game. The lonely guy will now be accompanied at all times by James and Maddy, and no longer is feeling despondent and lonely. Its theme that friendship is more valuable than money gets played out for whatever its worth.

The high-concept comedy sitcom never did anything for me.
 
It played at the SXSW Film Festival.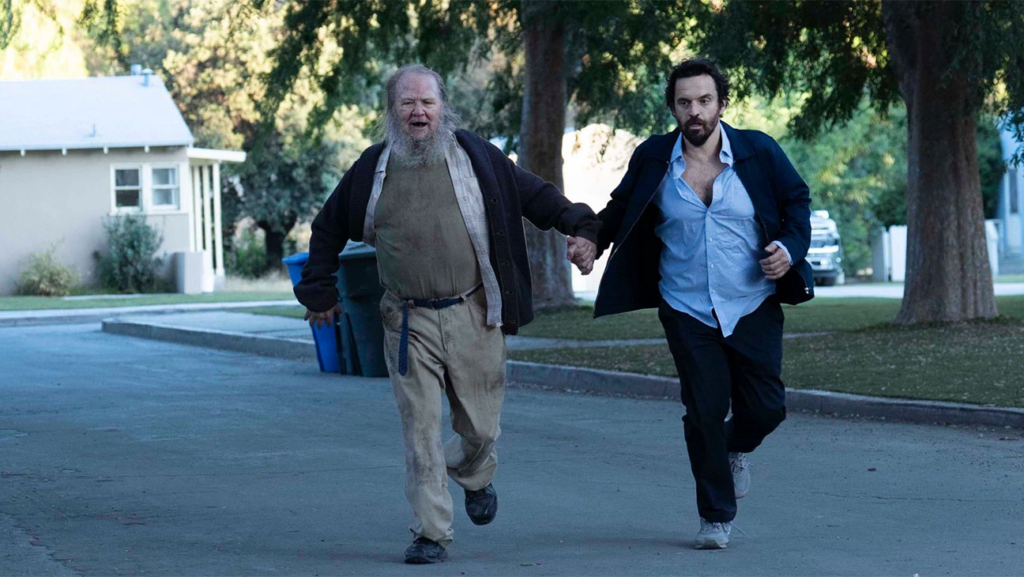 REVIEWED ON 3/16/2023  GRADE: C+