SHERNI
(director/writer: Amit Masurkar; screenwriters: Yashasvi Mishra/Aastha Tiku; cinematographer: Rakesh Haridas; editor: Dipika Kalra; cast: Vidya Balan (Vidya Vincent),Mukul Chadda (Pawan, Vidya's husband), Sharat Saxena (Pintu Bhaiyaa), Brijendra Kala (Banal, Vidya's bureaucrat forest boss), Ila Arun (Pawan's mother), Vikram Malhotra (Nanjia), Vijay Raaz (Hassan); Runtime: 130; MPAA Rating: NR; producers; Amit Masurkar/Bhushan Kumar/Krishan Kumar/ Vikram Malhotra: Skywalk Films/Amazon Prime Video; 2021-India-in Hindu, with English subtitles)
"Could have used more energy."
Reviewed by Dennis Schwartz

Director-writer Amit Masurkar ("Newton") entitles it Sherni (Tigress, which implies it also can be the term for its human heroine). It's based on a story by Aastha Tiku and is written by him, the director and Yashasvi Mishra. It's set in the jungles of Madhya Pradesh.

Vidya Vincent (Vidya Balan) has worked at her bureaucrat forestry office for nine years and is the new female Divisional Forest Officer, who works for a corrupt system and tries to honestly and efficiently do her job while her colleagues accept being part of an old boy's network and all the faults that go with that. Meanwhile her mediocre husband Pawan (Mukul Chadda) only cares that she holds onto to such a well-paying secure job and not stir things up.

She's responsible for bringing in a man-eating tigress killing some villagers and animals while on the loose. Her team plans on bringing the tigress in unharmed and placing her in a national park. But things become more complex when opposing local politicians GK and SK get into the act (making the animal story an election issue). This gives the filmmaker a chance to clue us in on his belief in the conservation of nature, and make the drama in part a satire of Indian bureaucracy and an understated call to action against a nation's greed.

The politicians hire a proud hunter, with a high kill rate, named Pintu bhaiya (Sharat Saxena), who has no interest in protecting wildlife, while the greedy corporations rape the jungles of its natural resources and take away the natural turf of the animals without interference from the power structure.

Heartless developers and environmental activists are pitted against each other and the results are not good for the environment or humanity.

The film offers good insights into cronyism and why the system doesn't work in India, as the meaningless posturing by the politicians highlights how they falsely serve the people.

It's a decent humanistic film (one that could have been better served perhaps as a documentary), with lofty ambitions on saving the planet, that could have used more energy and a sharper edit, as it relentlessly shows that it's the humans who are the enemy (they constructed this unbalanced world and not the wild animals who follow the laws of nature).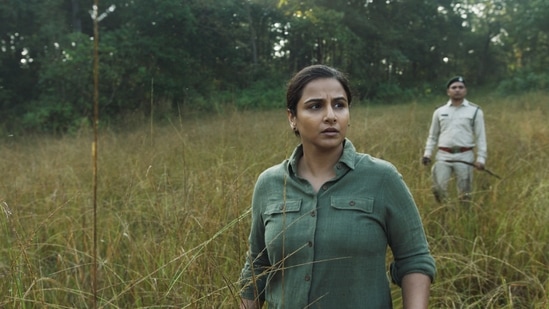 REVIEWED ON 6/22/2021 GRADE: B-