GRAVY
(director/writer: James Roday; screenwriter: Todd Harthan; cinematographer: Amanda Treyz; editor: Abe Levy; music: Curt Smith/Charlton Pettus; cast: Sarah Silverman (Bethany-Lynn Goulsb), Micael Weston (Anson), Jimmi Simpson (Stef),  Sutton Foster (Kerry), Lili Cole (Mimi), Molly Ephron (Cricket), Paul Rodriguez (Chuy), Lothaire Bluteau (Yannick), Ethan Sandler (Bert), Gabriel Luna (Hector),  Gabourey Sidibe (Winketta), James Roday (Marty); Runtime: 95; MPAA Rating: NR; producer: Kerry Rock/Craig Chapman; Shout Factory!; 2015)
"There are films like this one that are both in-your-face dumb and gross."
Reviewed by Dennis Schwartz
James Roday ("Psych") directs and co-writes this campy horror/comedy mess with Todd Harthan. There are films like this one that are both in-your-face dumb and gross.

The sicko tale revolves around a trio of Halloween psychopath pranksters (Michael Weston, Jimmi Simpson and Lily Cole) who on the holiday traditionally feast on  human flesh while costumed as a clown, a cat girl and as Robin Hood.. On Halloween Eve, after the Mexican restaurant closes, the costumed invaders take over Raoul's and bound the manager (Paul Rodriguez), the long-suffering French cook (Lothaire Bluteau), the football-jerseyed bar maid (Sutton Foster), the mouthy obese security guard (Gabourey Sidibe), and the mean-spirited pageant gown attired Cricket (Molly Ephraim). They mistakenly neglect the sickened patron vomiting in the bathroom, who is attired in a powder blue prom tux (Ethan Sandler). This oversight will come back to haunt them.
Sarah Silverman plays a weirdo friendly convenience store clerk, who begins a bizarre romance with Weston.
It's the kind of witless movie that's better off if not made.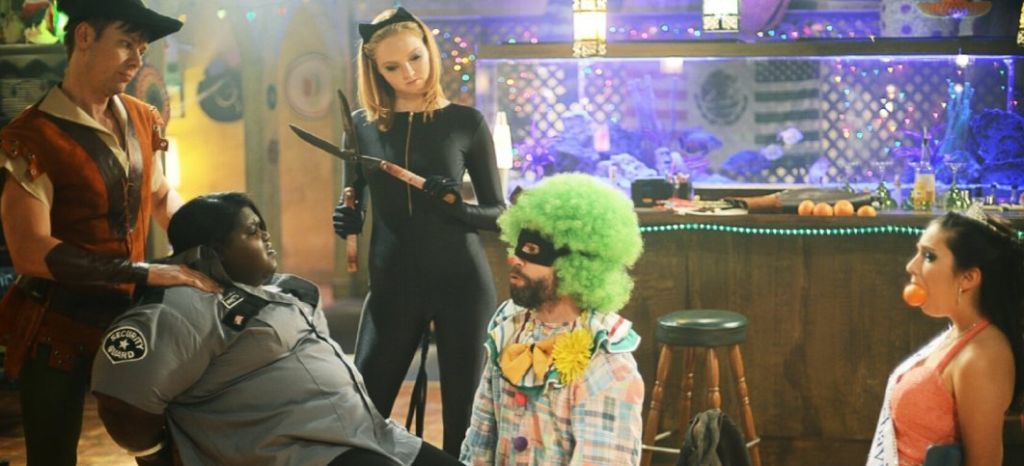 REVIEWED ON 3/24/2017 GRADE: D