SHANG-CHI AND THE LEGEND OF THE TEN RINGS
(director/writer:  Destin Daniel Cretton; screenwriters: story and screenplay by David Callaham and Andrew Lanham/based on the Marvel comics by Jim Englehart & Jim Starlin; cinematographer: William Pope; editors: Nat Sanders/Harry Yoon/Elísabet Ronaldsdóttir; music: Joel P. West; cast: Simu Liu (Shang-Chi/Shaun), Awkwafina (Katy),Tony Chiu-Wai Leung (Xu Wenwu), Benedict Wong (Wong), Fala Chen (Jiang Li), Florian Munteanu (Razor Fist), Meng'er Zhang (Xaling), Michelle Yeoh (Ying Nan), Tim Roth (Abomination), Ben Kingsley (Trevoor Slatterly); Runtime: 132; MPAA Rating: PG-13; producers; Jonathan Schwartz/ Kevin Feige: Walt Disney Pictures; 2021-USA/Australia-in Mandarin and English, with English subtitles)
"Its cultural impact is enormous, as it arrives when hate crimes against Asians in America is on the rise."
Reviewed by Dennis Schwartz
 
Writer-director Destin Daniel Cretton ("Just Mercy"/"The Glass Castle"), an Asian American born in Hawaii to a Japanese mother, shoots for diversification in this M.C.U. film. It's one which is strangely enough about Chinese and not Japanese culture. The Disney people give one of the Marvel little-known Asian heroes full star treatment to rectify the comics' racist past to Asians ( for instance, Shang-Chi's dad was supposedly Dr Fu Manchu, the discredited in modern times racist yellowface, played in film by Peter Sellers).

The comic version was created by Steve Englehart and Jim Starlin that arrived in 1973 with the title The Hands of Shang-Chi, Master of Kung-FuIt'sI. It's taken from a story by David Callaham, and co-written by Cretton, Callaham and Andrew Lanham.

The Chinese Canadian actor Simu Liu skillfully plays Shang-Chi, and becomes the first starring Asian superhero on film for Marvel. Liu plays a young martial-arts expert in denial about his warrior past in this appealing but overly complex plot, that at times shines as a fun action-adventure fantasy film. But, whatever, its cultural impact is enormous, as it arrives in theaters when hate crimes against Asians is on the rise.

Shaun, a.k.a. Shang-Chi (Simu Liu), is viewed as your typical laid back millennial. He's not thrilled but is OK with his dead-end parking valet job for a posh hotel in San Francisco, where he works with his equally apathetic childhood friend and possible love interest, Katy (Awkwafina). Shaun lives a quiet life, bar hopping with Katy on nights off,  keeping to himself the knowledge of his secret from the past—that he comes from a family of warriors. We learn his mom (Fala Chen), a master martial artist died when he was young. While his volatile but at times tender dad (Tony Leung, Hong Kong cinema icon) leads a secret ninja army and possesses 10 magical arm rings that have godlike powers. Also, we learn that that he's been estranged for some time from his fierce fighting sis, Xialing (Meng'er Zhang), who runs an underground fight club.

The film's big fight scene (one of cinema's best, takes place on a city bus, when some six tough guys confront Shaun and Katy and try to rob his pendant–given him by mom. This leads to a brawl, as the vehicle careens downhill out of control, forcing Katy to take the wheel. And it also leads to a revelation about Shaun's fighting past, as he shows he's a master at kung fu by giving the thugs led by Razor Fist (Florian Munteanu) a beating.

Shaun gets back with his sis in Macao when she sends him a cryptic message that she needs his help, as the film builds to its murky and unfulfilling battle-scene in the climax.

Loaded down with too many back stories to follow, confusing details about the warrior family that often don't make sense, too many characters without much personality and an overuse of CGI effect. Despite that the film is still somewhat entertaining. It's charming when jokey and emotionally sound when showing how the son is trying to find his own footing in the world and not be a slave to his family's values.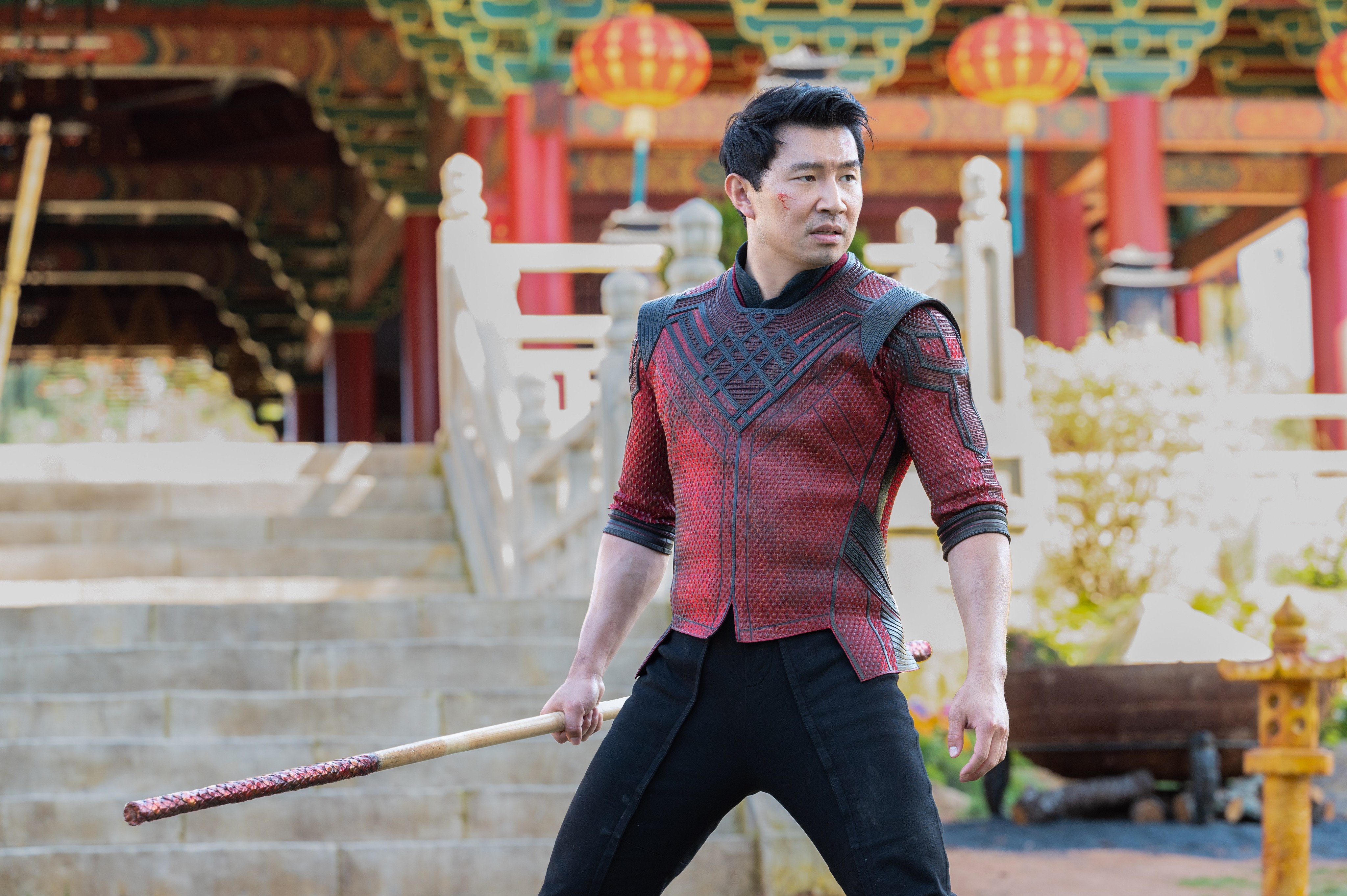 REVIEWED ON 9/6/2021 GRADE: B-