Scales (Sayidat Al Bahr)
(director/writer: Shahad Ameen; cinematographer: João Ribeiro; editors: Ali Salloum, Ewa Johansson-Lind, Shahnaz Dulaimy; music: Fabien Kourtzer, Mike Kourtzer; cast: Basima Hajjar (Hayat), Ashraf Barhoum (Amer), Yagoub Al Farhan (Muthana), Fatima Al Taei (Aisha), Haifa Al-Agha (Sumaya), Rida Ismail ( Hakeem); Runtime: 74; MPAA Rating: NR; producers: R. Paul Miller, Stephen Strachan, Rula Nasser; The Imaginarium; 2019-Saudia Arabia/Iraq-in Arabic with English subtitles-B/W)
"Well-crafted, magical fable with a compelling contemporary feminist message."
Reviewed by Dennis Schwartz
The 31-year-old Jeddah-born Saudi writer-director Shahad Ameen makes her debut feature an impressive one. Her film is a well-crafted, magical fable with a compelling contemporary feminist message. It's an arthouse film that was shot in Oman, on its remote stretch of rocky coastline. The director said her film is an artistic comment on patriarchal societies. She reaches for material from Arabic poetry and folklore, notably the ancient Syrian legend of the sea goddess Atargatis, and expands her 2013 short Eye & Mermaid into this subtly subversive critique of her homeland's restrictive traditional society.

It tells the story of Hayat (Basima Hajjar, who is 15), whose name means "life" in Arabic, a young girl from a poor fishing village who fights for survival to counter the ignorant village tradition of a family forced to sacrifice one of their daughters to appease the supernatural sea creatures (mermaids) who live in the waters where they fish. When saved as a newborn baby from this stupidity by her father Muthanaha (Yaqoub Alfarhan), she remains in the village as an outcast and the family is shamed and the village is cursed. When her mother Aisha (Fatima Al Taei) 13 years later gives birth to a baby boy, Hayat must now escape or be sacrificed or do what she does of hunting down the sea creatures. She thereby gets the approval of the male village elders. Meanwhile, fish-like scales are found on Hayat's legs, strongly suggesting that she may be a mermaid monster herself (Hey, it's only a fairy-tale!).
The film is shot magnificently in black-and-white showing off its otherworldly beauty, with minimal dialogue as an asset, a great expressive performance by Hajjar and a catchy sensual score by Mike and Fabien Kourtzer. It's a pleasure to look at and makes for an enjoyable watch, even if it lacks much substance and loses its initial momentum in the second half.

It premiered at the Venice International Film Festival. I doubt if it has much commercial appeal in the international market, but it's a well-produced film by a talented filmmaker and gives us hope that there are some women filmmakers in a repressive authoritarian country like Saudi Arabia who have the guts to make such a challenging film with hidden political motives.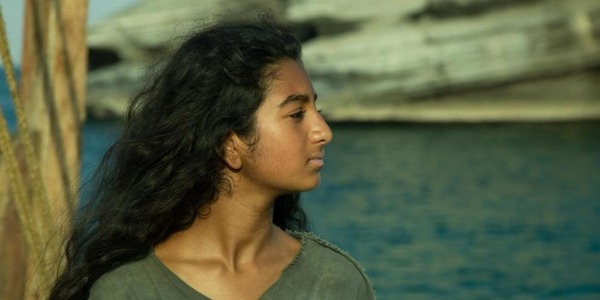 REVIEWED ON 10/28/2019 GRADE: B
https://dennisschwartzreviews.com/