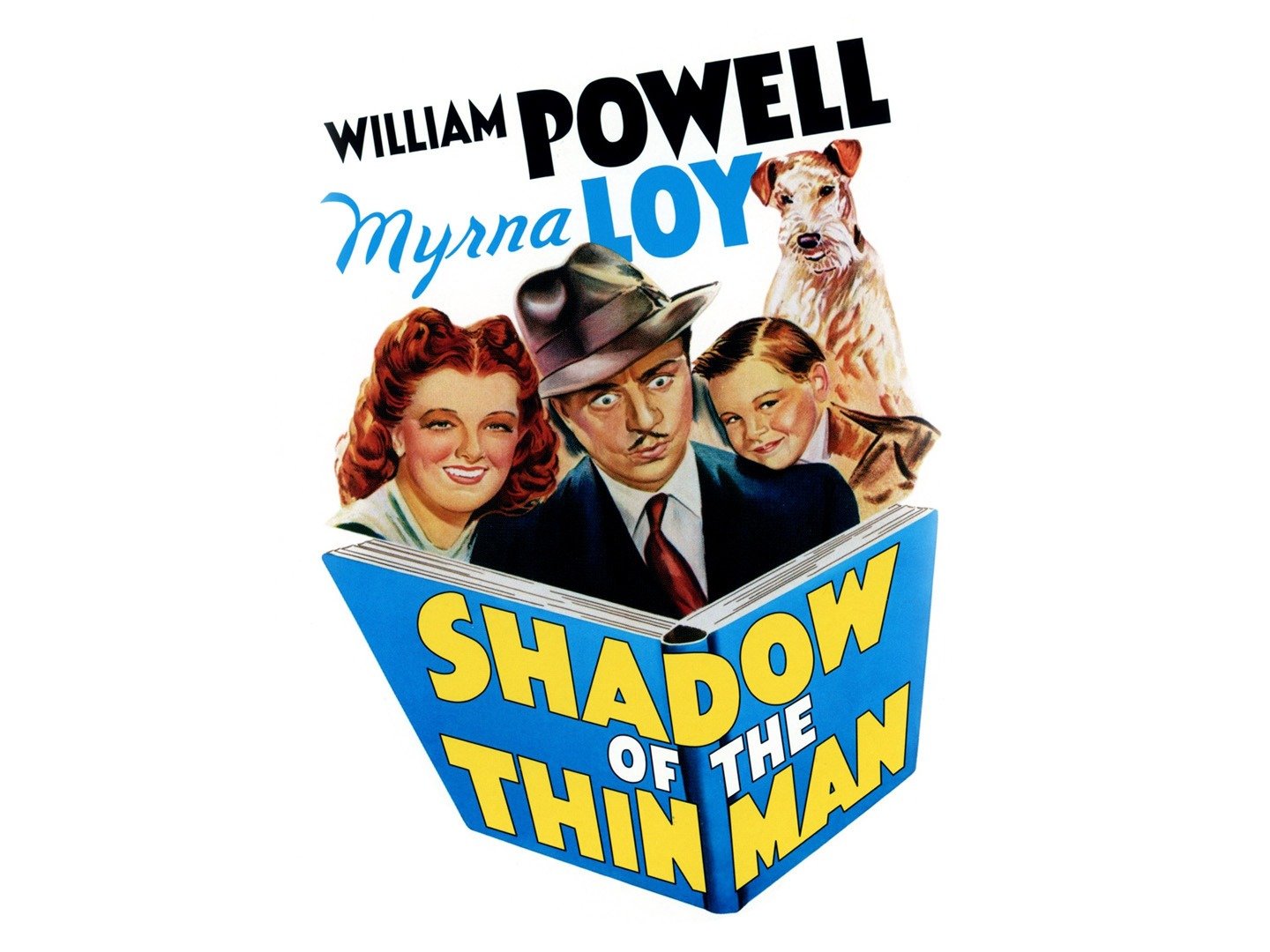 SHADOW OF THE THIN MAN

(director: W.S. Van Dyke; screenwriters: from the story by Harry Kurnitz/Harry Kurnitz/Irving Brecher; cinematographer: William H. Daniels; editor: Robert J. Kern; music: David Snell; cast: William Powell (Nick Charles), Myrna Loy (Nora Charles), Barry Nelson (Paul Clark), Donna Reed (Molly Ford), Sam Levene (Lieutenant Abrams), Alan Baxter ('Whitey' Barrow), Henry O'Neill (Major Jason I. Sculley), Stella Adler (Claire Porter), Loring Smith (Link Stephens), Louise Beavers (Estrellita), Dickie Hall (Nick Jr.), Lou Lubin ("Rainbow" Benny), Joseph Anthony (Fred Macy); Runtime: 97; MPAA Rating: NR; producer: Hunt Stromberg; MGM; 1941)


"It makes for lightweight entertainment."
Reviewed by Dennis Schwartz
This is the fourth of the six Thin Man series made starring the sophisticated world famous private detective Nick Charles (William Powell) and his wealthy socialite wife Nora Charles (Myrna Loy). The winsome combo of Powell and Loy made fourteen films together. It's directed by W.S. Van Dyke from the story by Harry Kurnitz, who is co-writer with Irving Brecher.
This time the couple is in California and the action starts when they attend a local racetrack. There they are met by Lt. Abrams (Sam Levene) who informs them a jockey was murdered in the shower. The next day crusading reporter Paul Clark (Barry Nelson) and Major Jason Sculley (Henry O'Neill), Special Deputy investigating gambling, ask Nick to take the case, but he says he's on vacation and takes Nora to a wrestling match.
Whitey Barrow (Alan Baxter) shakes down money from Claire Porter (Stella Adler, legendary acting teacher of Marlon Brando) and takes her bracelet to pay off a bookie. Then Whitey shows up at the business office of racketeer Link Stephens (Loring Smith) and makes a futile pass at secretary Molly (Donna Reed). She's Paul's girl, who is spying on the racketeer and his partner Fred Macy (Joseph Anthony), and tells him her boss keeps a secret record book locked in his desk. Paul borrows Molly's key and rifles through the office and steals the book. But Whitey enters and the two get in a tussle, with Paul getting knocked out. A third party kills Whitey and places the murder weapon near Paul. Abrams arrests Paul and Nick takes the case to help his friend. When a laundry list is discovered, it leads to bookie Rainbow Benny (Lou Lubin).
By the conclusion Nick gathers all the suspects together in a room and explains how he solved it, to the wonderment of Abrams. It makes for lightweight entertainment involving a couple of murders. There's also the light touch of cocktail loving Nick playing daddy with Nick Jr., as he pretends to read fairy tales to him while reading the racing form, and to please him further drinks milk and rides on the merry-go-round.
REVIEWED ON 8/17/2005 GRADE: B
© ALL RIGHTS RESERVED DENNIS SCHWARTZ