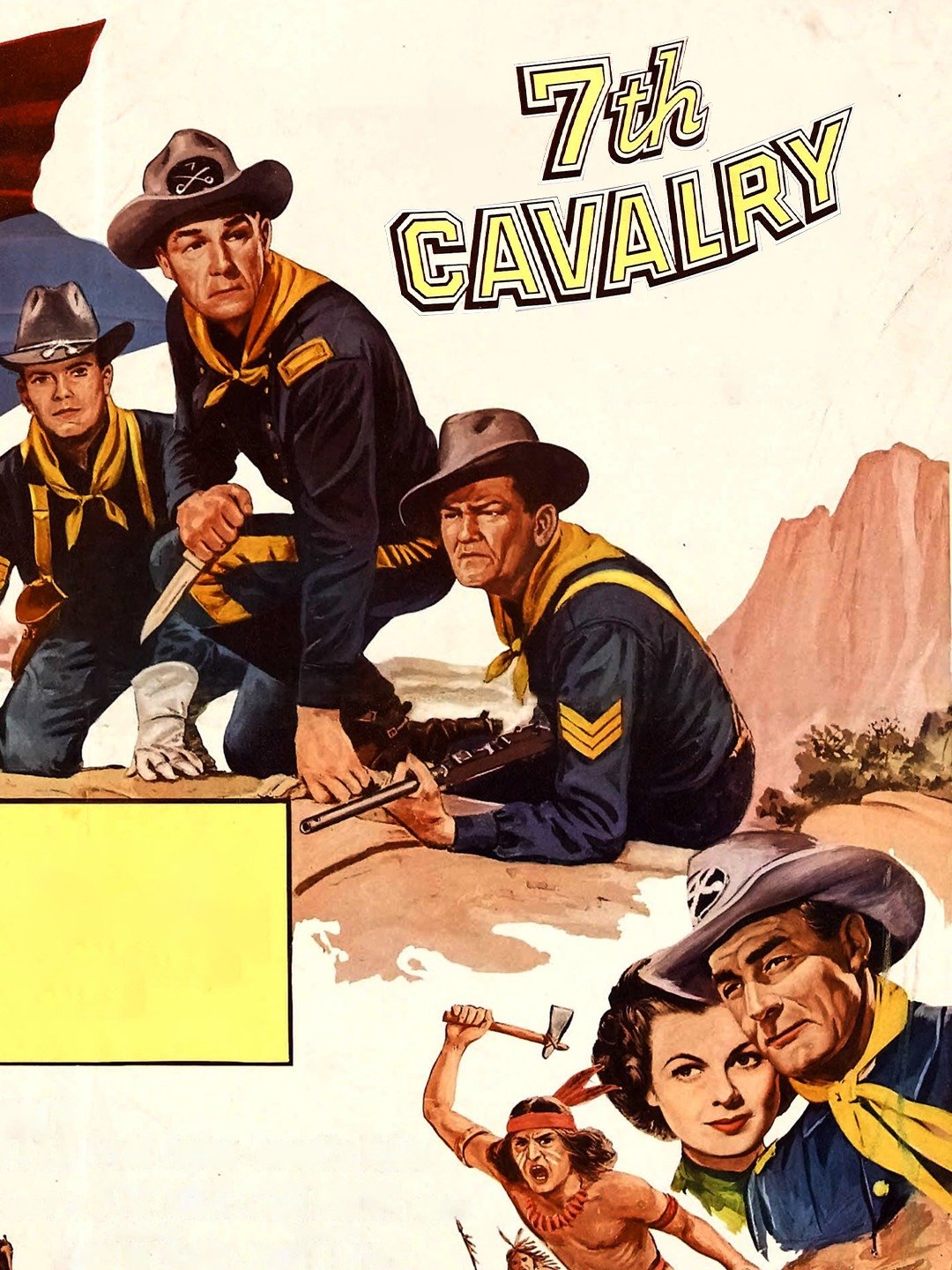 SEVENTH CAVALRY, THE
(director: Joseph H. Lewis; screenwriters: Peter Packer/from the story by Glendon Swarthout; cinematographer: Ray Rennahan; editor: Gene Havlick; music: Mischa Bakaleinikoff; cast: Randolph Scott (Tom Benson), Barbara Hale (Martha Kellogg), Jay C. Flippen (Sgt. Bates), Frank Faylen (Sgt. Kruger), Jeanette Nolan (Charlotte Reynolds), Leo Gordon (Vogel), Denver Pyle (Dixon), Harry Carey Jr. (Cpl. Morrison), Michael Pate (Capt. Benteen), Donald Curtis (Lt. Bob Fitch), Frank Wilcox (Maj. Reno), Pat Hogan (Young Hawk), Russell Hicks (Col. Kellogg); Runtime: 75; MPAA Rating: NR; producer: Harry Joe Brown; Columbia Pictures; 1956)
"A serious work of historical note that is marred only by its contrived finale."
Reviewed by Dennis Schwartz
A serious work of historical note that is marred only by its contrived finale, where we're asked to believe the Sioux and Cheyenne are frightened off from attacking a small cavalry burial detail by seeing a ghost. Joseph H. Lewis ("A Lawless Street") as always exhibits excellent craftsmanship and an ability to tell an engaging story. Writer Peter Packer bases it on the story by Glendon Swarthout. This is the second Technicolor film the noted B-movie director made that starred Randolph Scott. It's a superior Western that focuses on not only the conflict between white man and red man, but the backstabbing that takes place among the officers and the resentment some enlisted men have toward their leaders.
Captain Tom Benson (Randolph Scott) of General Custer's famed 7th Cavalry returns to an almost empty Fort Lincoln after picking up his fiancée Martha Kellogg (Barbara Hale) from Fort Supply, where she resides with her father Colonel Kellogg (Russell Hicks). Benson's stunned to learn that Custer went to battle without him at Little Big Horn, after ordering him to pick up his would-be wife. He's accused of cowardice and for being alive only because he's Custer's favorite by an embittered widow (Jeanette Nolan), whose husband took his place, and a bitter Lt. Bob Fitch who rode with the surviving Major Reno as Custer divided his forces. Also left behind was guardhouse Sergeant Bates (Jay C. Flippen), who along with Sergeant Kruger was asked to guard the goldbrickers, drunks, and malcontents in the stockade. An inquiry is held by Colonel Kellogg to determine why Custer walked into a trap sprung by Sitting Bull and why neither Major Reno or Captain Benteen came to the outnumbered Custer's support as arranged. As for Benson, his direct order by Custer was verbal so he has no proof. That leaves things at a standoff, but with Colonel Kellogg thinking the worse of Benson and not wanting him for a son-in-law.
When the President orders a burial detail to retrieve the bodies of those massacred, the proud Benson, in order to redeem himself, volunteers for this suicide mission and takes along Sergeant Bates and his prisoners. It's a dangerous assignment because the Sioux have declared the place sacred ground and renamed the field Big Medicine, and will not allow any of the soldier bodies to be removed.
It builds to the tense climax where the Indians are ready to massacre the burial detail, but for the fact that courier Corporal Morrison is killed when riding out on General Custer's horse Dandy to tell Benson he witnessed the order Custer gave him and will clear his name. The riderless horse rides through the battle area and the Indians disperse believing the animal is ridden by the ghost of General Custer. When Benson returns with the corpses, he receives an apology from Colonel Kellogg and they drink a toast in honor of Benson's acceptance as a good military man.
REVIEWED ON 3/12/2005 GRADE: A-