COBWEB
(director/writer: Samuel Bodin; screenwriter: Chris Thomas Devlin; cinematographer: Philip Lozano; editors: Richard Riffaud, Kevin Greutert; music: Drum & Lace; cast: Woody Norman (Peter), Cleopatra Coleman (Miss Devine, Teacher), Anthony Starr (Mark, Dad), Lizzy Caplan (Carol), Luke Busey (Brian), Aleksandria Dragova (Sarah), Anton Kottas (Timothy), Steffanie Busey (Brian's Mom), Jivko Mihaylov (Kevin-bunny mask), Iliyan Nikolov (Lucious – cat mask), Aleksander Asparuhov (Sean-pig mask), Victoria Velikova (Princess), Kate Nichols (Princess' mom), Olivia Sussman (Young Sarah-voice) Debra Wilson (Monster Sarah-voice), Ellie Dubin (The Girls Voice), Debora Zhecheva (Class Girl); Runtime: 88; MPAA Rating: R; producers: Roy Lee, Evan Goldberg, Seth Rogen, James Weaver, Josh Fagen; Lionsgate; 2023)
"A creepy horror pic."
Reviewed by Dennis Schwartz

First-time feature director Samuel Bodin helms a creepy horror pic that is a disappointing film under his uninspired direction. The Chris Thomas Devlin scripted film explores themes of childhood innocence and paranoia, but only examines things superficially.

The nerdy eight-year-old Peter (Woody Norman) is a long-haired loner living in the suburbs in a small town called Holdenfield (filmed in Bulgaria). It's a week before Halloween and the kid is bullied in his elementary school and at home is disturbed by noises in the walls of his bedroom at night.


His substitute teacher, Miss Devine (Cleopatra Coleman), believes there's something not right with Peter's home life after seeing his drawings of "Help Me" done in class and visits his home.


His mother (Lizzy Caplan) attributes the noises to his "over-active imagination," while his Dad (Anthony Starr) acknowledges the noises but passes it off as "rats."

In the face of being bullied, the kid reacts by pushing his nemesis (Luke Busey) down a flight of stairs and getting expelled, thereby his parents decide to home-school him. But the vulnerable kid no longer trusts his parents and by them locking him in the basement for his tutoring display bad parenting that is outrageous and hard to fathom.

It's a derivative film, whose story twists weaken a film that had few scares but good performances by Caplan and Norman. It leads to a reveal that is both unfulfilling and obvious.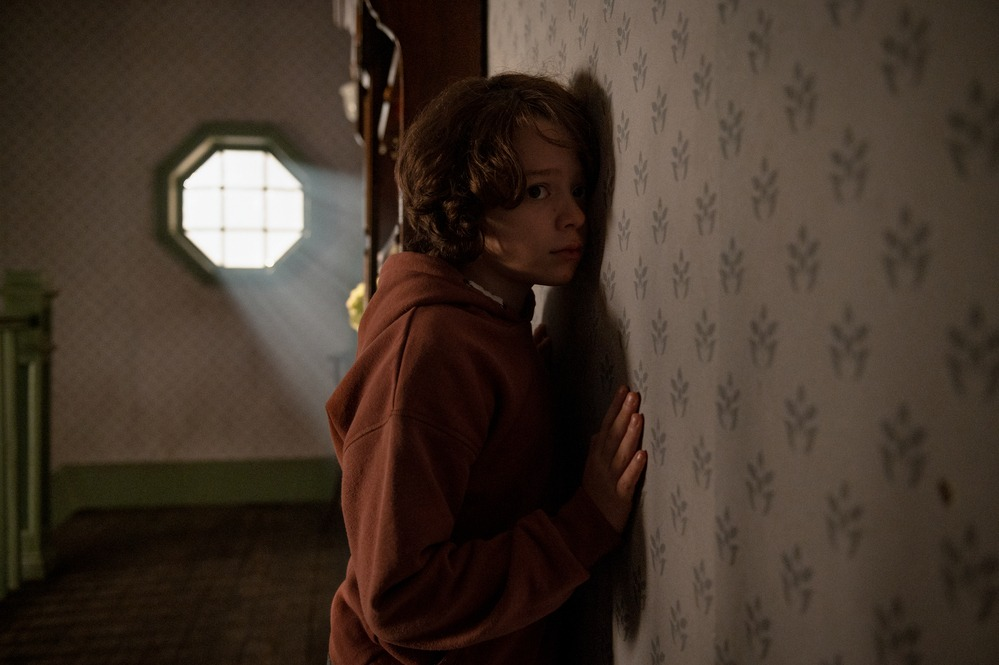 REVIEWED ON 8/10/2023  GRADE: B–