SECRET ART OF HUMAN FLIGHT, THE
(director: H.P. Mendoza; screenwriter: Jesse Orenshein; cinematographer: Markus Mentzer; editor: H.P. Mendoza; music: H.P. Mendoza; cast: Grant Rosenmeyer (Ben Grady), Paul Raci (Mealworm), Lucy DeVito (Gloria), Nican Robinson (Tom), Reina Hardesty (Sarah), Rosa Arredondo (Detective Reyes), Maggie Grace (Wendy), Sendhil Ramamurthy (Roger); Runtime: 107; MPAA Rating: NR; producers: Grant Rosenmeyer, Tina Carbone, Benjamin Wiessner; A Florida Hill Entertainment/City Hill Arts; 2023)
"The goofy conversations between Raci and Rosenmeyer are priceless."
Reviewed by Dennis Schwartz

The queer Filipino filmmaker H.P. Mendoza ("Bitter Melon"/"I Am A Ghost") directs this quirky indie comedy/drama. Jesse Orenshein writes the witty screenplay, weighing in on how some folks handle grief.
 
After the recent death of his 31-year-old wife Sarah (Reina Hardesty), Ben (Grant Rosenmeyer) consoles himself by reading a self-help book that teaches him how to fly. The couple worked together publishing books for children. Ben is left in a deep depression, one that neither his protective sister (Lucy DeVito) nor her husband (Nican Robinson) can snap him out of.

The police detective Reyes (Rosa Arredodo) investigates the death of Ben's wife to make sure of no foul play. Even though Ben is suspected of possibly killing his wife, the eccentric self-help guru, Mealworm (Paul Raci), playing a similar role he did in Sound of Metal, makes home visits to Ben to help him learn how to fly, after Ben contacts him. That is after Ben is intrigued by watching a video of a guy jumping off a cliff and flying.


The goofy conversations between Raci and Rosenmeyer are priceless.


When Ben's new hobby escalates, and healing includes sleeping in the raw on the roof, he soon finds himself placed in the loony bin.
It's an absurdist film that was lucid enough for me to get its point that there are a million ways to deal with grief. Though flying wouldn't be one of my choices, I say why not if it keeps you from falling apart.


It played at the Tribeca Film Festival.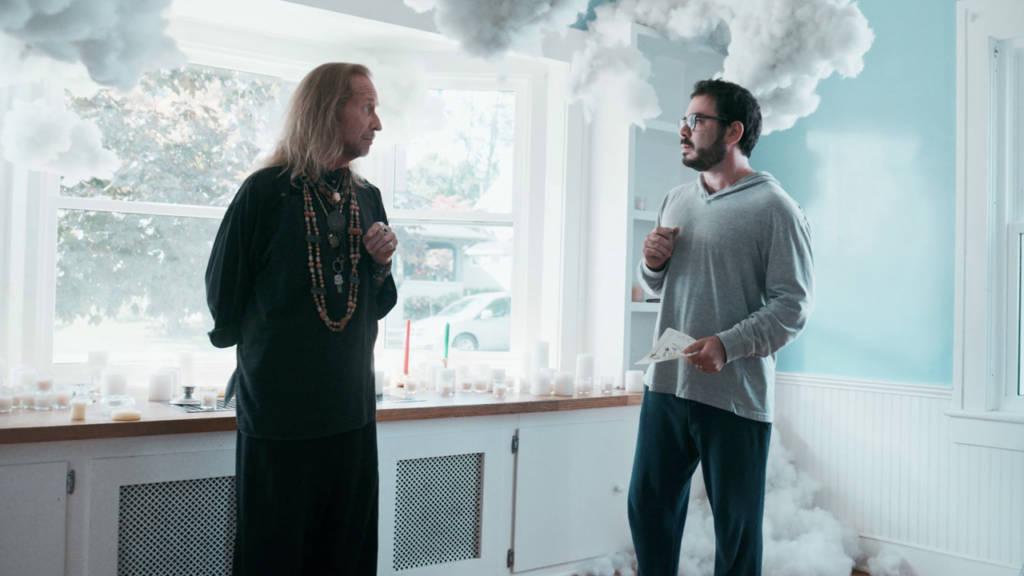 REVIEWED ON 7/7/2023  GRADE: B