SCROOGE
(director/writer: Henry Edwards; screenwriters: H. Fowler Mear/based on Charles Dickens's "A Christmas Carol"; cinematographers: Sydney Blythe/William Luff; music: W. L. Trytel/Walter Meyrowitz; cast: Seymour Hicks (Ebenezer Scrooge), Maurice Evans (A Poor Man), Mary Lawson (Poor Man's Wife), Donald Calthrop (Bob Cratchit), Robert Cochran (Fred), Eve Grey (Fred's Wife), Mary Glynne (Belle), Garry Marsh (Belle's Husband), Oscar Asche (Spirit of Christmas Present), Marie Ney (Spirit of Christmas Past), C. V. France (Spirit of Christmas Future), Athene Seyler (Scrooge's Charwoman, Barbara Everest (Mrs. Cratchit), Philip Frost (Tiny Tim); Runtime: 78; MPAA Rating: NR; producer: Julius Hagen; Paramount; 1935-UK)

"A faithful retelling of Charles Dickens's 1843 Victorian classic novella A Christmas Carol."
Reviewed by Dennis Schwartz
A faithful retelling of Charles Dickens's 1843 Victorian classic novella "A Christmas Carol." It's shot in b/w. It was released in England by Twickenham Studios in 1935, as the first feature-length talkie adaptation of the Dickens classic. The able director is Henry Edwards ("Juggernaut"/"In The Soup"/"The Lad"). The character of Scrooge is played by the eminent British stage actor and playwright, Sir Seymour Hicks, who was born in 1871. The material for Scrooge was based on a stage version of A Christmas Carol, in which Hicks played his signature role of Scrooge. Hicks also was Scrooge in the silent movie version in 1913.
The familiar Victorian moralistic story is about a London miser, Ebenezer Scrooge (Seymour Hicks), who on Christmas Eve is visited by three ghosts, the Ghosts of Christmas Past (Marie Ney), Present (Oscar Asche) and Future (C. V. France), who haunt him and finally convince him to mend his mean-spirited ways and join the human race in celebrating the true meaning of Christmas.
Donald Calthrop plays Scrooge's impoverished clerk Bob Cratchit.
It's not as good as the Alastair Sim 1951 version, but despite being too sentimental it offers solid performances (Hicks is good at doing the nasty). It's a decent holiday watch for the entire family.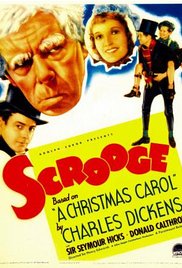 REVIEWED ON 12/20/2014 GRADE: B-