SCREAM
(directors: Matt Bettinellli-Olpin, Tyler Gillett; screenwriters: James Vanderbilt, Guy Busick, based on characters created by Kevin Williamson; cinematographer: Brett Jutkiewicz; editor: Michel Aller; music: Brian Tyler; cast: Neve Campbell(Sidney Prescott), Melissa Barrera (Sam Carpenter), Jasmin Savoy Brown (Mindy Meeks-Martin), Jenna Ortega (Tara Carpenter), Jack Quaid (Richie Kirsch), Mikey Madison (Amber Freeman), Mason Gooding (Chad Meeks-Martin), Marley Shelton (Deputy Judy Hicks), Courteney Cox (Gale Weathers-Riley), David Arquette (Dewey Riley), Dylan Minnette (Wes Hicks), Kyle Gallner (Vince Schneider), Sonia Ben Ammar (Liv McKenzie); Runtime: 114; MPAA Rating: R; producers; James Vanderbilt, William Sherak, Paul Neinstein: A Paramount Pictures release; 2022)
"No need to revive with another version this once popular cheesy slasher flick from 25 years ago."
Reviewed by Dennis Schwartz

No need to revive with another version this once popular cheesy slasher flick from 25 years ago, about a series of senseless murders by a killer named Ghostface in the small suburban town of Woodsboro, in California. A film that now plays as a tiresome re-thread. The first four were directed by Wes Craven (died in 2015). Matt Bettinellli-Olpin ("Ready or Not") and Tyler Gillett("Ready or Not") helm the fifth one, that's written by James Vanderbilt and Guy Busick. The original was created by Kevin Williamson.

It's again set in Woodsboro.
Teenager Tara Carpenter (Jenny Ortega) receives a threatening landline phone call when home alone texting a friend. She doesn't want to talk about slasher films, as the caller asks for which scary film she likes and she replies: The Babadook, followed by It Follows and The Witch.

Pissed-off at her responses, the caller, Ghostface, shows up at  her doorsteps, dressed in a cloak and ghost mask. That's when Tara's estranged sister Sam (Melissa Barrera, steals the flick with a great performance) arrives with her boyfriend Richie (Jack Quaid) and reveals a grim secret about their connection to the original killings. And after some consultation with Tara's friends, Sam asks for help from the veteran cop and Ghostface-nemesis Dewey Riley (David Arquette), whose prior  involvement brings in Sidney Prescott (Neve Campbell, the original Scream maven) and Gale Riley (Courteney Cox).
The old cast members come to the conclusion that they're involved in another sequel to make new fans with a younger cast (which they say with a wink and a nod).
It comes with a twist ending that the studio insists not be spoiled with a spoiler, so we'll leave it at that.
But Craven knew how to mix scares with laughs, the two new directors don't. What they have is a Scream filled with nostalgia that can't stop looking back at its glorious past and trying to reach a new audience with the same magic that drew in its fan base. Instead it has to settle for a film that's inferior to the better made new slasher flicks–as it never gets its plot right (it's not scary and comes with an annoying repetitive story).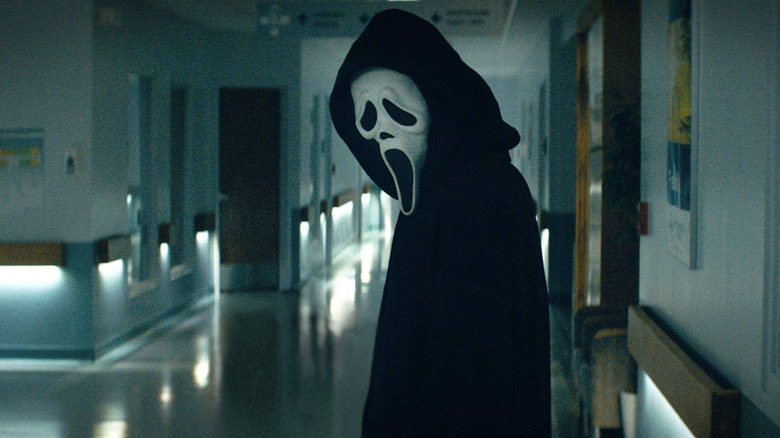 REVIEWED ON 1/15/2022 GRADE: C+