ASTEROID CITY
(director/writer: Wes Anderson; screenwriters: story by Anderson & Roman Coppola; cinematographer: Robert Yeoman; editor: Barney Pilling; music: Alexandre Desplat; cast: Jason Schwartzman (Augie Steenbeck, widowed war photographer of 4 children), Tom Hanks (Augie's father-in-law, Stanley Zak), Scarlett Johansson (Midge Campbell, actress), Jeffrey Wright (General Grif Gibson), Steve Park (Roger), Jake Ryan (Woodrow, Augie's oldest teen son), Grace Edwards (Dinah, Midge's daughter), Tilda Swinton (Dr. Hickenlooper, Daffy Scientist), Bryan Cranston (narrator), Adrian Brody (Schubert Green, TV director), Margot Robbie (TV Actress), Liev Schreiber (Ed, Parent), Hope Davis (Parent), Edward Norton (Conrad Earp. American playwright), Jeff Goldblum (extraterrestrial), Steve Carell (Motel Owner), Maya Hawke (June Douglas, teacher), Hong Chau (Brody's wife), Willem Dafoe (Saltzburg Keitel), Matt Dillon (Hank, mechanic), Rupert Friend (Montana, a cowboy); Runtime: 104; MPAA Rating: PG-13; producers: Jeremy Dawson/Wes Anderson/Steven Rales; Focus Features; 2023)
"Wes Anderson shoots a stylishly playful alien encounter film."
Wes Anderson ("The French Dispatch"/"Isle of Dogs") shoots a stylishly playful alien encounter film. It's set in September 1955 in a fictional pioneer desert town in Arizona, with a population of 87, that has aliens living there. Anderson has a laugh or two as he co-writes this self-reflective and bittersweet sci-fi/family drama with Roman Coppola.

'Asteroid City' is the setting of a black-and-white TV show turning into a film, as written by Ed Norton's legendary playwright, Conrad Earp, and is narrated with some incredulous looks by Bryan Cranston (doing a Rod Serling impression, which says it all). There are freight trains, singing cowboys, atom-bomb tests, military-scientific projects and a giant asteroid crater in the desert–whose city name is derived from what a billboard promotes as the prize local "Arid Plains meteorite."

The film evokes the time when America's frontier was in space.

The action takes place during the annual Junior Stargazer convention to honor the brainy teen amateur astronomers, who attend with their parents and get their award from the daffy astronomer played by the great Tilda Swinton. The covention is held in the basin of a huge meteorite crater, in the desert, that struck there 5,000 years ago.

All the guests for the convention stay at the motel run by the quirky character played by Steve Carell. 
Jason Schwartzman plays the recently widowed war photographer Augie Steenbeck, who not only can't get over his recent loss, but can't even break the news to his 4 children. As his puzzled brainy eldest son Woodrow (Jake Ryan) says to him 'Are you saying our mother died three weeks ago?'
The film's best emotional performance comes from Scarlett Johansson, who plays the tragic figure of the actress Midge Campbell, who has a history with abusive men. She has a young brainy daughter Dinah (Grace Edwards), who hooks up with Woodrow. Maya Hawke and Rupert Friend play a science teacher and cowboy, whose affair blossoms in the desert. Meanwhile Tom Hanks shines as Augie's disapproving father-in-law. In a quickie cameo, Jeff Goldblum pops up as an alien. And, Jeffrey Wright plays the Army general who is the emcee at the convention.
 This Anderson film has as usual the director's need for a large ensemble cast, with many celebrities in cameos–some new to an Anderson film, like Tom Hanks and Steve Carell. It also has all his usual split screens and elaborate homemade designs (ex., toy gas stations).
The cast was quarantined off-set, as well as on it, as it was filmed when the country was in a pandemic lockdown.
The zany film should connect with the iconic director's large fan base and for those viewers who take to his eccentric characters and idiosyncratic storytelling. I wish he expanded some stories to give it more depth, but I was entertained, amused and impressed by all the dazzle.
It played at Cannes.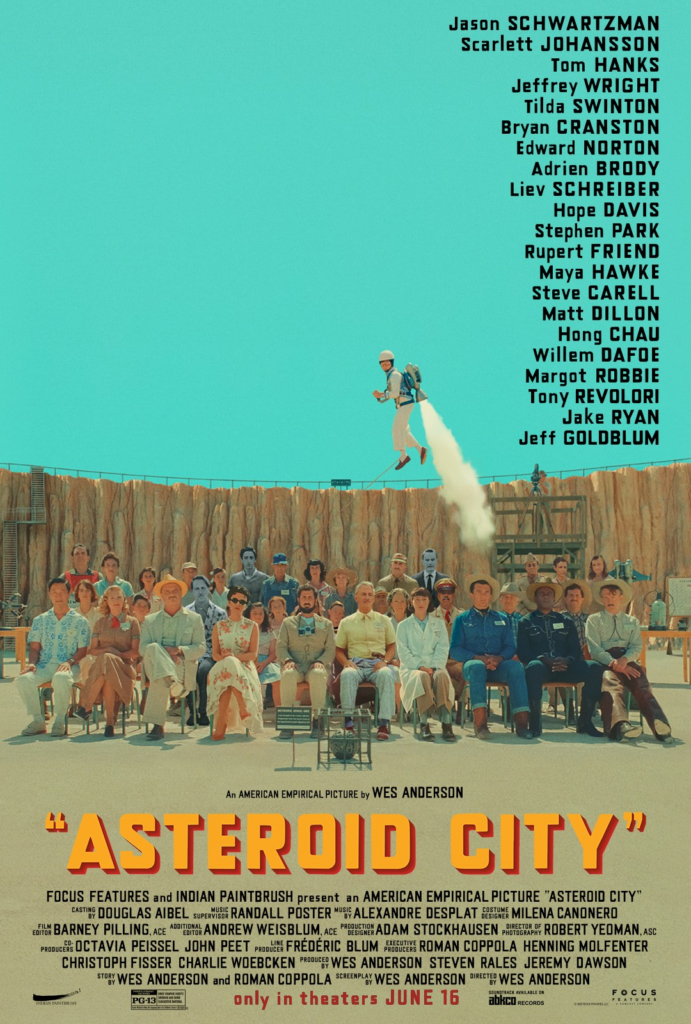 REVIEWED ON 5/27/2023  GRADE: B+