SAGEBRUSH LAW (GUN LAW)
(director: Sam Nelson; screenwriter: Bennett R. Cohen/Morton Grant; cinematographer: Mack Stengler; editor: John Lockert; music: Fred Rose; cast: Tim Holt (Tom Weston), Roy Barcroft  (Carter), Cliff 'Ukele Ike' Edwards  (Ike), John H. Elliott (Mr. Winters), Joan Barclay (Sally Winters), Ernie Adams (Landers), Edward Cassidy  (Sheriff), Meryl Nelson (Stagedriver), John Merton (Burl), Bob McKenzie (Spuds), Otto Hoffman (Doc Crandall); Runtime: 55; MPAA Rating: NR; producer: Bert Gilroy; RKO; 1943-B/W
"B Western."
Reviewed by Dennis Schwartz

Longtime assistant director Sam Nelson, in his lone solo effort, does a nice job with this B Western, though many regarded it as the star Tim Holt's worst one. The screenplay is written by Ben Cohen and Morton Grant.

It's set in the Old West, in the dusty town of Pinto Basin. Tom Weston's dad owns the local bank with his partner Carter (Roy Barcroft ). He's found dead in his office and it's ruled a suicide. Tom (Tim Holt) rides into town to discover his father is dead. The bank books undergo an audit, and they are found to be doctored. Carter and his slimy partner Landers (Ernie Adams) have framed the honest co-owner, and the town is convinced that's the reason for the suicide. His son doesn't believe that for a second and vows to catch the killer and the bank embezzler, and thereby clear his father's name.

When the town riots wanting to pull their money out of the bank and try to hang Tom, the hotel owner Winters (John H. Elliott) and his lovely daughter Sally (Joan Barclay) offer Tom and his partner Ike (Cliff Edwards) a place to stay in their hotel until they catch the bad guys. Tom sets a trap for the killers and in a rousing fight atop the stagecoach they use for an escape, brings them and their henchmen to justice.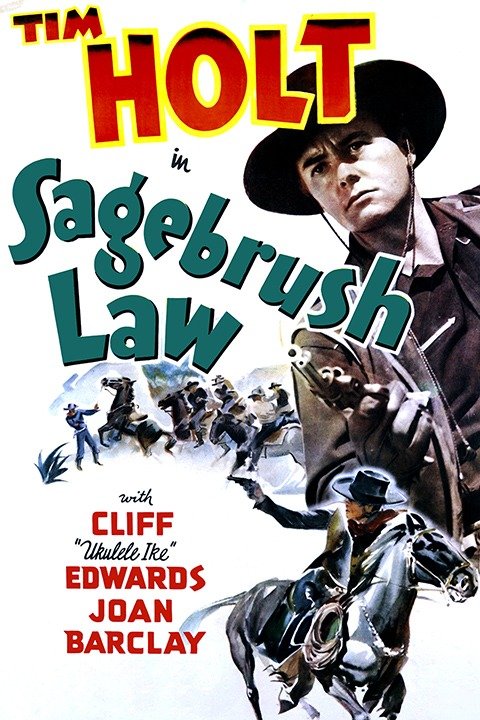 REVIEWED ON 4/8/2018 GRADE: B-