ROJO
(director/writer: Benjamín Naishtat; cinematographer: Pedro Sotero; editor: Andrés Quaranta; music: Vincent Van Warmerdam; cast: Dario Grandinetti (Claudio Morán), Alfredo Castro (Det. Sinclair), Andrea Frigerio (Susana), Laura Grandinetti (Paula), Diego Cremonesi (Diequito/El hippie), Claudio Martinez Bel (Vivas), Rafael Federman (Santi), Susana Pampin (Professor), Rudy Chernicoff (Mago), Mara Bestelli (Mabel); Runtime: 108; MPAA Rating: R; producers: Dan Wechsler/Barbara Sarasola-Day, Federico Eibuszyc; 1844 Entertainment; 2018-Argentina-in Spanish with English subtitles)
"A damning political satire thriller set in 1975 Argentina before the coup of the military junta."
Reviewed by Dennis Schwartz
The 33-year-old Argentinean filmmaker Benjamín Naishtat ("History of Fear"/"The Movement") comes up with a damning political satire thriller set in 1975 Argentina before the coup of the military junta. Naishtat films it in a lively 70s style that blends together the look of both film noir and a spaghetti western.

Claudio Morán (Dario Grandinetti) is a prominent local lawyer from the provincial town of Granada, who gets rich by turning a blind eye to the corrupt ruling right-wing military junta in power and by doing favors for them where he's richly rewarded. He lives a good upper-middle-class bourgeois life with his wife Susana (Andrea Frigerio), choosing not to notice that some of his neighbors have disappeared and the country's moral values have become debased, as he quietly participates in the corruption but still retains an air of respectability. Things surprisingly change for him when he's at a crowded restaurant on a Saturday night and gets in a row over a table which leads to him being violently attacked by an aggressive hippie stranger (Diego Cremonesi). But he refuses to report the incident. Nevertheless things don't end when the stranger is evicted, as three months later there's a second encounter that reveals the stranger has self-inflicted life-threatening injuries and vanishes.
It results in an attention-getting Chilean private detective, based in Buenos Aires, Sinclair (Alfredo Castro), retained to investigate the disappearance of the stranger. The lawyer becomes the prime suspect and is the subject of the private dick's Columbo-like investigation. It comes to the attention of the investigator that the stranger was the brother-in-law of Claudio's friend Vivas (Claudio Martinez Bel) and that at one time Claudio was involved in a shady deal that had him buying on the cheap an abandoned house for Vivas. It's a house whose former inhabitants had vanished and who lost their home in an illegal politically motivated government raid.

Through a number of banal and absurd vignettes, the story of the corrupt regime unfolds and the mysterious disappearance of the stranger begins to get cleared-up, but perhaps not as fast as the viewer wants. But Naishtat is in no hurry to point his finger at all those from the middle-class who have contributed to the country's corruption and downfall, and in the investigation of the disappearances there's difficulty in finding anyone who is pure and innocent in these dark times.

To show these are indeed dark times,an eclipse is shown in which the sun is obscured and everything becomes dark–which is used to symbolize what Argentina has become in this corrupt period.

The Argentinean auteur leaves us to ponder that all the forced disappearances in his country took place with the complicity of society and therefore to just blame the military junta for the downfall of his country is not looking at the total picture.
It's an unnerving and first-rate political film that brings about uncomfortable laughs and needed insights into governments that are not transparent.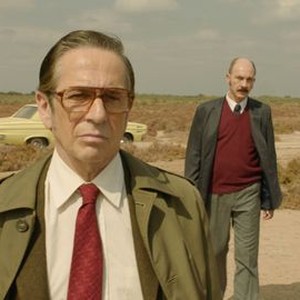 REVIEWED ON 11/14/2019   GRADE: B+   https://dennisschwartzreviews.com/