ROADRUNNER: A FILM ABOUT ANTHONY BOURDAIN
(director: Morgan Neville; cinematographer: Adam Beckman; editors: Eileen Meyer/Aaron Wickenden; music: Sarah Lipstate/Michael Andrews; cast: Anthony Bourdain, Ottavia Bourdain, Christopher Collins, David Chang, David Choe, Iggy Pop,  John Lurie; Runtime: 118; MPAA Rating: R; producers; Caitrin Rogers/Morgan Neville: HBO Max/Focus Features; 2021)
"Neville's upbeat doc might not tell us all we can know about its artistic subject, but it tries to."
Reviewed by Dennis Schwartz

Morgan Neville ("Won't You Be My Neighbor?"/"Best of Enemies: Buckley vs. Vidal") directs this polished and conventional, intimate and revealing, documentary biopic on the celebrated Anthony Bourdain: chef, writer, adventurer, provocateur and CNN travel/food show star of Parts Unknown. Bourdain, while still at the top of his game three years ago, in 2018, at age 61, surprisingly committed suicide (hanging himself in a hotel room), disappointing a vast audience of his followers and his close friends who thought they knew him but evidently didn't.
We learn he had a life of drug use and bouts of depression.
It's a film that perhaps shouldn't have been made so fast after his death to let time settle things down, but nevertheless was made by a top-level documentary filmmaker, whose main purpose was to find out who was Bourdain. The dismay over his death causes one of the film's talking heads, hit hard by the tragedy, the actor John Lurie, in his grief to say: "He committed suicide, the fucking asshole."

The final act of the film, fairly or unfairly, finds those closest to him pissed that their man got involved with the actress/director Asia Argento in a tumultuous romance, someone none of his acquaintances had a good word for or trusted.

The film opens in 1999 during the release of his Kitchen Confidential, a book that literally changed his life, that was the beginning of going from merely a semi-successful but unknown chef in his NYC restaurant to eventually becoming a globally recognized figure. After the book's release it led to talk show appearances, promotional speeches and his activities with A Cook's Tour, No Reservations, The Layover and finally to the popular and critically acclaimed show Parts Unknown.

Through archival footage we see him interact with celebrities and other chefs, TV people (producers and directors), with his brother Christopher and his second wife Ottavia, the mother of his daughter.

The handsome and buoyant Bourdain was witty, charismatic, articulate and highly likable. He had many friends, led an exciting life as a celebrity, appeared on many TV travel shows before hitting it big on his winning CNN show and never let on to those close to him how much he was suffering and needed their help.
Neville's upbeat doc might not tell us all we can know about its artistic subject, but it tries to. The filmmaker paints a good picture of the reluctant celebrity chef as a quality and well-read guy, and gives us a visually refreshing film that we can pause on as we contemplate the life of the public figure we followed and thought we might have known but really didn't.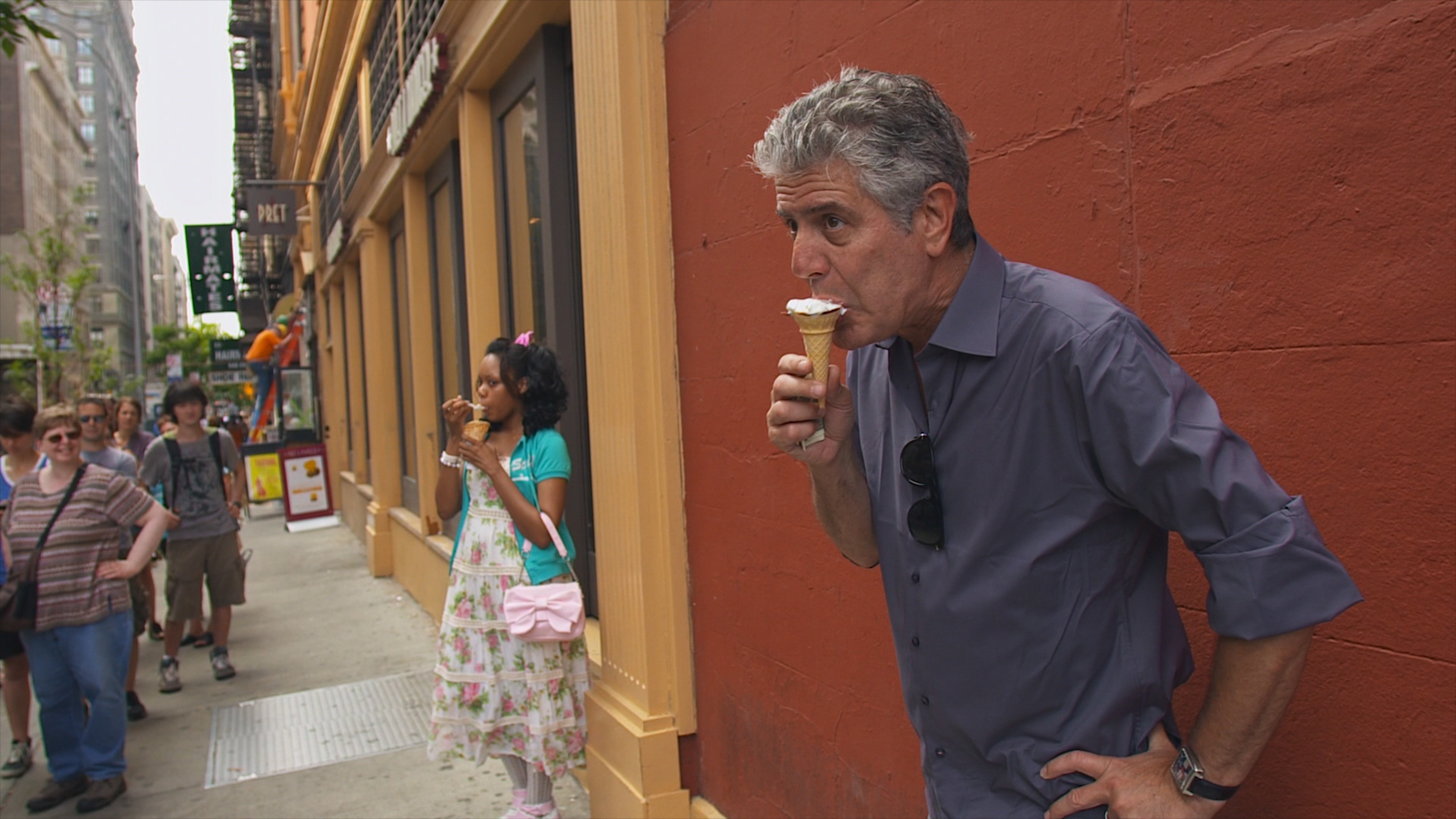 REVIEWED ON 7/17/2021 GRADE: B