OSCAR WILDE
(director: Gregory Ratoff; screenwriters: literary work by Frank Harris/Jo Eisinger/from the play by Leslie & Cyril Stokes; cinematographer: George Perinal; editor: Antony Gibbs; music: Kenneth V. Jones; czst: Robert Morley (Oscar Wilde),  John Neville (Lord Alfred 'Bosie' Douglas), Phyllis Calvert (Constance Wilde), Edward Chapman (Marquis of Queensberry), Alexander Knox (Sir Edward Clarke), Wilton Morley (Cyril Wilde), William Devlin (Solicitor-General), Robert Harris (Justice Henn Collins), Henry Oscar (Justice Wills), Martin Benson (George Alexander), Dennis Price (Robert Ross), Stephen Dartnell (Cobble), Ronald Leigh-Hunt (Lionel Johnson), Martin Boddy (Inspector Richards), Leonard Sachs (Richard Legalliene), Tom Chatto (Clerk of Arraigns); Runtime:105; MPAA Rating: 96; producers: William Kirby/Jo Eisinger/Gregory Ratoff; Vantage Films/Four City Enterprises; 1960-UK-B/W)
"A competent and well-acted production of the infamous homosexual scandal of the 1890s in Victorian England."
Reviewed by Dennis Schwartz

In the Gregory Ratoff ("Taxi"/"Black Magic") directed biopic on Oscar Wilde, Robert Morley plays the witty homosexual playwright and novelist, as he reprises the role he played on the London stage in the play by Leslie & Cyril Stokes and as Jo Eisinger writes the engaging script.


The married to Constance (Phyllis Calvert), with a son, 40-year-old Oscar, has a gay affair with his twenty-something aristocratic admirer Lord Alfred 'Bosie' Douglas (John Neville). It takes place in London at the turn of the 20th-century.


Bosie's father, the Marquis of Queensberry (Edward Chapman), loudly goes after the playwright for having a homosexual relationship with his son. He angers Oscar to the point where he sues the irate dad for libel. When he admits to be queer in the court case, there's a second trial in which he loses and is sent to prison for being a homosexual.


It's a competent and well-acted production of the infamous homosexual scandal of the 1890s in Victorian England. Morley has a silver tongue, delivering a knock-out witty performance.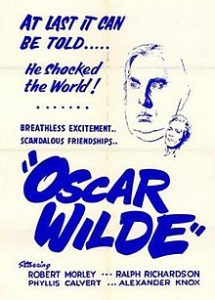 REVIEWED ON 2/8/2023 GRADE: B+