REPORT, THE
(director/writer: Scott Z. Burns; cinematographer: Eigil Bryld; editor: Greg O'Bryant; music: David Wingo; cast: Adam Driver (Daniel J. Jones), Jon Hamm (Denis McDonough), Annette Bening (Senator Dianne Feinstein), Sarah Goldberg (April), Michael C. Hall (Thomas Eastman), Douglas Hodge (James Mitchell), Fajer Kaisi (Ali Soufan), Ted Levine (John Brennan), Jennifer Morrison (Caroline Krass), Tim Blake Nelson (Raymond Nathan), Linda Powell (Marcy Morris), Matthew Rhys (New York Times Reporter), T. Ryder Smith (Bruce Jessen), Corey Stoll (Cyrus Clifford), Maura Tierney (Bernadette), Ratnesh Dubey (Khaled Sheikh Muhammad), Scott Shepherd (Senator Mark Udall), James Hindman (Inspector General Buckley), Kate Beahan (Candace Ames); Runtime: 119; MPAA Rating: R; producers: Steven Soderbergh, Jennifer Fox, Scott Z. Burns, Kerry Orent, Michael Sugar, Danny Gabai, Eddy Moretti; Upbranded Pictures/Amazon Studio; 2019)
"Though it's dry in tone, at times leaden in execution and with much too much talk, it's still an engrossing look at how the system is manipulated by the two major parties."
Reviewed by Dennis Schwartz
A cerebral low-key political thriller that dramatizes actual events and tells how the political process works in Washington. It's crisply written and directed by the Steven Soderbergh's screenwriter protege Scott Z. Burns ("PU-239"), and plays like a docudrama as it tries to be another Spotlight in impact but can't quite get there probably because it's not a newspaper film. But it can certainly be viewed as an update of Alan J. Pakula's All the President's Men. Though it's dry in tone, at times leaden in execution and with much too much talk, it's still an engrossing look at how the system is manipulated by the two major parties and of their lack of accountability and transparency. It also points out how oversight is often not used to find the truth when it should be part of the regular political process. But it can be a difficult watch, with too many flashbacks that confusingly take us back and forth in time. Also, it will reach a limited audience and thereby only preach to the choir.

After being lied to and made to swallow unethical government programs from both parties for as long as I can remember it's, at least, good to have such a level-headed, smart and lucid film look into such vital matters that concern the nation. I look at The Report as a no-nonsense public service educational film, something needed in these dark days of America's plunge into possible fascism in the crazed Trump administration with its fearful, whiny, lying, unfit, egomaniac, mental case, conman leader.

The hard working and driven Daniel Jones (Adam Driver) is the idealistic staffer researcher for California's calculating senior Democratic Senator Dianne Feinstein (Annette Bening), more interested in her re-election than anything else. Jones is tasked by her to work with a small team to look into the controversial CIA's Detention and Interrogation Program. In his 6-year investigation, beginning in the years after 9/11, he issues with his team a 6,700 page report on the subject and finds out how brutal, ineffective and illegal are the 'enhanced interrogation techniques' (torture/waterboarding) that were carried out in the Bush/Cheney administration by the CIA after 9/11. When the Senate Intelligence Committee in 2014 attempts to release the results of his report, both the CIA and the White House (the Obama WH) prevent it from going public. Though the ineffective in foreign policy President Obama at least abolished.the program.

The film refuses to sensationalize its shocking findings, but nevertheless tells us things we need to know about the political process. For instance, the report mentions that the ineffective enhanced interrogation technique was developed by two amoral psychologists, Bill Mitchell (Douglas Hodge) and Mitchell Jensen (T. Ryder Smith), which soaked the American taxpayers for $81 million.

The lesson learned is that not all pictures have to be entertaining to reach us. But the inexcusable fault of the film is that despite its fine reporting it lets both the Bush/Cheney and Obama regimes off the hook for either being complicit in committing the war crimes or burying the report. Burns refuses to choose sides and remains uncritical when he should be critical. Instead The Report thrives on a brilliant Adam Driver's single-minded restrained performance, who can be viewed as an honest stand-in for the public and a voice of reason at a time when reason is questioned.

The large supporting cast gets credible performances in particular from the following: Corey Stoll, who plays Jones's pragmatic lawyer Cyrus Clifford; Jon Hamm cloyingly playing the National Security Adviser Denis McDonough in the Obama WH, who disses Jones for his calling for Bush & Cheney to be charged with war crimes, which is likened to the kind of partisan politics that Obama does not want to be associated with; Ted Levine who makes for an officious C.I.A. Director John Brennan; and, Matthew Rhys as the hotshot NY Times reporter who would kill for a scoop.

One of the film's big problems is that the country's big problem is now dealing with a dangerous madman loose cannon President and it's hard to care that much about the past misconduct of Bush/Cheney when faced with today's ongoing misconduct.The Report has been released too late to get all worked-up over its no longer shocking findings, especially when nothing anymore can be done about them.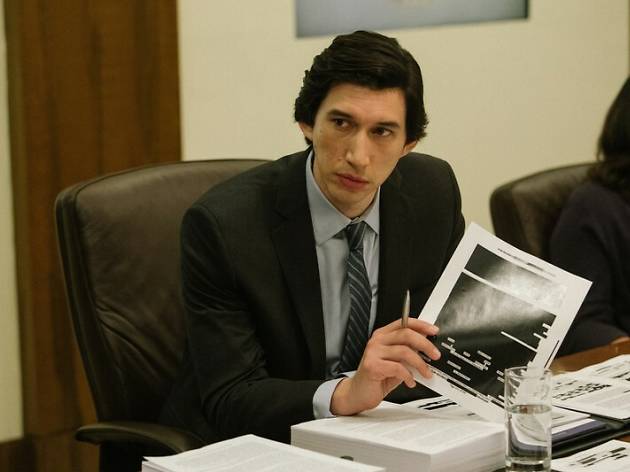 REVIEWED ON 11/12/2019 GRADE: B- https://dennisschwartzreviews.com/