RENT-A-PAL
(director/writer: Jon Stevenson; cinematographer: Scot Park; editor: Jon Stevenson; music: Jimmy Weber; cast: Wil Wheaton (Andy), Brian Landis Folkins (David), Amy Rutledge (Lisa), Lucille (Kathleen Brady); Runtime: 108; MPAA Rating: NR; producers: Annie Baker/Jimmy Weber/Jon Stevenson/Brian Landis Folkins/Brandan Fryman;  IFC Midnight; 2020)
"While being strangely funny, it tackles serious themes over mental health issues, depression and loneliness."
Reviewed by Dennis Schwartz

Jon Stevenson, a former cinematographer, is writer, editor, co-producer and the first time director of this endearing oddball black comedy.

The thriller is set as a retro film in 1990. Its theme is about loneliness and how debilitating it is. David (Brian Landis Folkins) is a nerdy, unfashionable and socially awkward middle-aged chap, who is a caretaker for his dementia-ridden elderly mother, Lucille (Kathleen Brady). David cooks for her and repeatedly watches with her the same VHS movie of His Girl Friday.  He only veers from this routine by using a video dating service for the last 6-months, but his dates never click. One day, he notices in his video store a strange video entitled Rent-A-Pal, featuring a smiling, amiable looking and sweater clad man named Andy (Wil Wheaton). He's someone who claims to be eager to be your friend.

After getting tipsy, David plays the tape and enters into a mock banal conversation with him. David finds the tape reassuring, actually thinking he made a real friend. Soon the dating service sets him up with a date named Lisa (Amy Rutledge). She's a nurse and a volunteer at a nursing home, who admires David for so selflessly caring for his mother. Also, Lisa likes Jazz and David's late father was a Jazz musician. On their first date they make a love connection.

Telling Andy about the success of his date, it surprises him that Andy's reaction is not a happy one. Andy even expresses disappointment his friendship is being challenged, and bullies him to drop Lisa.

It's interesting to see David's reaction and where the story goes from here. While being strangely funny, it tackles serious themes over mental health issues, depression and loneliness. I would recommend this low-rent off-the wall Eraserhead or sociological type of Marty film, as one with a hard luck lovable protagonist.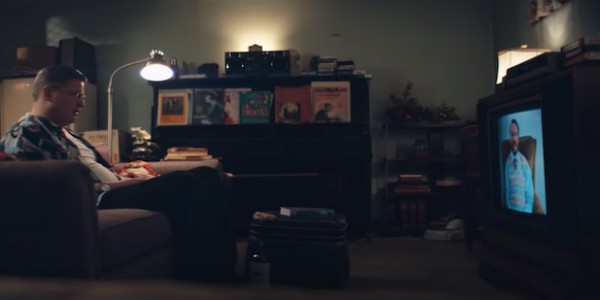 REVIEWED ON 9/15/2020  GRADE: B