RADIOACTIVE
(director/writer:Marjane Satrapi; screenwriters: Jack Thorne, graphic book by Lauren Redniss; cinematographer: Anthony Dod Mantle; editor: Stéphane Roche; music: Evgueni Galperine, Sacha Galperine; cast:  Rosamund Pike (Marie Curie), Sam Riley (Pierre Curie), Aneurin Barnard (Paul Langevin),  played here by Indica Watson (daughter Irene Joliet-Curie as a toddler), Anya Taylor-Joy (daughter Irene Joliet-Curie as an adult), Mirjam Novák (Nurse), Simon Russell Beale (Professor Lippmann), Katherine Parkinson (Jeanne Langevin), Yvette Feuer (Carla), Sian Brooke (Bronia Sklodowska), Harriet Turnbull (Young Marie), Cara Bossom (Ève aged 11), Ariella Glaser (Irène Aged 11), Isabella Miles (Ève Aged 4 ), Georgina Rich (Marie's Mom), Richard Pepple (Lester Jackson); Runtime: 103; MPAA Rating: PG-13; producers: Tim Bevan, Eric Fellner; Amazon Studios; 2019-UK)
"The life of its unconventional heroine is directed in a conventional way."
Reviewed by Dennis Schwartz

An acceptable but hardly daring biopic on Marie Curie (1867 – 1934), the physicist two-time Nobel Prize winner. The life of its unconventional heroine is directed in a conventional way by the Iranian-born residing in Sweden filmmaker Marjane Satrapi ("The Voices "/"Persepolus").

Curie's the dedicated and obsessed scientist who won a Nobel Prize in physics for the discovery of radioactivity (a word she coined), and shared another with her science partner in chemistry for the discovery of radium and polonium. The biopic is adequately scripted by Jack Thorne, and adapted from the graphic 2010 novel by Lauren Redniss. Rosamund Pike plays Curie with a proper mix of reserve and verve, giving the educational drama an air of credibility and a certain shine to it.

The inspirational bio on Curie was stylishly filmed before at MGM by Mervin LeRoy in 1943, and it starred Greer Garson and Walter Pigeon. The Satrapi version goes with the modern times and adds a feminist viewpoint to the biopic.

The story opens in 1934 and goes into a lengthy flashback mode when Marie is wheeled into a hospital and dies from her illness.

In the flashbacks to Paris in 1891, we observe the fossil-like elderly Professor Gabriel Lippmann (Simon Russell Beale), at the University of Paris, as Marie's sexist doctoral supervisor denies her the lab privileges she deserves in favor of the lesser men student scientists.
 
The Polish born Marie Salomea Skłodowska, in 1893 a naturalized French citizen living in Paris as a scientist, is frustrated in battling sexism and xenophobia. She eventually joins the lab team of the French scientist Pierre Curie (Mike Riley), and in 1895 marries him. Though she never fully trusts him and remains suspicious Pierre will steal her work and take credit for it, nevertheless the couple endure.

Marie with her science partner Paul Langevin (Aneurin Barnard), discover the new elements radium and polonium, and they both share the Nobel Prize in 1903.

In confusing scenes, as far to what the director is trying to point out, there's a flash-forward that shows what Marie's discoveries have led to in the future. In one scene, we see a child with cancer being treated in the 1950s with radiotherapy, and in another scene we are shown the destruction of Hiroshima by a US nuclear bomb at the termination of the second world war.

After Pierre's accidental death in 1906, Marie becomes embroiled in a sex scandal with the married doctoral student Paul Langevin, her science experiment partner, as she's vilified by an unforgiving public. But she redeems herself when with her brilliant grown scientist daughter, Irene (Anya Taylor-Joy), they provide during the first world war mobile x-rays for the troops fighting.

We learn that Curie was the first woman to win the Nobel Prize, and the first person to win two of them. The director casts the heroine in a sympathetic light, revealing her loneliness while living away from her homeland, and points out that the fervor in her scientific work took so much out of this genius scientist.

Though filled with too many cliches and clumsily made, it at least tells clearly Marie's story with accuracy. There's also an artistic animated sequence worth noting.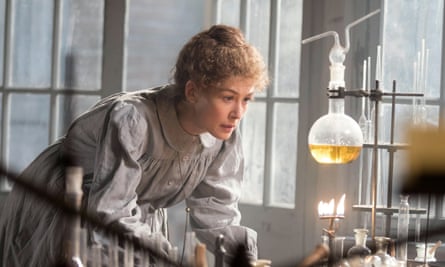 REVIEWED ON 8/11/2020 GRADE: B-