QUIZ LADY
(director/writer: Jessica Yu; screenwriter: Jen D'Angelo; cinematographer: Adrian Peng Correla; editors: Nat Sanders, Susan Vail; music: Nick Urata; cast: Awkwafina (Anne Yum), Sandra Oh (Jenny Yum), Will Ferrell (Terry McTeer), Holland Taylor (Francine), Jason Schwartzman (Ron Heacock), Tawny Newsome (Mrcedes), Paul Reubens (Francine's crush), Tony Hale (Ben Franklin); Runtime: 99; MPAA Rating: R; producers: Awkwafina, Sandra Oh, Jen D'Angelo, Maggie Haskins, Itay Reiss, Will Ferrell, Jessica Elbaum; Hulu; 2023)
"It becomes too predictable except for a few quirky moments."
Reviewed by Dennis Schwartz

The breezy and inane comedy (it tweaks cultural stereotypes and is loaded with one-liners and sight gags) is a disappointment as it becomes too predictable except for a few quirky moments. It's directed and written by the talented Jessica Yu ("Misconception"/"The Guide") and co-written by Jen D'Angelo.

The story is about opposite personality sisters who band together in a time of need, and a Korean-immigrant mother who is a gambler in debt. Her husband deserted her years ago.


The introverted and socially awkward Anne Yum (Awkwafina) is an uptight accountant from Philadelphia. She's obsessed with the TV trivia show "Can't Stop the Quiz," as she loves the charming bow-tie wearing host, Terry McTeer (Will Ferrell), and hates the smug defending champion (Jason Schwartzman). She watches every night with her beloved dog, and answers all the questions.

Anne's mundane life is interrupted by a visit from her impulsive free-spirited older sister Jenny (Sandra Oh), who is alarmed mother is missing from her rest home. She was led to believe their mother died after receiving a garbled message from the rest home saying "we lost your mother," but doesn't know mom fled to Macau with a secret lover to skip out on paying gambling debts to mobsters.

When the debt collecting mobsters kidnap Anne's dog for ransom money, Jenny and Anne go on a cross-country road trip to retrieve the dog. The estranged sisters as a result of this crisis make a real loving connection.

The quick-thinking Jenny concocts a scheme to get Anne on the trivia game show in order for her to pay off the gambling debt and get her dog back.

There are some funny moments in the low-brow antics, but some scenes go on for too long, the situational comedy runs its course and Sandra Oh gives a strained over-the-top performance that I found unappealing. What I found appealing was Will Ferrell's comical bit as an Alex Trebek type, whose antics gave me the most laughs. There's also a cameo by Paul Reubens, his last film before his sudden death, which worked well.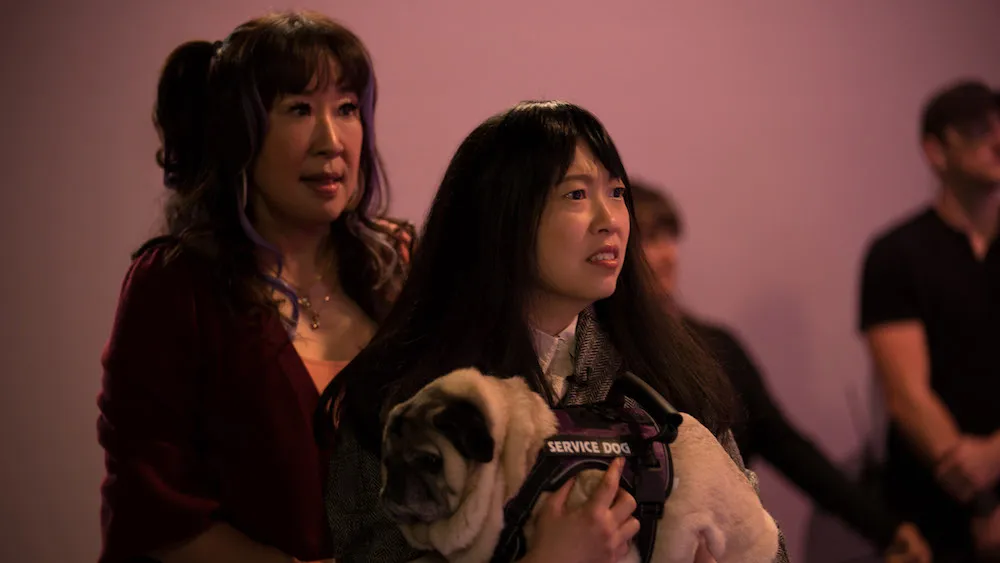 REVIEWED ON 11/8/2023  GRADE: C+