QUEEN OF HEARTS (DRONNINGEN)
(director/writer: May el-Toukhy; screenwriter: Maren Louise Käehne; cinematographer: Jasper J. Spanning; editor: Rasmus Stensgaard Madsen; music: Jon Ekstrand; cast: Trine Dyrholm (Anne), Gustav Lindh (Gustav), Magnus Krepper (Peter), Silja Esmår Dannemann (Fanny), Liv Esmår Dannemann (Frida), Stine Gyldenkerne (Lina); Runtime: 127; MPAA Rating: NR; producers: Caroline Blanco. Rene Ezra; Breaking Glass Pictures; 2019-Denmark/Sweden-in Danish with English subtitles)
"Overwrought family drama that goes dark in its insidious story of betrayal."
Reviewed by Dennis Schwartz
Denmark's entry for Best International Feature at the upcoming Academy Awards.It was also a Sundance award-winner.
Danish filmmaker May el-Toukhy ("Long Story Short") is writer-director of this overwrought family drama that goes dark in its insidious story of betrayal and the hypocritical ethical double standards of its heroine. It's co-written by Maren Louise Käehne. It tells of a successful middle-aged career professional woman who jeopardizes her marriage and reputation by having an ill-advised affair with her estranged teenage stepson.The illuminating performance from Danish star Trine Dyrholm elevates the film from soap opera status to that of a mature psychological melodrama.

Anne (Trine Dyrholm) is a successful defense lawyer, who specializes in cases of abused children. Her husband Peter is a workaholic physician. They have seven-year-old twin daughters (Silja Esmår Dannemann & Liv Esmår Dannemann), and live in a comfortable modern country home nestled in the woods.The couple bicker over her failure to ever say she's wrong when they argue. The main spat is over her disregard in following her firm's work rules, as she brings her clients home in clear violation of that code. Peter is so turned off by her arrogance, that their sex life has gone downhill the last few years. But they still seem on the surface to have a happy life together, with a rich lifestyle most would be envious of.

Gustav (Gustav Lindh) is the brooding teenage son of Peter's, who has been raised by his Swedish first-wife Rebecca. But she has had it with him after he's expelled from boarding school and sends him to live with his father in Denmark. Anne has the experience to deal with a rebellious youth like her beleaguered stepson, who reminds her of many of her clients. So she easily bonds with him, hoping to integrate him into the family. But their affectionate relationship will cross the line when they become lovers.

When their inappropriate behavior can't be kept a secret, Anne throws him under the bus using the same tactics the abusers she attacks in court use in order to save her ass. It was uncomfortable to watch the calculating lawyer turn on the kid, as it was uncomfortable to watch the illicit affair between the minor and the horny middle-aged woman develop. In the end it plays out as a power struggle by an older woman looking to rekindle her sex life by using a vulnerable and troubled youth, someone who does not have her wit, fortitude and guile to play in her league.

I found it to be an emotional downer, a film with a thorny message about a pathetic woman losing her moral compass and being a lost soul in a loveless show marriage. The intense psychological drama mostly turned me off even if it was well-executed and well-acted.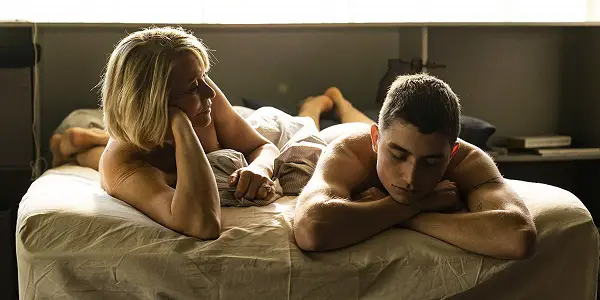 REVIEWED ON 11/30/2019   GRADE: B-   https://dennisschwartzreviews.com/