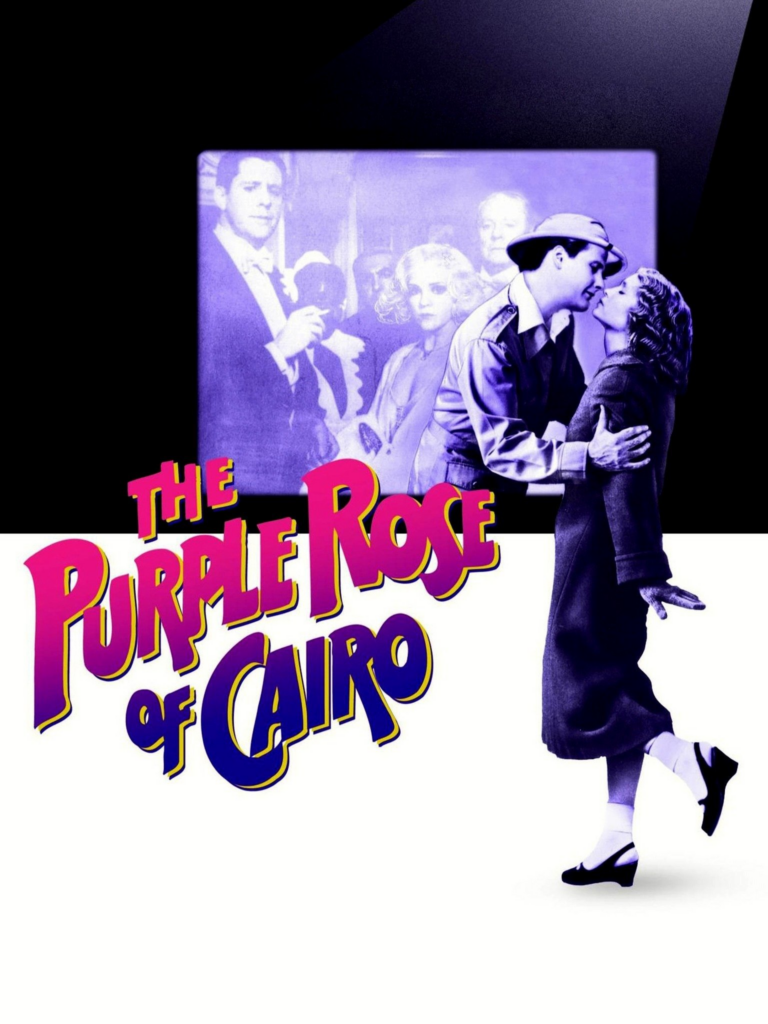 PURPLE ROSE OF CAIRO, THE

(director/writer: Woody Allen; cinematographer: Gordon Willis; editor: Susan E. Morse; music: Dick Hyman; cast: Mia Farrow (Cecilia), Jeff Daniels (Tom Baxter/Gil Shepherd), Danny Aiello (Monk), Dianne Wiest (Emma), Deborah Rush (Rita), Edward Herrmann (Henry), Stephanie Farrow (Cecilia's sister), Van Johnson (Larry), Zoe Caldwell (The Countess), Milo O'Shea (Father Donnelly), Alexander H. Cohen (Raoul Hirsch), Irving Metzman(Theater Manager), David Kieserman(Diner Boss), John Wood (Jason), Deborah Rush (Rita), Zoe Caldwell (The Countess), Eugene Anthony (Arturo) Ebb Miller (Bandleader), Karen Akers (Kitty Haynes), Milo O'Shea (Father Donnelly), John Rothman (Mr. Hirsch's lawyer), Raymond Serra (Hollywood executive), George J. Manos (Press agent), James Lynch (Maitre d'), Annie Joe Edwards (Delilah); Runtime: 82; MPAA Rating: PG; producers: Jack Rollins/Charles H. Joffe; MGM Home Entertainment; 1985)

"In NJ, anything can happen!"
Reviewed by Dennis Schwartz
The Purple Rose of Cairo won Best Picture at the BAFTA Awards. The whimsical Depression-era film by Woody Allen ("Zelig"/"Play it Again Sam"/"Shadows and Fog") has a schmaltzy romantic conceit that's not for everyone, but for those like myself who could suspend our disbelief there are some rewards even if the comedy is slight and the heartbreaking romance tale is merely frivolous Hollywood claptrap thrown back in our faces.
During the Depression unhappily timid New Jersey diner waitressCecilia (Mia Farrow) escapes her loveless marriage to her unemployed thuggish gambler, alcoholic, abusive hubby, Monk (Danny Aiello), by going regularly to the local movie house for escapist entertainment. After watching The Purple Rose of Cairo five times, the minor player in the film, the dashing explorer, poet and adventurer Tom Baxter (Jeff Daniels), comes off the screen, still wearing his pith helmet and britches, and begins a charming 1930's fantasy Hollywood romance with the lovesick Cecilia in a deserted amusement park. The fictional Tom likes his freedom so much, he vows never to return to the movie. In the meantime, the other actors trapped within the film can't go on with the pic while Tom is AWOL and spend their time bitching and arguing about how they're the important actors in the film and not Tom (the stranded actors include John Wood, Zoe Caldwell, Van Johnson, Milo O'Shea and Ed Herrmann). Tom on the loose upsets the studio bosses, afraid of lawsuits and the like, and the movie's producer (Alexander H. Cohen) and the up-and-coming ambitious actor who played Baxter, Gil Shepherd (also Daniels), are brought to NJ and Gil has the job of talking the rebellious character to go back on the screen. Soon the fired waitress has to make a choice of choosing the sweet perfect fictional character or the real actor, as both say they love her.
The impossible conceit is explained by Woody, that in NJ, anything can happen!
The rewards are that the film recreates the mood of the 1930s with style. It's also cinema friendly in the Fellini like way it blurs the line between fantasy and reality, provocative, imaginative and entertaining. While seemingly with little gravitas, this unique film nevertheless raises serious questions about how to live a balanced life of dreams and reality.
REVIEWED ON 3/22/2011 GRADE: B+