PRIMAL FEAR
(director: Gregory Hoblit; screenwriters: Steve Shagan, Ann Biderman, novel by William Diehl; cinematographer: Michael Chapman; editor: David Rosenbloom; music: James Newton Howard; cast: Richard Gere (Martin Vail), Laura Linney (Janet Venable), Ed Norton (Aaron Stampler), Andre Braugher (Goodman), John Mahoney (Shaunessy, D.A.), Alfrie Woodard (Shoat, the Judge), Stanley Anderson (Archbishop Rushman), Maura Tierney (Naomi), Frances Mcdormand (Molly Arrington, psychologist); Runtime: 129; MPAA Rating: NR; producers: Gary Lucchesi, Robert McMinn; Paramount Pictures; 1996)
"The tense crime procedural thriller has a twist in its last act that fails to do it justice."
Reviewed by Dennis Schwartz

Gregory Hoblit ("Hart's War"/"Fracture") directs and Steve Shagan and Ann Biderman co-write this implausible but okay mystery story adapted from the novel by William Diehl.

Martin Vale (Richard Gere) is a slick, cocky, high-powered lawyer for the rich.

When Archbishop Rushman (Stanley Anderson) is hacked to death in his Chicago church, the police arrest the stuttering timid altar boy from Kentucky, Aaron Stampler (Ed Norton), who is caught by the vic's house after running away from the scene of the crime covered in blood. Vale realizes that this will be a highly-publicized trial, and therefore volunteers to lawyer up for the kid for free figuring he is so good at his job he can get an acquittal and thereby get some great publicity.

The kid proclaims his innocence, but fails to work with Vale in sharing information.

The state's attorney John Shaughnessy (Mahoney) has Janet Enable (Laura Linney), a former colleague and lover of Vale, prosecute the case. Both sides badly want to win.

Even after the criminal psychologist Molly Arrington (Frances Mcdormand) examines the kid and tells the court that he told her there was another person in the room, she is uncertain of his innocence.

The story develops against a backdrop of Chicago politics and corruption. The archbishop was involved in land deals that ticked off some powerful Chicago folks who lost millions of dollars because of his actions, and since then he has received death threats. There are also rumors he fooled around with the choir boys.

We're left wondering about Aaron's guilt or innocence.

The tense crime procedural thriller has a twist in its last act that fails to do it justice. But it has characters who are fully developed and some good performances.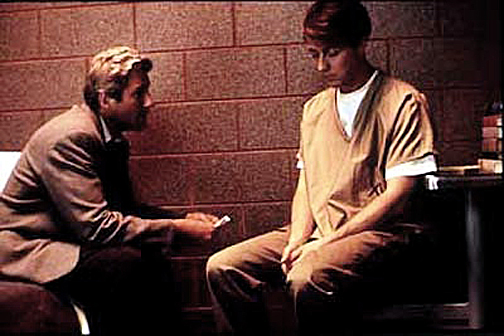 REVIEWED ON 9/22/2023  GRADE: B-