POOR THINGS
(director: Yorgos Lanthimos; screenwriters: Tony McNamara, based on the novel by Alasdair Gray; cinematographer: Robbie Ryan; editor: Yorgos Lanthimos; music: Jerskin Fendrix; cast: Emma Stone (Bella Baxter), Willem Dafoe (Dr. Godwin Baxter), Mark Ruffalo (Duncan Wedderburn), Christopher Abbott (Alfie Blessington), Jerrod Carmichael (Harry Astley), Ramy Youssef (Max McCandless), Kathryn Hunter (Swiney), Suzy Bemba (Toinette), Vicki Pepperdine (Mrs. Prim), Margaret Qualley (Felicity), Hanna Schygulla (Martha Von Kurtzroc); Runtime: 141; MPAA Rating: R; producers: Yorgos Lanthimos, Emma Stone, Ed Guiney, Andrew Lowe; Searchlight Pictures; 2023)
"A one of a kind mind-blowing production."
Reviewed by Dennis Schwartz

The Greek filmmaker Yorgos Lanthimos ("Nimic"/"The Lobster") passionately directs this absurdist comedy, that weirdly brings on a Frankenstein riff. It's adeptly scripted by Tony McNamara, and is based on the 1992 not too easy to film comic novel by the Scottish author Alasdair Gray. It's visually striking, unique, strange, subversive and lavish, and shines brightly as a one of a kind mind-blowing production.

The story revolves around a pregnant woman, Bella Baxter (Emma Stone), instinctively dealing with her inner demons, who seeks to free herself from a restrictive patriarchal society during the Victorian era, and commits suicide by jumping off a bridge.

Bella's brought back to life by the physically deformed, eccentric, madman, genius scientist, Dr. Godwin Baxter (Willem Dafoe), who by using unorthodox methods was able to bring back to life the pregnant woman from her suicide by implanting her just born baby's brain inside her skull. Blessed with a new life she doesn't quite understand, the woman has become the unlikely childlike monster, unfettered sexually and ready to live her life over again with a new vigor.

The doctor's experiment is a lyrical take on Mary Shelley's "Frankenstein," the creator of a so-called monster to deal with the social restrictions of Victorian society in England.

The free-spirited Bella becomes engaged to her admirer Max (Ramy Youssef), the young surgeon who assists Godwin. But she feels that a marrage to him would imprison her, so she runs off with the debauched lawyer Duncan Wedderburn (Mark Ruffalo) and travels with him around the world.

Lanthimos offers a bold voice for one to live their life to the fullest, as individuality and freedom of expression we are warned should never be suppressed, and we should realize the most dangerous monsters are those that won't let us live creative and loving lives.

Both Stone and Dafoe give amazing killer performances.

 
This is Lanthimos' finest and most fulfilling films to date. It's a 'don't miss' film for those starving for a creative and insightful film.
 
It played at the Venice Film Festival.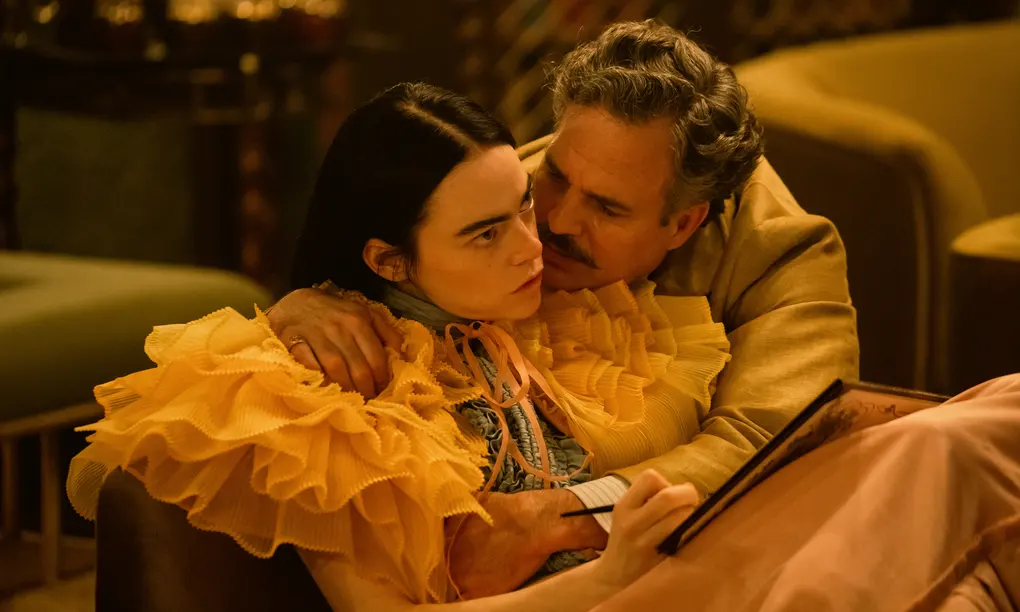 REVIEWED ON 9/5/2023  GRADE: A