PINOCCHIO
(director/writer: Robert Zemeckis; screenwriter: Chris Weitz/based on The Adventures of Pinocchio by Carlo Collodi and the 1940 Disney animated "Pinocchio" film; cinematographer: Don Burgess; editors: Mick Audsley/Jesse Goldsmith; music: Alan Silvestri; cast:  Tom Hanks (Geppetto),  Benjamin Evan Ainsworth (voice-Pinocchio), Joseph Gordon-Levitt (Jiminy Cricket), Cynthia Erivo (the Blue Fairy), Keegan-Michael Key (Honest" John), Lorraine Bracco (Sofia the Seagull), Luke Evans (The Coachman), Jamie Demetriou (The Headmaster), Angus Wright (Signore Rizzi), Kyanne Lamaya (Fabiana), Giuseppe Battiston (Stromboli), Lewin Lloyd (Lampwick), Sheila Atim (Signora Vitelli); Runtime: 105; MPAA Rating: PG; producers: Robert Zemeckis/Chris Weitz/Derek Hogue/Andrew Miano/Paul Weitz; Disney +; 2022)
"Though a well-crafted fantasy film for kids, it's emotionally a cold one."
Reviewed by Dennis Schwartz

Robert Zemeckis ("Forrest Gump"/"Cast Away") directs and co-writes with Chris Weitz another cinema version of the classic fairy tale for children. Disney films it as a live-action-CGI combo. It comes out before an animated version by the Mexican auteur Guillermo del Toro, much better suited for this material than the Hollywood director, is released this Christmas. Though a well-crafted fantasy film for kids, it's emotionally a cold one. It might entertain its intended children audience but failed to entertain me. I found it too much to watch a CGI wooden puppet interact with real humans. As far as I'm concerned there was no reason for it to be made. In 1940 Disney made it as a frightening fairy-tale (it was the second animated feature ever made by Disney, and even if it was too scary for many of the kids, it was very entertaining).

The update is also based on the original 1883 novel by Italian author Carlo Collodi.

To refresh your memory about the story, it's a strange tale of a human-like talking wooden puppet who dreams of being a real boy and, and is startled as he witnesses rogue children transformed  into donkeys and gets swallowed by a whale.

Tom Hanks, the director's favorite actor, stars as a lonely, reclusive woodshop owner in an Italian village, who is called Geppetto. He has lost his child and desperately wants to be a father again. He gets his wish through the magical powers of The Blue Fairy (Cynthia Erivo), covered in CGI glitter, as she helps Hanks create his substitute son as the sentient wooden puppet named Pinocchio (cutely voiced by Benjamin Evan Ainsworth). The wooden boy is trained to develop his conscience by the wizened insect Jiminy Cricket (Joseph Gordon-Levitt), the film's narrator, who teaches the boy morals, as the film shuffles between 19th century and modern-day dialogue to make its way in the story.

The original film's signature song, When You Wish Upon a Star, fits well into the fantasy tale's narrative.

The gullible boy puppet as he attends school must confront the likes of the con man, the sly fox-headed, Honest John (Keegan-Michael Key), who tries to influence Pinocchio by boldly proclaiming "To be famous is to be real." The awful Stromboli (Giuseppe Battiston) runs a puppet show that is exploitative, whereby Pinocchio appearing in a puppet show is mockingly laughed at by the audience. And there's the terrible Coachman (Luke Evans) whose destructive Pleasure Island, a visual treat but an immoral path for Pinocchio and other children to be on.

The naive Pinocchio must learn who to trust, as he escapes from the whale. There's the helpful seagull named Sofia (Lorraine Bracco) and the invented character Fabiana (Kyanne Lamaya), who befriends Pinocchio while he's in Stromboli's puppet show.

Whatever. You may marvel at many things about this Pinocchio version, but the film probably never captures your heart or allows for a suspension of belief as the animation characters interact with the humans.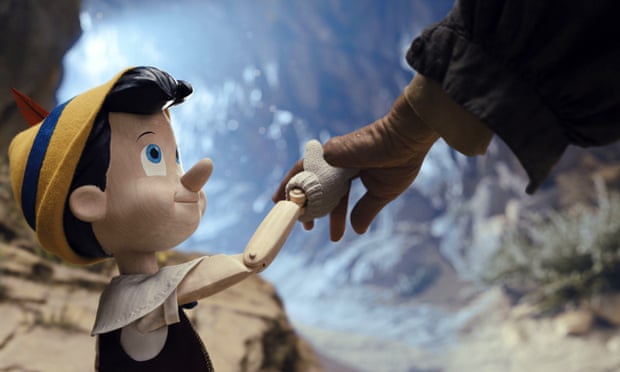 REVIEWED ON 9/11/2022 GRADE: C+