PICNIC
(director:  Joshua Logan; screenwriters: Daniel Taradash/from the William Inge play Picnic; cinematographer: James Wong Howe; editors: William A. Lyon/Charles Nelson; music: George Duning; cast: William Holden (Hal Carter), Kim Novak (Madge Owens), Betty Field (Flo Owens), Susan Strasberg (Millie Owens), Rosalind Russell (Rosemary, school teacher), Verna Felton (Helen Potts), Arthur O'Connell (Harold Bevans), Nick Adams (Bomber). Cliff Robertson (Alan Benson), Raymond Bailey (Mr. Benson),Reta Shaw (Irma Kronkite; Runtime: 115; MPAA Rating: PG; producer; Fred Kohlmar: Columbia; 1955)
"For its day, Picnic caught the mood of an uptight America in what goes for an edgy 1950s drama."
Reviewed by Dennis Schwartz

For its day, Picnic caught the mood of an uptight America in what goes for an edgy 1950s drama. In the adaption of the William Inge Pulitzer Prize-winning play Picnic by director Joshua Logan ("Paint Your Wagon"/"Camelot") and writer Daniel Taradash, it captures a relic onscreen, an old-fashioned Labor Day celebration, held in the country's heartland of Kansas. The movie when it first came out was daring, today it no longer is, as the country's mores and culture has changed so much. But that doesn't mean it's a bad film, just that things always change and if the film worked when released for its time period—that should be good enough.

The gregarious Hal Carter (William Holden, was 37 at the time and though good in the beefcake part was too old for it) had a sour upbringing raised by his drunken old man, but had a way out by getting a college football scholarship. But blew it by flunking out of school before graduating. He then hit the road with numerous dead-end jobs, including a failure in Hollywood. Becoming a drifter, he rides into a small Kansas town as a hobo on the rails and plans to look up his friendly rich boy frat brother, Alan Benson (Cliff Robertson), for a job.

By chance the Adonis-like Hal finds the Owens house, where the working-class Flo Owens (Betty Field) raises the beautiful 19-year-old shop clerk daughter Madge (Kim Novak) and her younger bookish high school student and college bound daughter Millie (Susan Strasberg). Madge's summer boyfriend is the wealthy Alan, who mom implores her to marry because she'll never go anymore without having charge accounts in the stores. Hal after meeting the old maid high school teacher, Rosemary Sydney (Roz Russell), who boards with Mrs. Owens, and the kind elderly neighbor Helen Potts (Verna Felton), he visit Alan's affluent family home on the other side of town and connects with his friendly frat brother. They visit the giant grain elevators the family own and Hal though wanting an executive job is instead promised a low-level laborer's job in the wheat plant.

In the afternoon, the town is excited about the annual Labor Day celebration at the local park. Hal is fixed up with the brainy Millie, Rosemary is taken to the picnic by her disappointing regular date, the notion store owner, Howard (Arthur O'Connell). At the picnic, babies cry, watermelon is served, the working-class crowd enjoys themselves playing silly games and listening to various singing groups. The main event comes when the sun sets and it's time to crown a Queen of Neewollah (that's Halloween spelled backward). It's no surprise when the gorgeous Madge wins it for the second year in a row, and in her acceptance speech says "I hope I don't become too conceited."

Meanwhile the stranger, sometimes bare-chested, sexually excites almost every female in the crowd. When dancing breaks out, there seems to be sparks flying between Madge and Hal that is not found between her and Alan. She's apparently more attracted to him than she is to the rich boy. When Alan sees his girl dancing with Hal, he jealously rails against him for being a bum. Madge apologizes for Hal's slur, but the upset Hal tells them he's leaving on the next freight train. After staying with Howard for the night, Hal returns in the morning and tells Madge he loves her, begging her to come with him to Tulsa. Her mom nearly has a heart attack when she thinks she might leave.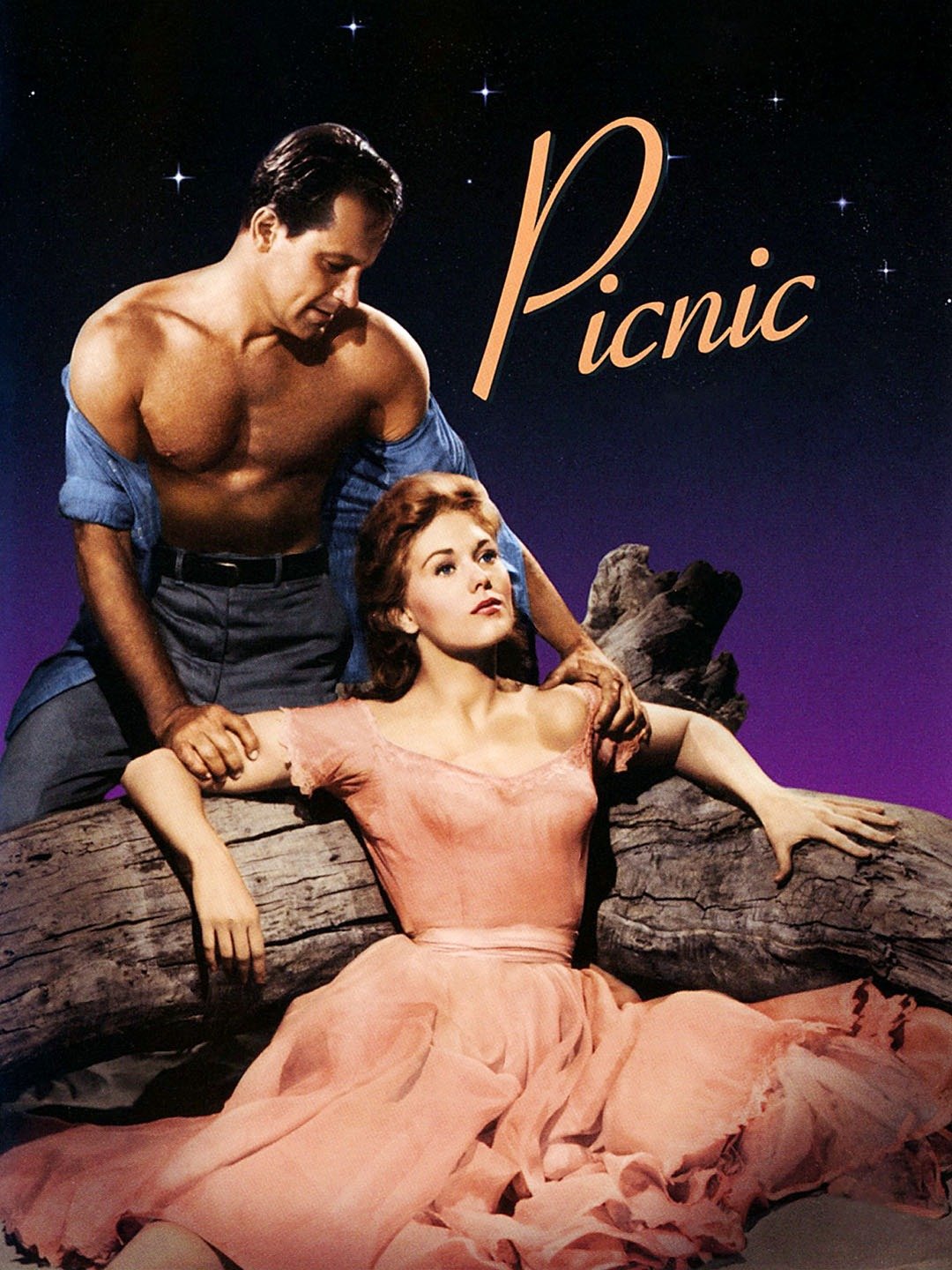 REVIEWED ON 7/14/2021  GRADE: B