PERSUASION
(director/writer: Carrie Cracknell; screenwriters: Ron Bass/Alice Victoria Winslow/based on a Jane Austen novel; cinematographer: Joe Anderson; editor: Pani Scott; music: Stuart Earl; cast: Dakota Johnson (Anne Elliot), Henry Golden (Mr. Elliot), Richard E. Grant (Sir Walter Elliot), Ben Bailey Smith (Charles Musgrove), Mia McKenna-Bruce (Mary Musgrove), Yolanda Kettle (Elizabeth Elliot), Nia Towle (Louisa Musgrove), Nikki Amuka-Bird (Lady Russell), Cosmos Jarvis (Captain Frederick Wentworth); Runtime: 109; MPAA Rating: PG; producers: Elizabeth Cantillon, Andrew Lazar, Christina Weiss Lurie: Netflix; 2022)
"Will not appeal to purists nor does it do anything for me."
Reviewed by Dennis Schwartz

Brit theater director Carrie Cracknellin in her feature film debut presents a big-budget drama that tells about an older woman who still fancies a young man that she turned down when she was younger because her aristocratic relatives meddled and talked her out of marrying the one she loved. In this bloated screen adaptation of Jane Austen's final novel, Austen's work is no longer subtle. Though a playful and cheeky Regency rom-com film, with the right lead actress, it still will not appeal to purists nor does it do anything for me. Besides being heavy-handed and told in an unpersuasive way, it lays on us modern attitudes and phraseology from the updated screen adaptation by writer Ron Bass and writer-actress Alice Victoria Winslow in their screen adaptation of the noted novel that was already well-received in Roger Michell's outstanding 1995 film adaptation made for British TV and played in 1995 in the American cinema.

Like the novel the film opens in the early 1800s, as our heroine, the 19-year-old Anne Elliot (Dakota Johnson), visits her calculating sister Mary (Mia McKenna-Bruce) in the English countryside, after their vain spendthrift father, Sir Walter Elliot (Richard E. Grant) squandered the family savings and leaves the family in need. In the Lyme countryside the family led by Lady Russell (Nikki Amuka-Bird) gang up on Anne and dissuade her from marrying the one she should have married.

Eight years later at the age of 27, the single Anne, in a direct address to the camera, admits that she is haunted by the memory of a love affair that ended when she was persuaded to by her blue blood family to the enterprising but poor sailor, Frederick Wentworth (Cosmo Jarvis). But Wentworth, to her regret, has returned to England a rich naval captain, who is looking to marry. He might now have his eye on Anne's live-wire sister-in-law Louisa (Nia Towle), but he has not forgotten Anne.

There are visually beautiful scenic views of mansions, gorgeous period costumes and magnificent views of the grand vistas. But the insufferable Anne hurls lines at us directed to her former lover such as, "Now we are worse than exes. We're friends," that have an awful ring to them.

By contrasting the novel's language with the modern talk of feminism, the film's dialogue seems artificial and mannered. Its themes of regret and loneliness are presented with a sense of queasiness that makes the narrative seem off-kilter.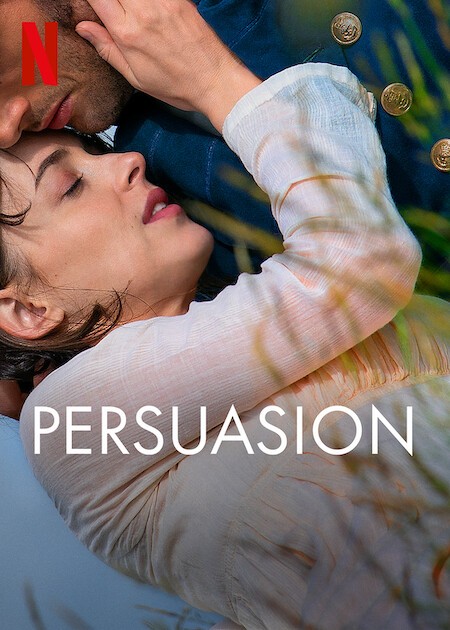 REVIEWED ON 7/16/2022 GRADE: C+