PAVAROTTI
(director: Ron Howard; screenwriter: Mark Monroe; cinematographers: Michael Dwyer, Axel Baumann, Michael Wood, Patrizio Sacco; editor: Paul Crowder; music: Rik Markmann/Matter Music/Dan Pinella/Chris Wagner; cast: Placido Domingo, Andrea Griminelli, Nicolette Mantovani, Zubin Mehta, Madelyn Renee, Bono, Jose Carreras, Lorenza Pavarotti, Guiliana Pavarotti, Cristina Pavarotti, Anne Midgette, Angela Gheorghiu, Herbert Breslin, Harvey Goldsmith; Runtime: 114; MPAA Rating: PG-13; producers: Nigel Sinclair, Brian Grazer, Ron Howard, Michael Rosenberg, Jeanne Elfant Festa; CBS Films; 2019-USA/UK)
"An acceptable but nevertheless disappointing conventional biopic."
Reviewed by Dennis Schwartz

Filmmaker Ron Howard ("Frost/Nixon"/"Cocoon") turns out an acceptable but nevertheless disappointing conventional biopic. It soft-pedals controversy over the singer's affairs when married and is bland in its examination of the life of the legendary Italian opera tenor. This is the same team that made The Beatles: Eight Days a Week.

At least you can applaud the filmmaker's attempt to restore this nice guy's rep as an earnest humanitarian. Even if tepidly written by Mark Monroe, it nevertheless shows never-before-seen footage; many fabulous concert performances; the many women in the tenor's life he befriended and helped; safe personal interviews with family (his two wives, Adua Veroni & his second much younger wife Nicoletta Mantovani, whom he married in 2003); celebrity friends like the interview with his self-serving charity worker colleague, the rock star Bono; opera singers like the great tenors José Carreras and Plácido Domingo, who do a Three Tenor charity concert together at the Baths of Caracalla in Rome on July 7, 1990 during the World Cup; a supportive conductor in Zubin Mehta; and his business team members like his attack-dog New York manager Herbert Breslin and his cordial London promoter Harvey Goldsmith.

The film chronicles Pavarotti's happy upbringing in Modena, Italy, during World War II, whose baker and church tenor father got him interested in opera as they sang together in the church choir and his kindly mother made sure that opera would be his career by getting him to study opera in school. He made his debut in Italy, in 1961, after winning a competition and sang the Rodolfo role in La Boheme at the Teatro Municipale. His first important performance came in 1963, in London's Covent Garden, as he became recognized for his clear and pure voice and that he could hit the High C's. We then follow his long and glorious career, touring for five decades, becoming in the 70s and 80s an international household name through TV appearances; and, knowing that most people viewed him favorably as the friendly big guy with the biggest smile, who became recognized as the greatest popular tenor since Caruso. He died in 2007 from pancreatic cancer.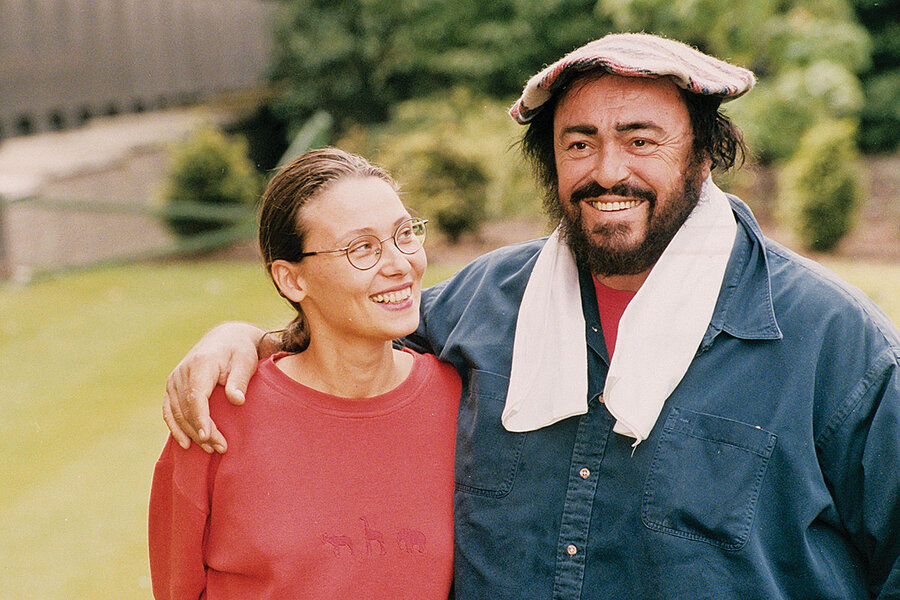 REVIEWED ON 2/23/2020 GRADE: B