PASSWORD IS COURAGE, THE
(director/writer: Andrew L. Stone; screenwriter: based on the biography of Charles Coward by John Castle; cinematographer: Davis Boulton; editor: Noreen Ackland; music: Dereck New/Tommy Reilly/Christopher L. Stone; cast:  Dirk Bogarde (Sergeant Major Charlie Coward), Nigel Stock (Cole),  Alfred Lynch (Corporal Billy Pope), Maria Perschy (Irena), Reginald Beckwith (Unterofficer ), Richard Marner (Schmidt), Ed Devereaux (Aussie), Lewis Fiander (Pringle),  George Mikell (Necke), Richard Carpenter (Robinson), Margaret Whiting (French Farmwoman), Colin Blakely (first German goon), Michael Mellinger (Feldwebel), Bernard Archard (1st Prisoner of War), George Pravda (2nd German Officer at French Farm), Mark Eden (2nd POW), Douglas Livingstone (Bennett); Runtime: 116; MPAA Rating: NR; producers: Andrew L. Stone/Virginia Stone; MGM; 1962-B/W-UK)
"Lively WW II British POW drama that's based on a true story."
Reviewed by Dennis Schwartz

Andrew L. Stone  ("Song of Norway"/"Ring of Fire") directs and writes this lively WW II British POW drama that's based on a true story. The story is based on the biography of Charles Coward by John Castle, who was a POW at Stalag VIII-B Lamsdorf (now part of Poland). If you liked the American war drama/comedy The Great Escape you will probably also like this similar themed one.

It follows Sergeant-Major Charles Coward (Dirk Bogarde), a British soldier captured in 1940 by the Germans and imprisoned in a POW camp for the remainder of the war. Coward plans his escape immediately. He disguises himself as a wounded German soldier and is transferred to a military hospital with other wounded German soldiers and mistakenly is given the German Iron Cross. But is soon discovered. This doesn't stop his bold moves to escape from hereon, or helping his fellow prisoners escape or humiliating the German guards.

Sometimes the comic antics are strained, but it's mostly based on true material, and is enjoyable. The forgotten film is sometimes shown on TCM. On the serious side, the ironically named Coward's attempts to reach the Polish Resistance provides some suspense.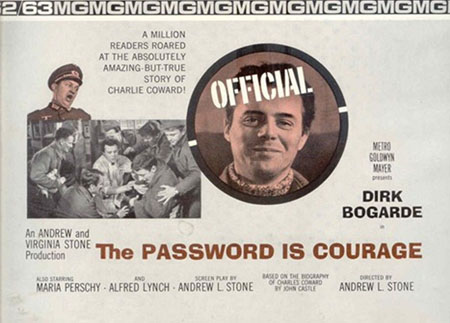 REVIEWED ON 10/21/2020 GRADE: B-