PALE BLUE EYE, THE
(director/writer: Scott Cooper; screenwriter: based on the novel by Louis Bayard; cinematographer: Masanobu Takayanagi; editor: Dylan Tichenor; music: Howard Shore; cast:  Christian Bale (Augustus Landor),  Harry Melling (Cadet Edgar Allan Poe), Tony Jones (Dr. Daniel Marquis), Timothy Spall (Superintendent Thayer), Charlotte Gainsbourg (Patsy), Harry Lawtey (Cadet Artemus Marquis), Robert Duvall (Jean Pepe), Simon McBurney (Captain Hitchcock), Lucy Boynton (Lea), Hadley Robinson (Mattie), Gillian Anderson (Julia); Runtime: 130; MPAA Rating: R; producer: Scott Cooper/Christian Bale/John Lesher/Tyler Thompson/Cross Creek; Netflix; 2022)
"Can be enjoyed if you can somehow overcome how it goes off the tracks."
Reviewed by Dennis Schwartz


The title is lifted from Poe's short story "The Tell-Tale Heart".

Scott Cooper ("Black Mass"/"A Head Full of Ghosts") is the director-writer of this period B-film, an icy gothic horror thriller and romantic melodrama, that's based on a 2003 novel by Louis Bayard. It imagines the youthful years of the fictionally portrayed future great poet Edgar Allan Poe (Harry Melling), when he was a cadet (in reality Poe was a cadet briefly for a few months, but was never involved with a murder case).

The somber wintry scene of a murder mystery is set in 1830 at the U.S. Military Academy in West Point, in upstate NY. It's the site of the gruesome death of a cadet, found hung from a tree with his heart crudely cut out. When the case goes unsolved, Colonel Thayer (Timothy Spall), the superintendent of the Academy, hires the fictionalized widowed former police detective Augustus Landor (Christian Bale), living alone nearby in a remote cottage, to investigate, fearing the senators are so alarmed by the murder they might shut down the facility. Landor's known for solving the toughest cases, and is hired because he gets results even if he's tormented by his own psychological demons, is insolent and a boozer.

The cadets remain mute, refusing to help, following their unwritten military code of silence to outsiders, but the detective ropes the dreamy-eyed and witty eccentric cadet Edgar Allan Poe (Harry Melling) into being an unofficial helper. He takes on the task because he's curious about the macabre murder and can't resist getting involved (this curiosity the filmmaker suggests is why he chose being a writer over the military).

When more cadets turn up dead and animals are found slaughtered with their hearts ripped out, we're dealing now with the occult and of looking for a serial killer.

The investigation targets the secretive and cunning local doctor, Dr. Marquis (Tony Jones) and his prying society matron wife Julia (Gillian Anderson), whose son Artemus (Harry Lawtey) is a cadet. The detective also calls on his occult expert friend (Robert Duvall) for help.

Using familiar detective tropes the film stays on track, but in its 'big reveal' things become preposterous and uninteresting. It still can be enjoyed if you can somehow overcome that it goes off the tracks, as the atmospheric mystery story can be haunting, you can take comfort in its originality and its references to the great mystery writer Poe are thoughtful.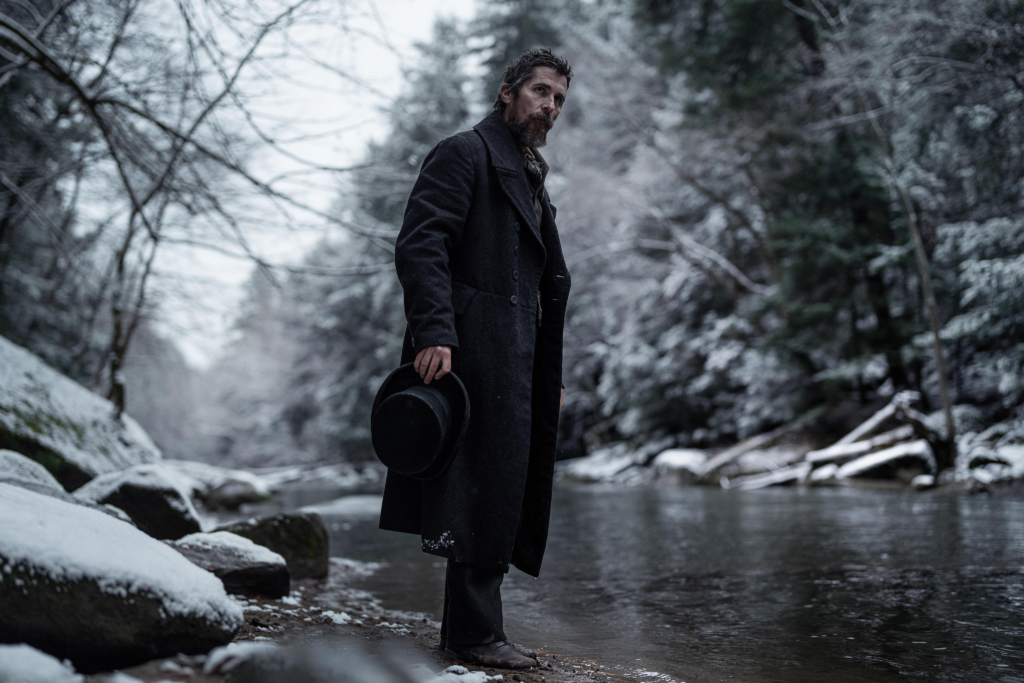 REVIEWED ON 12/30/2022 GRADE: B-