PAIN HUSTLERS
(director: David Yates; screenwriters: based on the novel The Hard Sell: Crime and Punishment at an Opioid Startup by Evan Hughes, Wells Tower; cinematographer: George Richmond; editor: Mark Day; music: James Newton Howard, Michael Dean Parsons; cast: Emily Blunt (Liza Drake), Chris Evans (Pete Brenner), Catherine O'Hara (Jackie), Andy Garcia (Dr. Jack Neel), Jay Duplass (Larkin), Chloe Coleman (Phoebe), Brian d'Arcy James (Dr. Lydell), Amit Shah (Eric Paley), Colby Burton (Ryan), Willie Rayson (Matt); Runtime: 122; MPAA Rating: NR; producers: Lawrence Grey, David Yates; Netflix; 2023)
"Even the energetic performance by the Brit actress Emily Blunt can't save this misfire."
Reviewed by Dennis Schwartz

An overlong and dull opioid crime drama that is painfully directed by the Brit filmmaker David Yates ("Harry Potter and the Order of the Phoenix"/"The Legend of Tarzan"). It's based on the 2022 novel The Hard Sell by Evan Hughes, that was inspired by Hughes' fact-based New York Times article. It's written by Wells Tower. Even the energetic performance by the Brit actress Emily Blunt can't save this misfire.


After leaving her Florida stripper job, thanks to a job tip by a club patron and friend Pete (Chis Evans), the sexy and intelligent school drop-out single mom, Liza Drake (Emily Blunt), starts working at a dubious pharmaceutical start-up firm, Zanna Therapeutics, a fictional drug company based on a real one, located at a strip mall. They employ shady sales reps such as Pete. The seedy place is run by the widower Dr. Neel (Andy Garcia), whose pain-killer product, called fictitiously by the name of Lonafen, is a drug that contains fentanyl.

Desperate to make a lot of money, Liza is willing to seduce doctors such as Dr. Lydell (Brian d'Arcy James), and sell the bad product to clinics all over the American southeast. The ambitious Liza will do anything to beat her rival sales reps, as her career takes off as she rapidly rises up the ranks as the company makes a financial killing.

By the final act the Big Pharma company goes into a free-fall after customers start dying, and the founder and his people are arrested.

Things become heavy-handed during its company collapse scenes.

There are many better films about greedy Big Pharma companies, such as Alex Gibney's "The Crime of the Century."

It played at the Toronto International Film Festival.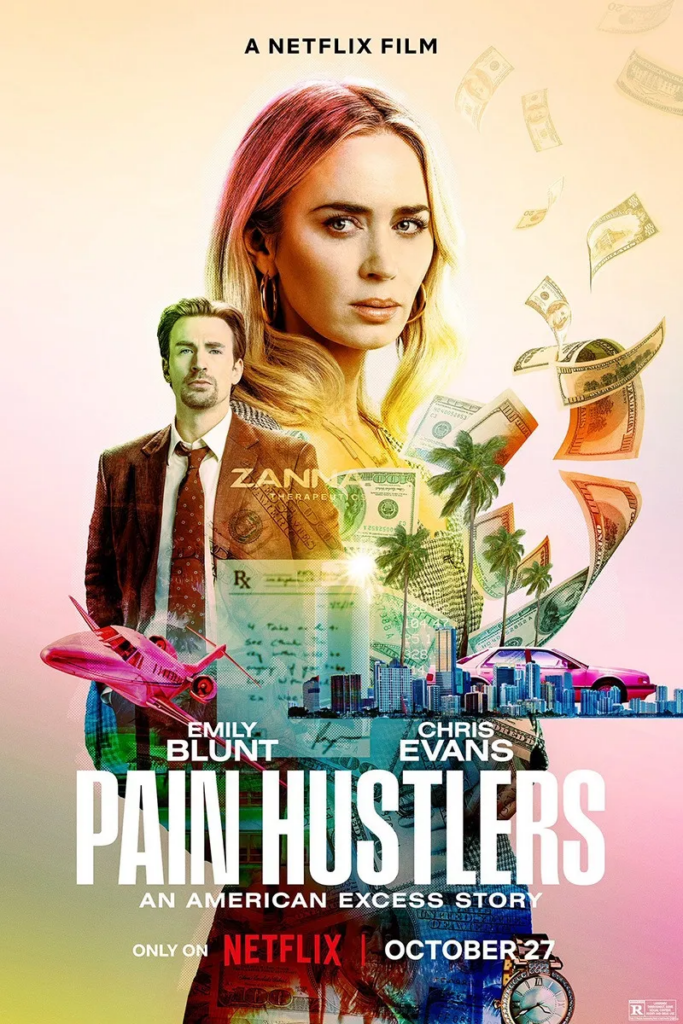 REVIEWED ON 11/3/2023  GRADE: C