ORPHAN: FIRST KILL
(director: William Brent Bell; screenwriters: David Coggeshall/story by David Leslie Johnson-McGoldrick & Alex Mace; cinematographer: Karim Hussain; editor: Josh Ethier; music: Brett Detar; cast: Isabelle Fuhrman (Esther Lena), Hiro Kanagawa (Detective Donnan), Jade Michael (Girl 1-Madison), Stephani Si (Flight Attendant), Rossif Sutherland (Allen Albright), Julia Stiles (Tricia Albright), Matthew Finlan (Gunnar Albright), Gwendolyn Collins (Anna Troyev, art therapy teacher), Samantha Walkes (Dr. Segar), David Lawrence Brown (Dr. Novodny); Runtime: 99; MPAA Rating: R; producers: Ethan Erwin/Alex Mace/Hal Sadoff/James Tomlinson; Paramount +; 2022)
"The story was dreary."
Reviewed by Dennis Schwartz

William Brent Bell ("Separation"/"Boys") directs this camp sequel to the 2009 horror pic Orphan directed by Jaume Collet-Serra. That film had a twist ending whereby it was revealed the 33-year-old Estonian woman named Leena Klanner posed as the kid. In this one a 25-year-old is made to look as if still the nine-year-old Esther Lena.  The orphan was then played by Isabelle Fuhrman who is now aged 25.

It's based on a story by David Leslie Johnson-McGoldrick & Alex Mace, and written by David Coggeshall.


A grown woman who looks like a child due to "proportional dwarfism" finds  her way from an insane asylum in Estonia into being adopted by a loving and wealthy American family, the home of Tricia (Jules Stiles) and Allen Albright (Rossif Sutherland), by posing as their missing American child named Esther Albright only to terrorize them and attempt to seduce the husband.

This version of the Orphan lacked suspense and credibility, and the story was dreary.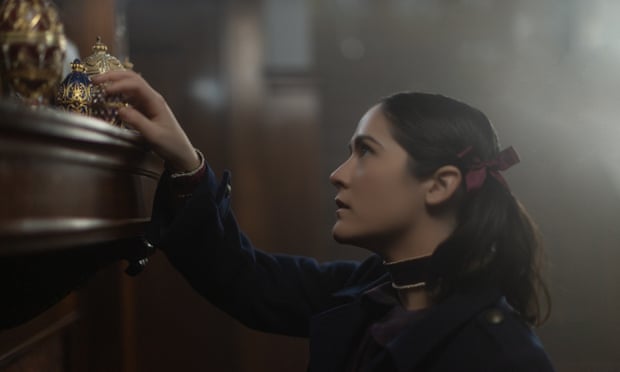 REVIEWED ON 8/18/2022 GRADE: C