ORDINARIES, THE
(director/writer: Sophie Linnenbaum; screenwriter: Michael Fetter Nathansky; cinematographer: Valentin Selmke; editor: Kai Eiermann; music: Fabian Zeidler; cast: Fine Sendel (Paula Feinmann), Sira-Anna Faal (Hannah Cooper), Noah Tinwa (Simon), Julie Bowe (Elisa Feinmann), Henning Peker (Hilde), Denise M'Baye (Dr. Cooper), Noah Bailey (Elio Cooper), Pasquale Aleardi (Ben Cooper); Runtime: 120; MPAA Rating: NR; producers: Laura Klippel, Britta Strampo; ZDF; 2022-Germany-in German with English subtitles)
"Though a clever take on the privileged, its fantasy parable is more interesting than entertaining."
Reviewed by Dennis Schwartz

German filmmaker Sophie Linnenbaum, in her debut feature, directs and co-writes with Michael Fetter Nathansky a dazzling, inventive, metafiction that combines sci-fi, political satire, film noir, a musical and a drama. It's both different and strange, as it tells a tragicomedy story where all the characters know their role in life after it is assigned to them and life for them has become an endless movie shoot.

The 16-year-old Paula Feinmann (Fine Sendel) lives with her mother Elisa (Jule Böwe) in a drab high-rise housing estate. They are both "supporting characters" unable to go beyond having shallow dialogue with others.
 
The ambitious Paula goes to the Institute for Main Characters, just like her "main character" father. But she has no memory of him. He was murdered by the outtakes in the "Great Massacre", that has been memorialized by a monument to heroes.

Paula's classmate and best friend is Hannah Cooper (Sira-Anna Faal), who comes from a family of "main characters." They live a life of color, music, and big emotions. Like Hannah, Paula also has good grades at school, for example in subjects like pathetic monologues or panicked screams.


Though a clever take on the privileged, its fantasy parable is more interesting than entertaining. It also goes on for too long at two hours.

Its theme is that some get all the breaks in life, as it asks that everyone get a chance to be a star in their life. In other words, justice for all. It tells its odd story as a blend of political satire and through the parallel world of movies. 

It played at the Munich Film Festival.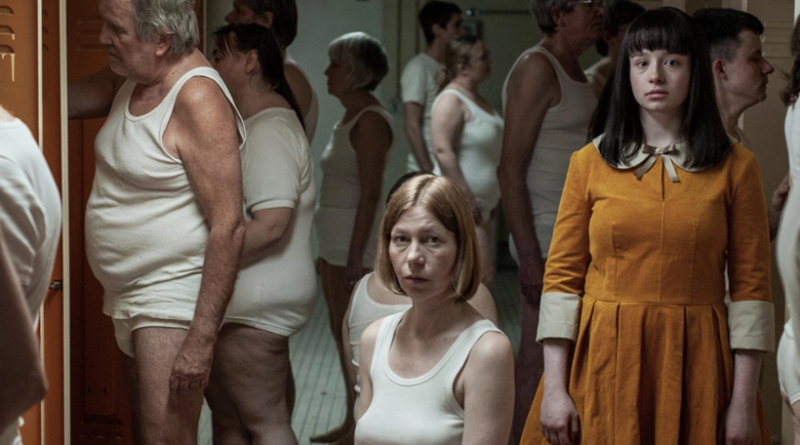 REVIEWED ON 10/15/2023  GRADE: B-