OPERATION FORTUNE: RUSE DE GUERRE
(director/writer: Guy Ritchie; screenwriters: Ivan Atkinson/Marn Davies; cinematographer: Alan Stewart; editor: James Herbert; music: Christopher Benstead; cast: Jason Statham (Orson), Aubry Plaza (Sarah), Josh Hartnet (Danny Francesco ), Cary Elves (Nathan), Hugh Grant (Greg), Bugzy Malone (J.J.); Runtime: 114; MPAA Rating: R; producers: Ivan Atkinson/Bill Block/Steve Chasman/Guy Ritchie/Jason Statham; Lionsgate/Miramax; 2023-UK)
"So-so espionage tale."
Reviewed by Dennis Schwartz

Brit filmmaker Guy Ritchie  ("Snatch "/"Swept Away") is back doing his usual catchy action pics in this so-so espionage tale. It's feverishly scripted by Ritchie and his regular collaborators, Ivan Atkinson and Marn Davies, without making much sense. But it has some thrills (especially for Ritchie fans) in its action sequences and displays a robust sense of humor in its constant banter.

In order to prevent the repellent arms dealer billionaire, Greg Simmonds (Hugh Grant), from obtaining dangerous sophisticated weapon technology, stolen by Ukrainian mobsters (yikes!) and now in the hands of a disloyal British government official (Cary Elwes), that Simmonds plans on selling if he can get his hands on it, on the black market for a windfall. The government thereby recruits the mercenary former assassin and spy, the controversial Orson Fortune (Jason Statham), under the guise of the Ruse de Guerre (a French term for such a tricky hire), with retrieving it.

Orson leads a team of spies that include the sniper J.J. (Bugzy Malone) and techie guru Sarah (Aubrey Plaza). They then kidnap the famous Hollywood actor, Danny Francesco (Josh Hartnett), and use him as bait to attract the bad guys in Cannes.

The well-traveled film stylishly takes us to four different continents, and has many plot twists to keep us on our toes. What it lacks is substance and being believable, but should attract many viewers who are suckers for Hollywood-like escapist films.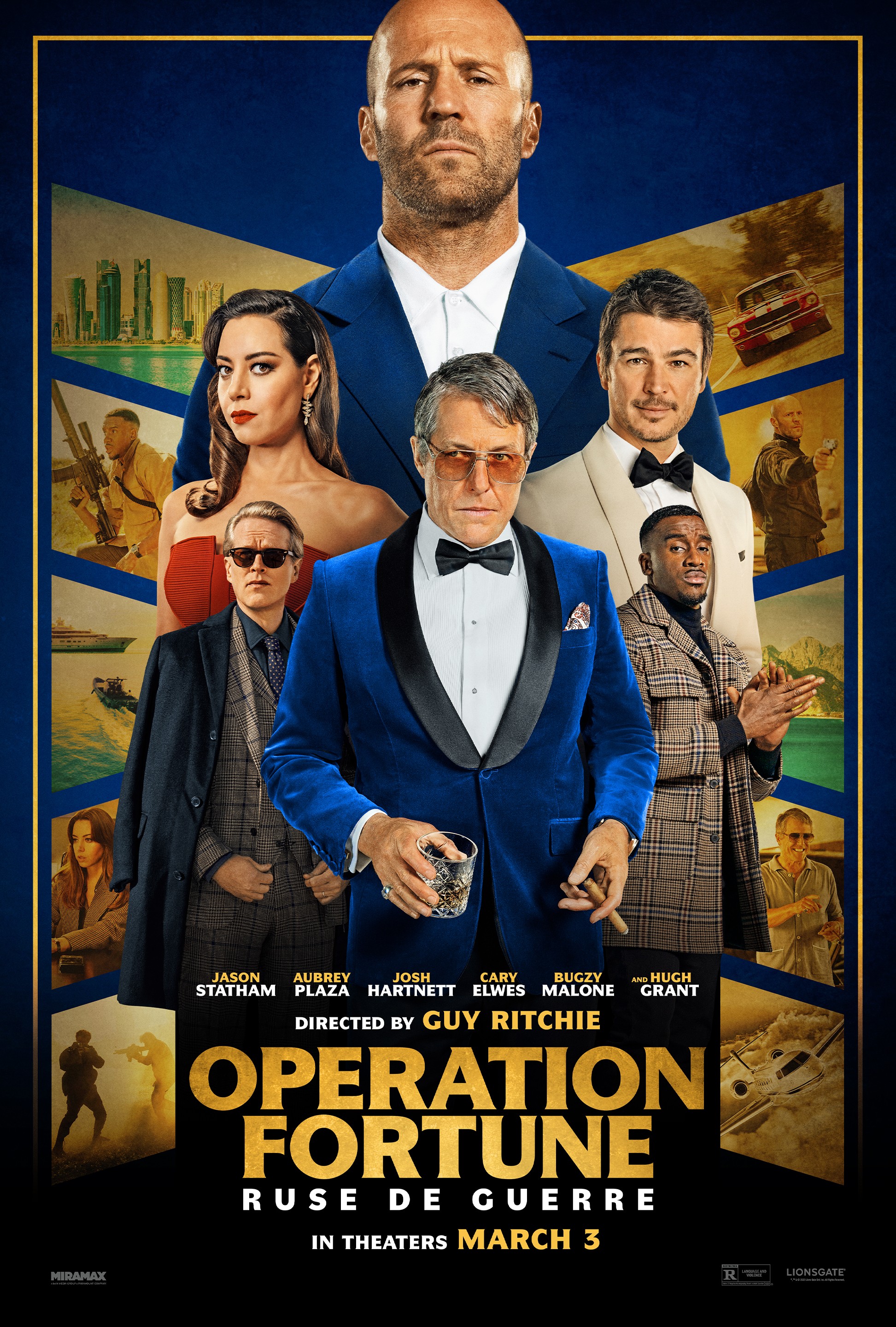 REVIEWED ON 3/7/2023  GRADE: C+