OFFICIAL COMPETITION
(director/writer: Mariano Cohn/Gastón Duprat; screenwriter: Andrés Duprat; cinematographer: Arnau Valls Colomer; editor: Alberto del Campo; music: Eduardo Cruz; cast: Penelope Cruz (Lola Cuevas), Antonio Banderas (Félix Rivero), Oscar Martinez (Iván Torres), Irene Escolar (Diana Suárez), Melina Matthews (Directora de fotografía), Pilar Castro (Violeta), José Luis Gómez (Humberto Suárez), Manolo Solo (Matias), Nagore Aranburu (Julia), Koldo Olabarri (Dario), Juan Grandinetti (Arei); Runtime: 115; MPAA Rating: NR; producer: Jaume Roures: IFC Films; 2021-Spain/Argentina-in Spanish with English subtitles)
"A silly but funny film."
Reviewed by Dennis Schwartz

The Argentine co-directors Mariano Cohn ("The Distinguished Citizen") and Gastón Duprat ("The Distinguished Citizen") deliver a playful comedy spoof on actors on the set of making a film. The film has a laugh while spoofing the film industry and the narcissism of actors. Andrés Duprat also co-wrote the screenplay with the co-directors.

The 80-year-old billionaire Humberto Suárez (José Luis Gómez) as his legacy wants to leave behind a great film he willingly spends a fortune on to make. He thereby hires the eminent but eccentric director Lola Cuevas (Penélope Cruz) to adapt to film an award-winning novel, "Rivalry." Lola casts Hollywood heartthrob box-office draw Félix Rivero (Antonio Banderas) and opposite him the gifted serious thespian Iván Torres (Oscar Martínez) as the leads.

Lola ferments the rivalry between the opposites and succeeds in getting the co-stars to hate each other.

The low-key satire is on target with the actors playing their cartoonish parts seriously, as the talented actors seem to enjoy their rich roles and the filmmakers keep the farce intense. During one scene, Lola has them rehearsing under a giant boulder suspended from a crane.

It's a silly but funny film, the kind of romp Mel Brooks is noted for.

It played at the Venice Film Festival.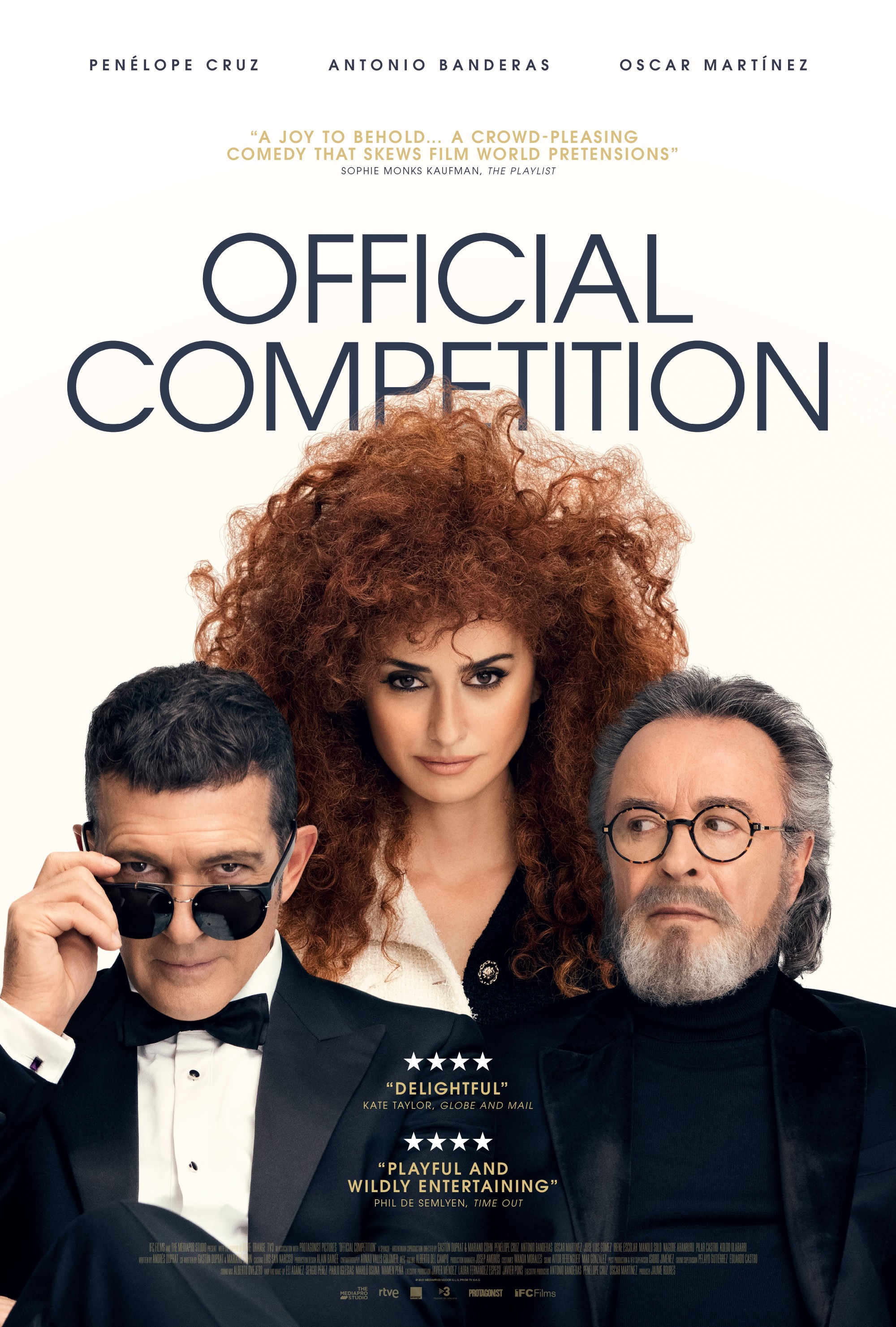 REVIEWED ON 7/17/2022 GRADE: B+