NO ONE WILL SAVE YOU
(director/writer: Brian Duffield; cinematographer: Aaron Morton; editor: Gabriel Fleming; music: Joseph Trapanese; cast: Geraldine Singer (Mrs. Collins), Kaitlyn Deyer (Brynn Adams), Ginger Cressman (celebration guest), Dane Rhodes (Mr. Collins, Police Chief), Elizabeth Kaluev (Young Brynn), Zack Duhame (Mailman), Lauren Murray (Brynn's Mother), Daniel Rigamer (Mr. McCreary), Evangeline Rose (Young Maude), Dari Lynn Griffin (Maude); Runtime: 93; MPAA Rating: NR; producers: Trevor White, Tim White, Allan Mandelbaum, Brian Duffield; Hulu/A 20th Century Studios release; 2023)
"It never becomes a turn-off, even if it might leave you not fully buying into its strangeness."
Reviewed by Dennis Schwartz

Brian Duffield ("Spontaneous") is the writer/director of this gimmicky and stylish flying saucer alien home invasion sci-fi movie. It has little dialogue, looking like a silent. It reveals so little plot and motive until the end, that I found it difficult to emotionally tune into it. But kudos for its creativity, such as the inventive sound effects, the effective visuals, the scares without jump-cut scares, the star actress being facially expressive to communicate without talking and the eerie mood piece musical score by Joseph Trapanese.

The lonely Brynn Adams (Kaitlyn Deyer), someone who is still dealing with a past trauma, lives a quiet life alone, in the big house she grew up in as a child, after the deaths of her mother and sister.

An alien invades her home while she's asleep and after she kills it, other aliens appear and start terrorizing her while she fights back. Receiving no help from her neighbors or the police when she calls upon them, Brynn must fight them off on her own.

Things remain tense throughout. It's so well-crafted that it never becomes a turn-off, even if it might leave you not fully buying into its strangeness.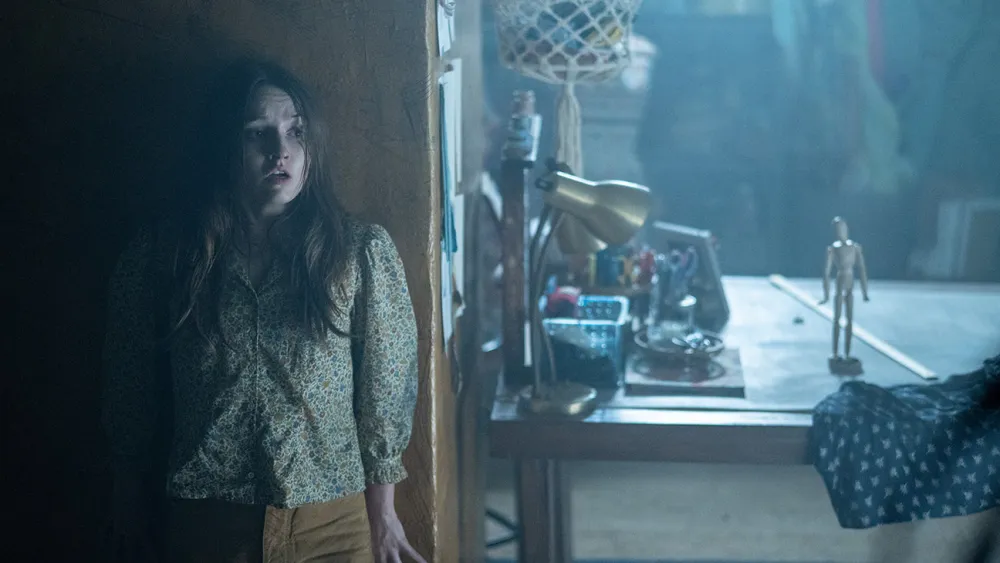 REVIEWED ON 10/1/2023  GRADE: B-