NEPTUNE FROST
(directors: Saul Williams/Anisia Uzeyman; screenwriter: Saul Williams; cinematographer: Anisia Uzeyman; editor: Anisha Acharya; music: Saul Williams; cast: Elvis Ngabo (Neptune), Cheryl Isheja (Neptune), Bertrand Ninteretse (Matalusa), Eric Ngangare (Potolo The Avatar), Natasha Muziramakenga (Binya), Trésor Niyongabo (Psychology), Rebecca Mucyo (Elohel), Eliane Umuhire (Memory), Dorcy Rugamba (Innocent); Runtime: 105; MPAA Rating: NR; producers; Maria Judice, Ezra Miller, Anisia Uzeyman, Saul Williams:  Kino Lorber; 2021-Rwanda/USA/Canada/France-in Swahili, Kinyarwanda, Kirundi, French, English, with English subtitles)
"Delightfully imaginative."
Reviewed by Dennis Schwartz

A strange but original lyrical and richly made visual film, mostly seen as a musical– a new kind of Black film by co-directors Saul Williams (an American musician, poet and multimedia artist, who also wrote the screenplay) and Anisia Uzeyman  (a Rwandan actress and playwright who is also the DP, and also directed Dreamscapes). It's a blend of a science fiction parable, punk-rock musical, and an offbeat romance with a queer Afrofuturist twist. The result is a powerful film that deserves, if possible, to be seen on the 'big screen.' To my regret, I saw it on my home computer.

It shows an uprising in a Rwandan (Burundi) village after work-related incidents, as it tracks an escaped coltan miner (coltan is a mineral used to power the world's cellphones) named Matalusa (Bertrand Ninteretse) who witnessed the killing of his brother Tekno and other work-place horrors approved of by the ruling authority management power. While on the run he meets through cosmic forces a renegade intersex hacker Neptune (played alternately by the male Elvis Ngabo and then by the female Cheryl Isheja). Throughout the film, these rebels provide pockets of resistance to the establishment by making strong statements on technology and hacking into the internet. They also take a strong stance against colonialism and capitalism, arguing vigorously for worker's rights and for queers not to be marginalized. It delivers these messages in a creative way, which makes the film delightfully imaginative.


On the run, Neptune and Matalusa meet a nun (Cecile Kayiregawa), and then travel by boat across the country. After dancing with the local kids and being hit by a motorcycle, they go through a spiritual transformation—lying on a bed of playing cards, anointed by a mystical seemingly human who heals their injuries and puts them in the dress they'd been concealing in their luggage—with Neptune now played by Cheryl Isheja, who avoids being assaulted by an unaware innocent (Dorcy Rugamba) attracted to the men in dresses.


The journey of the outcasts finally end up in the hacker encampment, with "Frost" being the name of a magical, brightly colored messenger bird.
 
Using mind-bending surreal visuals, featuring a feisty young cast, pleasing colorful native costumes and, centering its plot around a queer romance, it turns electric as an opera that packs a powerful political punch. It calls for positive changes on how the African country operates and that there should be a collective ownership of wealth in a world gold mine to ensure a better future for those in Africa.


It played at The 2021 New York Film Festival.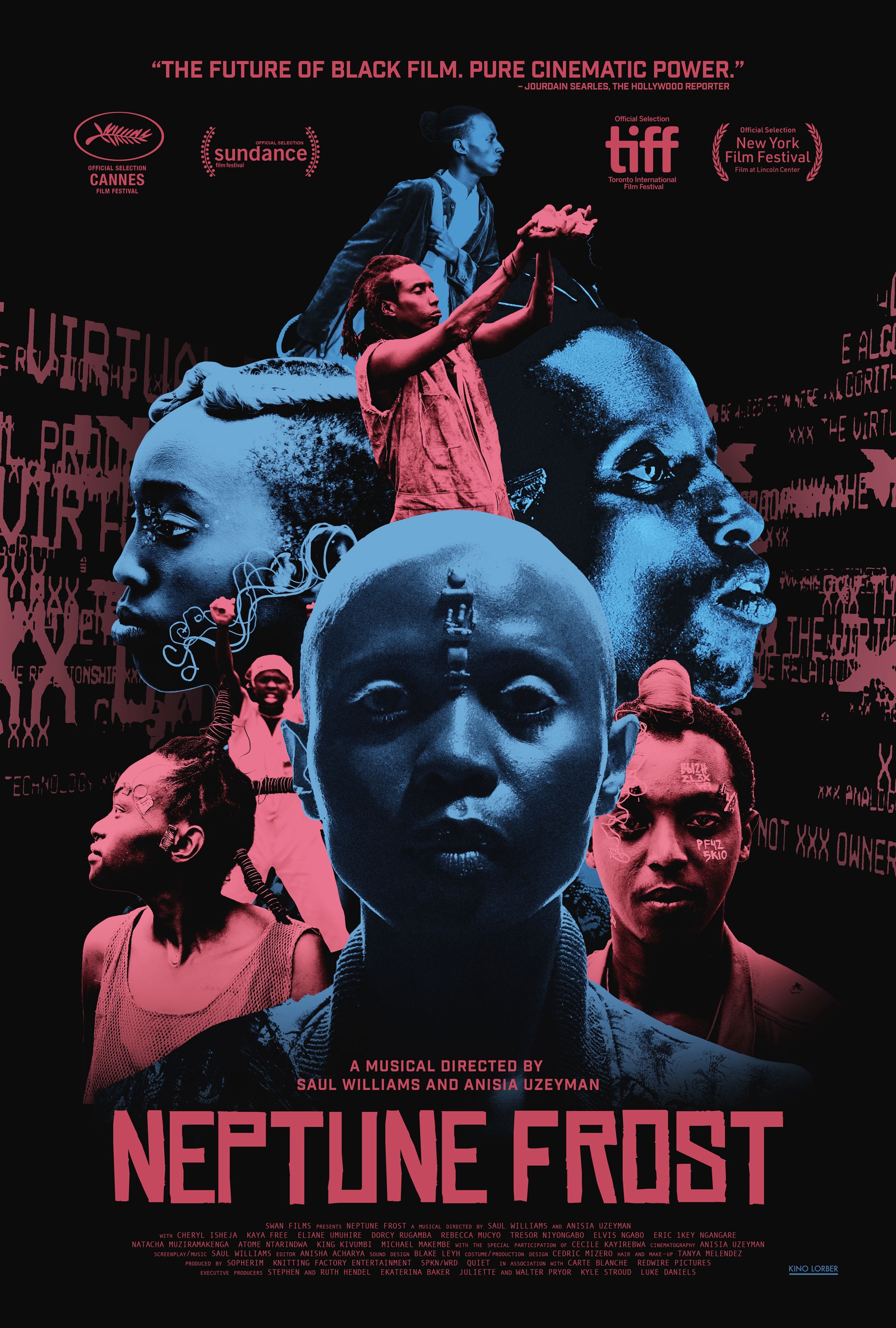 REVIEWED ON 6/19/2022  GRADE: A-