NATURAL BORN KILLERS
(director/writer: Oliver Stone; screenwriters: based on a story by Quentin Tarantino, David Veloz, Richard Rutowski; cinematographer: Robert Richardson; editors: Hank Corwin, Brian Berdan; music: Brent Lewis; cast:Woody Harrelson (Mickey), Juliette Lewis (Mallory Wilson Knox), Tommy Lee Jones (Dwight McClusky), Robert Downey Jr. (Wayne Gale), Tom Sizemore (Det. Jack Scagnetti), Rodney Dangerfield (Ed Wilson, Mallory's Father), Edie McClurg (Mallory's Mother), Russell Means (Old Indian), Everett Quinton (Deputy Warden Wurlitzer); Runtime: 119; MPAA Rating: R; producers: Jane Hamsher, Don Murphy, Clayton Townsend; Warner Bros.;-in Color & B&W 1994)
"It's Stone's sordid but well-executed action pic message film about how an ill-informed society glorifies repulsive violent figures and makes them heroes."
Reviewed by Dennis Schwartz

Oliver Stone ("JFK"/"Platoon") directs this volatile crime drama about a psychopath white trash couple, Mickey (Woody Harrelson) and Mallory (Juliette Lewis), who are mass murderers on a killing spree across America and become favorites of the tabloids.

It's co-written by Stone, David Velez, and Richard Rutowski, and is based on the story by Quentin Tarantino. The story is built around how the couple become media stars and how gloriously the public responds to them. The violence is cartoonish, and its black comedy is effective.

The film does good as it experiments with unusual camera angles and shooting techniques. The background music has songs from such talents as Leonard Cohen, the Shangri-Las, Dr. Dre, Patsy Cline, Patti Smith, Nine Inch Nails and Lou Reed. 
 
It starts with a bang in a brilliant and audacious opening sequence, that gets your attention and holds it throughout. The impulsive teen Mallory has a history of being sexually abused by her father (Rodney Dangerfield) until rescued by the serial-killer Mickey. He drowns her dad in the fish tank and guns down her mom (Edie McClurg). They then drive away together, become lovers, and go on a killing spree in the heartland. They reach legendary status when they are both arrested and jailed, and the interview they gave on TV to the host Wayne Gale (Robert Downey Jr.) excites the public and the evil couple become celebrities.

It's Stone's sordid but well-executed action pic message film about how an ill-informed society glorifies repulsive violent figures and makes them heroes.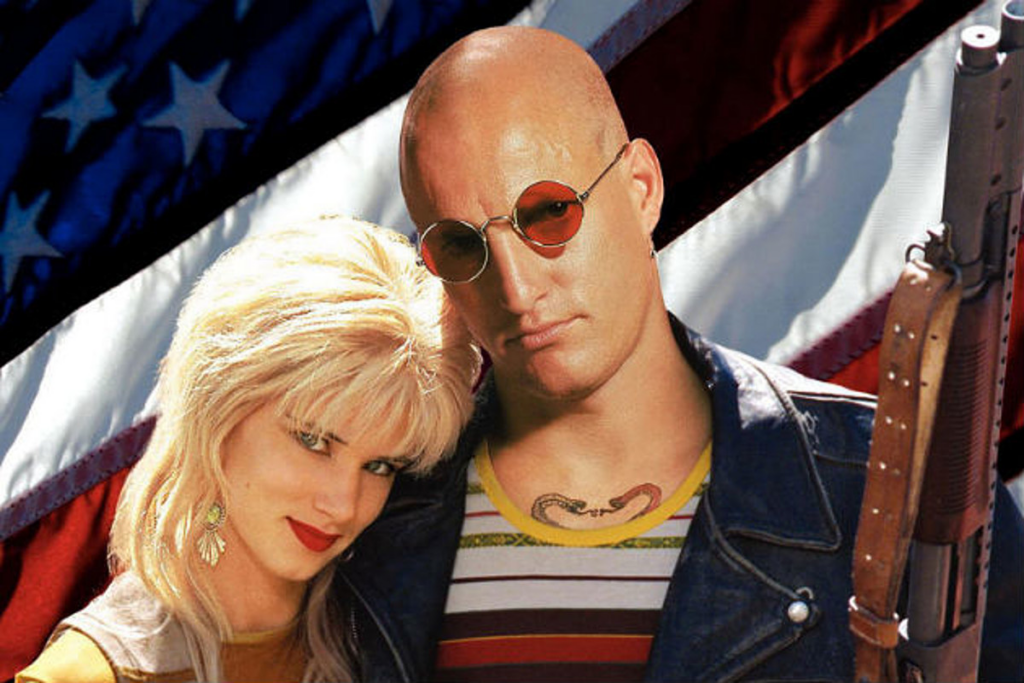 REVIEWED ON 11/6/2023  GRADE: B