NAPOLEON
(director/writer: Ridley Scott; screenwriter: David Scarpa; cinematographer: Dariusz Wolski; editors: Claire Simpson, Sam Restivo; music: Martin Phipps; cast: Joaquin Phoenix (Napolean Bonaparte), Vanessa Kirby (Empress Josephine), Tahar Rahim (Paul Barras), Rupert Everett (Arthur Wellesley), Edouard Philipponnat (Tsar Alexander), Catherine Walker (Marie-Antoinette), Ludivine Sagnier (Theresa Cabarrus); Runtime: 158; MPAA Rating: R; producers: Mark Huffam, Kevin J. Walsh, Ridley Scott; A Sony release of a Columbia picture; 2023-USA/USA-English, German, Russian)
"Awesome as spectacle."
Reviewed by Dennis Schwartz

A stylish epic historical biopic on the ambitious and ruthless power-grabbing French general and bombastic emperor, Napoleon Bonaparte (Joaquin Phoenix), 1769-1821. He's portrayed as the short, petulant and eccentric outsider, born in Corsica, who is a military tactical genius, a wannabe Julius Caesar, and a child-like character exhibiting frequent temper tantrums. He's viewed in his bicorne hat looking spiffy and arrogantly out at the world he despises.
 
In this well-crafted, well-acted and very funny comical rendering of France's upwardly-mobile leader, it's awesome as spectacle, as handsomely directed in an old-fashioned biopic way by the noted veteran 85-year-old Brit filmmaker Ridley Scott ("House of Gucci"/"Gladiator"). It's helped further by the great cinematographer, Dariusz Wolski, whose brilliant photography is dazzling.

It opens in 1793 with the guillotining of Marie Antoinette, as it depicts the unrest in France and how that helps Napoleon to make a name for himself as a smart and successful military leader beating the hated Brits at the Battle of Toulon in 1793.

The film will cover 26 years of European history (too much to cover in only 158 minutes, which is the film's main fault), as co-written by Scott and David Scarpa, who keep it as a fact-filled but entertaining summation of the volatile Napoleon's rise and fall and as an attempt to get at what makes the elusive power-hungry opportunist tick (which it never quite pins down).

The battle scenes of the 6 battles filmed, of the emperor's 66, are pulverizing (like in the Battle of Austerlitz, the cannon fire from Napoleon's army sends the Austrian and Russian troops to their ugly deaths by having them plunge into a frozen lake, that's slowly filled with their blood).

The scenes the emperor has with the empress Josephine (Vanessa Kirby), the widowed fallen libertine aristocrat who has the last laugh as she makes her comeback as the emperor's wife, are the film's most pleasantly diverting ones. While the drama that relates to how the world leaders treat the upstart emperor as a pariah they can't respect, makes for an interesting watch.

What doesn't work that well is its sprawling overview of Napoleon's military career. It turns flat and boring after a while, adding nothing new to his legend, and with too many asides that are unable to nail down a portrait of what made the emperor so driven and obsessed to be the most powerful man of the day.

In this camp performance driven film, I think it will be judged by how much the viewer took to Joaquin Phoenix zany way of playing Napoleon (I didn't think he nailed his character, but I got a kick out of his performance).

The last set-piece is the fight with the hated English at the Battle of Waterloo, which was the emperor's Waterloo, as the English are led to victory by Rupert Everett's Duke of Wellington.


It ends with Napoleon's exile in 1815 to St. Helena.

For me, Abel Gance's silent masterpiece of 1927, with an ascetic Napoleon, is still the film to catch if you see only one Napoleon film.

Scott reveals that he has a 4-hour director's cut he will release in the future, in the hopes of filling in all the gaps from this film's expansive narrative.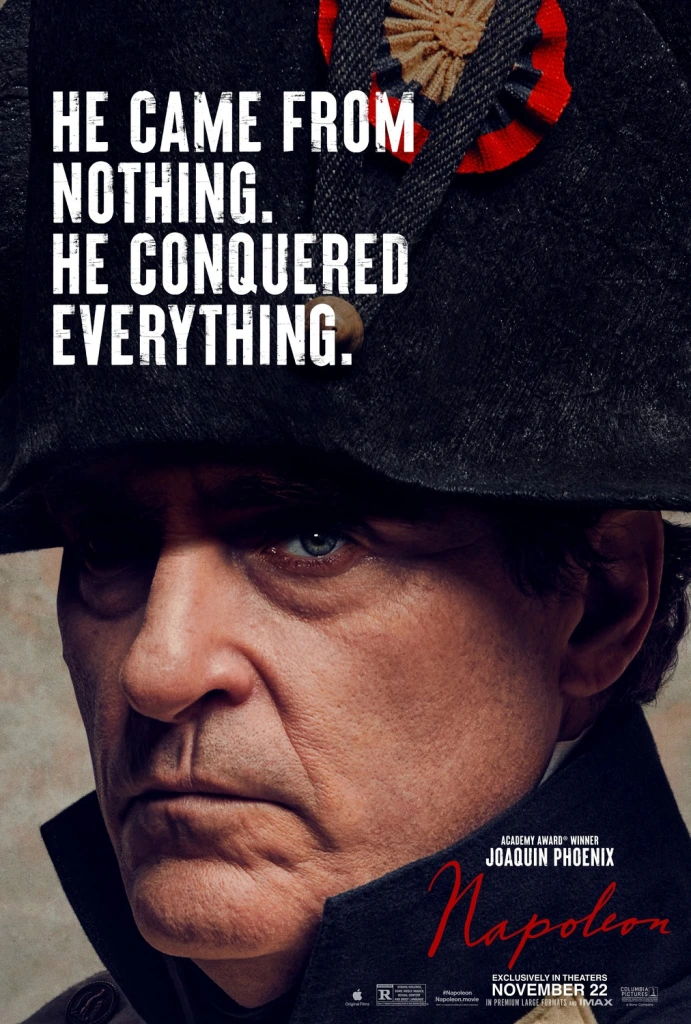 REVIEWED ON 11/18/2023  GRADE: B