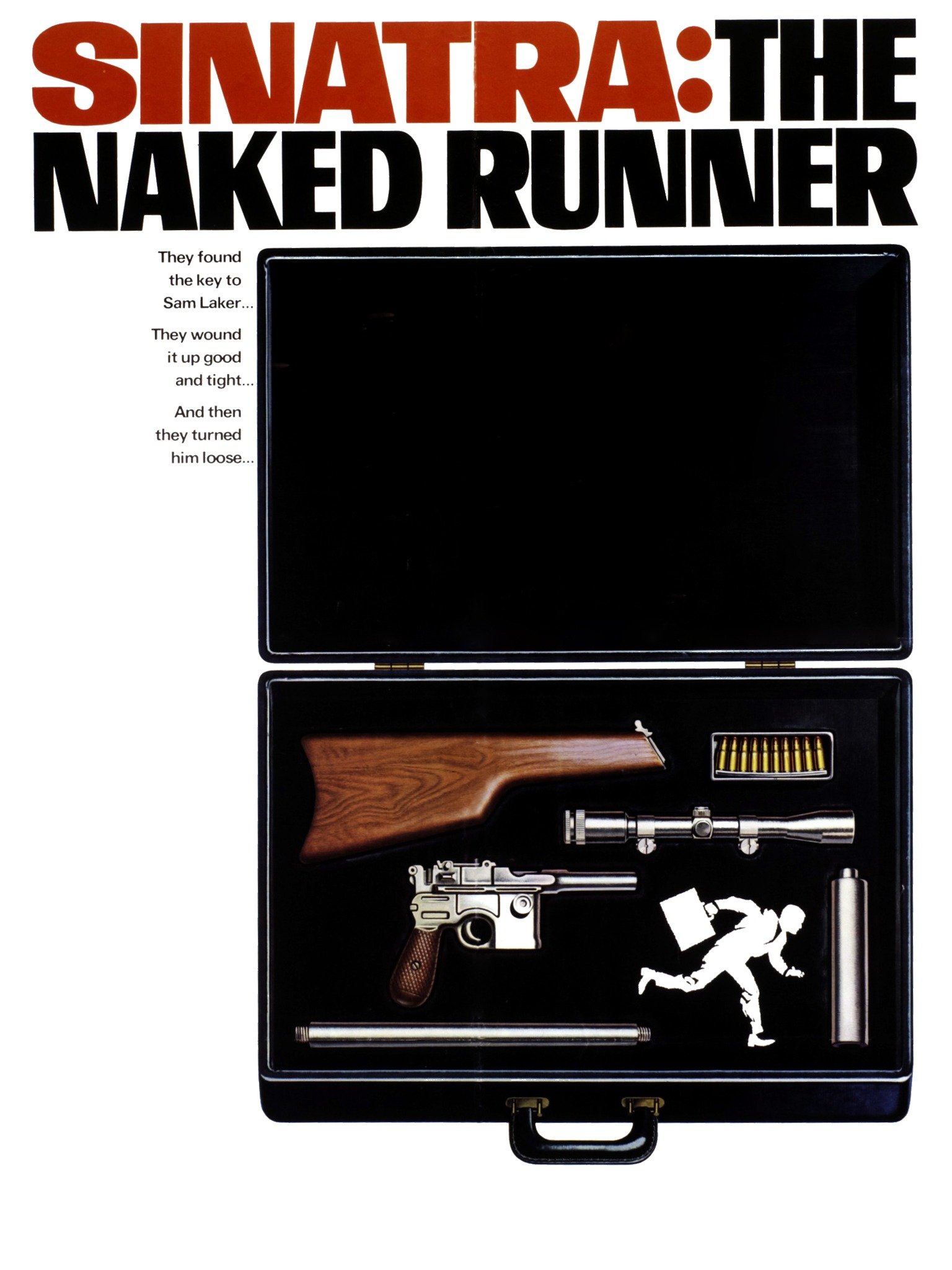 THE NAKED RUNNER
(director/writer: Sidney J. Furie; screenwriter: from the novel by Francis Clifford/Stanley Mann; cinematographer: Otto Heller; editor: Barrie Vince; music: Harry Sukman; cast: Frank Sinatra (Sam Laker), Peter Vaughan (Martin Slattery), Derren Nesbitt (Colonel Hartmann), Nadia Gray (Karen Gisevius), Toby Robins (Ruth), Inger Stratton (Anna), Michael Newport (Patrick Laker), Edward Fox (Ritchie Jackson), J.A.B. Dubin-Behrmann (Joseph), Cyril Luckham (Cabinet Minister); Runtime: 105; MPAA Rating: NR; producer: Brad Dexter; Warner Bros.; 1967-UK)

"A dull, shallow and unbelievable Cold War spy thriller."
Reviewed by Dennis Schwartz
A dull, shallow and unbelievable Cold War spy thriller set in the 1960s. It's directed by Sidney J. Furie("Iron Eagle"/"The Ipcress File"/"Conduct Unbecoming") in his peculiar style that calls for flashy moments at odd times. It incredulously has British Intelligence turn to an American businessman, a former American sharp-shooter in the Second World War, assigned to OSS, to carry out a dangerous assignment only a trained agent could handle. It falsely leads one to believe that there was not anyone qualified in British Intelligence to do the mission. It's based on the 1965 novel by Francis Clifford (a pseudonym for Arthur Leonard Bell Thompson). Also, Stanley Mann's screenplay is so listless and ludicrous, it wears on your patience. Though it did enough business at the box office to be a minor hit, something Sinatra needed since his last 2 films, Marriage on the Rocks and Assault on a Queen, were bombs. But it was critically sliced up by most critics and was Sinatra's last film with Warner Brothers.
The producer Brad Dexter once saved Frank Sinatra's life in a drowning incident and Sinatra has always tried to help the actor turned producer out since then. But Sinatra pushed their friendship to the limits by acting as the spoiled diva during the filming and when he insisted on filming in a sound-stage in Hollywood instead of in Denmark and Germany, the director had to be talked out of quitting by the exasperated producer.
The widowed, with a 10-year-old son Patrick (Michael Newport), former American Army war vet, the American furniture designer Sam Laker (Frank Sinatra), is working in London. Traveling to East Germany on business with his son, he runs into a former Army pal and commander, now working with M-15, Martin Slattery (Peter Vaughn). Slattery has trouble convincing Laker to use his skills as a sniper to take out a rogue agent now with the communists. But Laker sees no harm delivering a message to the East German dwelling Karen Gisevius (Nadia Gray), who worked with the anti-Nazi resistance during the war. After delivering the message, Laker returns to Leipzig to find out from the communist agent, Col. Hartmann (Derren Nesbitt), that his son has been kidnapped and will be released only after he carries out a sniper hit for them.
If this farfetched potboiler grabs you, then you are more willing than I am to believe that 'The Chairman of the Board' could be used as a pawn by the spy boys and be cast as an vulnerable furniture designer.
The weird title is derived from the Arthur Symons poem In the Wood of Finvava ("a naked runner lost in a storm of spears").
REVIEWED ON 9/1/2014 GRADE: C+