MUTATIONS, THE (THE FREAKMAKER)
(director: Jack Cardiff; screenwriters: Robert D. Weinbach/Edward Mann; cinematographer: Paul Beeson; editor: John Trumper; music: Basil Kirchin/Jack Nathan; cast: Donald Pleasence (Professor Nolter), Tom Baker (Lynch), Brad Harris (Brian Redford), Julie Ege (Hedi), Michael Dunn (Burns), Scott Antony (Tony), Olga Anthony (Bridget), Lisa Collins (Prostitute), Willie Ingram (Popeye), Joan Scott (Landlady), Toby Lennon (Tramp), John Wreford (Policeman), Richard Davies (Doctor), Jill Haworth (Lauren), Madge Garnett (Monkey Woman), Molly Tweedle (Dwarf Molly), Esther Blackmon (Alligator Girl), (), Lesley Rouse (Skinny Lady),  Fran Fullenwider (Fat Lady), Fay Bura (Bearded Lady), Orla Pederson (Human Pincushion), Kathy Kitchen (Midget Kathy), Felix Duarte (Frog Boy), Hugh Baily (Pretzel Boy); Runtime: 91; MPAA Rating: R; producer;Robert D. Weinbach: Getty Pictures Corp/Subversive Cinema; 1974-UK/USA)
"A sordid mad scientist horror pic."
Reviewed by Dennis Schwartz

It's a sordid mad scientist horror pic that tries to imitate Tod Browning's classic film Freaks (1932) but instead is overstuffed with mad scientist cliches and becomes campy, silly and grotesque as a murder story. It fails to capture the sympathy Browning had for his circus freaks. But it's directed with great visuals by the former Oscar-winning cinematographer from England, Jack Cardiff ("Penny Gold"/"My Geisha"). However the writers Robert D. Weinbach and Edward Mann make it into a schlocky horror pic that centers around a psychopathic science professor at a London university, Professor Nolter (Donald Pleasence), who kidnaps subjects to discover in his unauthorized experiments the perfect synthesis of plant and animal. The eperiment failures he dumps in a circus freak show.

The professor is connected with a circus that carries on freak shows for the public (using real freaks). The freak show is co-run by nice guy dwarf in a wheelchair Burns (Michael Dunn) and the evil, severely deformed facially Lynch (Tom Baker), who despises the freaks. He kidnaps victims for the professor's experiments on the promise when the professor's work is completed he will restore his face to normal.

The professor keeps killing the subjects he experiments on or turns them into freaks. He asks Lynch to get him another.  This time it's one of his students, Bridget (Olga Anthony), who is chased through a deserted foggy London park by a bunch of dwarfs having some fun but is kidnapped by Lynch. After experimenting with Bridget, the professor kills his subject. Lynch then nabs one of her classmates, Tony (Scott Antony), who goes to the freak show living area at night to look for her after suspecting she's there when her medallion is spotted on Burns when the students visit the freak show. But Lynch nabs him and the professor turns him into a cross between a man-lizard and a Venus Flytrap.

To the rescue comes visiting American scientist Brian Redord (Brad Harris), whose college student girlfriend Hedi (Julie Ege, Norwegian actress) turns up missing, and he suspects the professor and goes to his house on the grounds of the freak show circus.

This is an exploitation no-fun film that sort of makes you want to give Browning's film even more love for its humanity. The best I can say about The Mutations was that I found it watchable in the way you may stop on the road to view a car accident.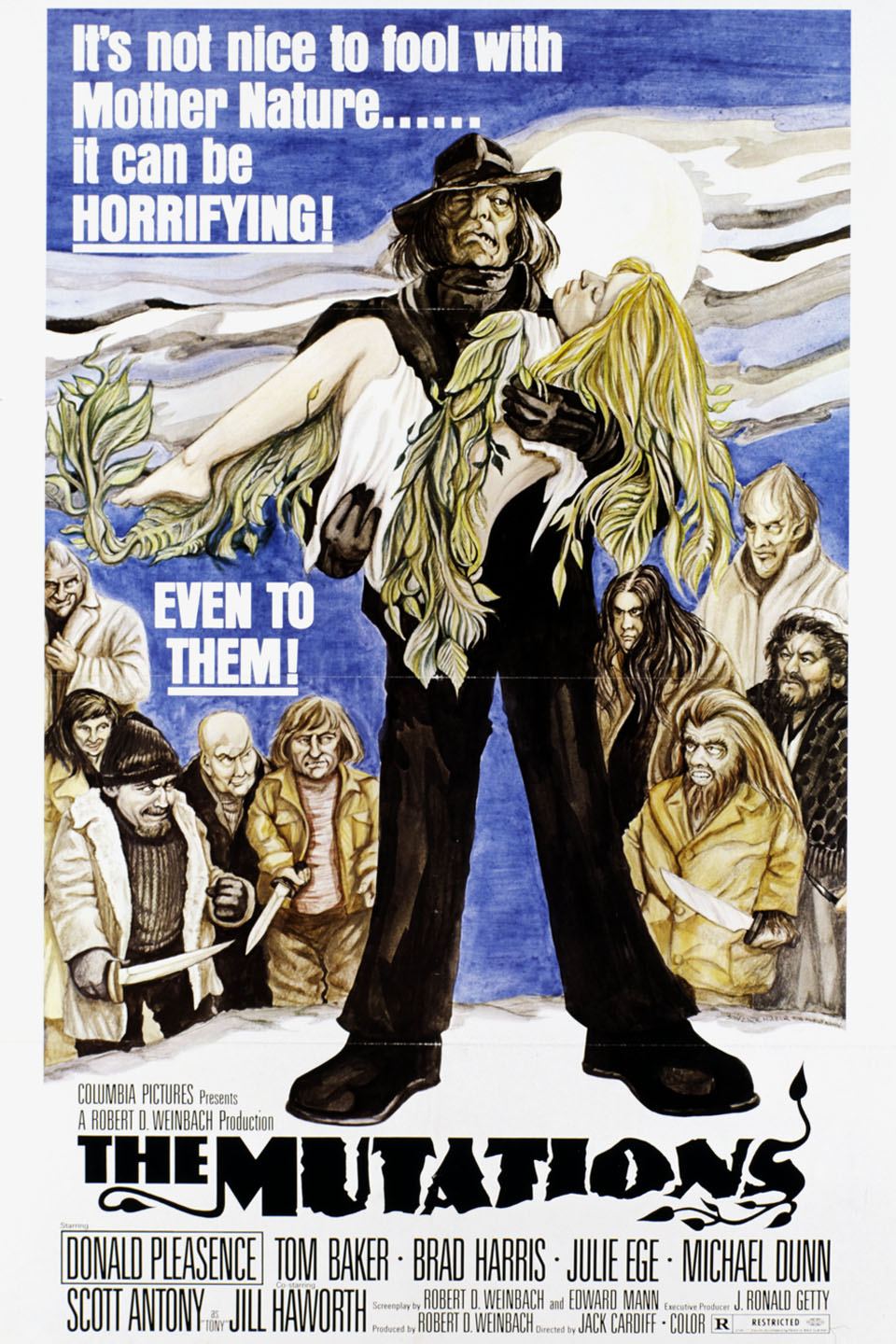 REVIEWED ON 12/6/2021 GRADE: B-