MURDER BY INVITATION
(director: Phil Rosen; screenwriter: George Bricker; cinematographer: Marcel LePicard; editor: Martin G. Cohn; cast: Wallace Ford (Bob White), Marian Marsh (Nora O'Brien), Herb Vigran (Eddie), Sarah Padden (Aunt Cassandra 'Cassie' Hildegarde Denham), George Guhl (Sheriff Boggs), Wallis Clark (Judge Moore), Gavin Gordon (Garson Denham), J. Arthur Young (Trowbridge Cadwalader Montrose), Hazel Keener (Mary Denham), Minerva Urecal (Maxine Denham), Dave O'Brien (Michael), Philip Trent (Larry Denham), John James (Tom Denham), Isabelle LeMal (Martha Denham), Lee Shumway (the gardener), Kay Deslys (Katie); Runtime: 67; MPAA Rating: NR; producer: A.W. Hackel; Monogram/Amazon; 1941-B/W)
"A delightful crime comedy in the 'Dark Old House' tradition."
Reviewed by Dennis Schwartz
 
A delightful crime comedy in the "Dark Old House" tradition by noted B-film director Phil Rosen ("The Secret of St. Ives"/"The Scarlet Clue"). It's written by George Bricker, who does a fine job getting in many sharply drawn quips and making it hard to guess the murderer. The whodunit is a fun film, filled with surprises and eccentric characters.

The wealthy 65-year-old spinster Cassandra 'Cassie' Denham (Sarah Padden), known as Aunt Cassie to her relatives, is an eccentric worth 3 million dollars. Her greedy and obnoxious relatives, led by her lawyer nephew Garson Denham (Gavin Gordo) fail to have her committed to a mental institution when they take her to a NY court and charge her with being mentally incompetent to take care of herself.

After gloating in her victory, Aunt Cassie invites all the relatives to stay in her mountain mansion, Greylock, for a week to study them. She threatens those who are no shows will automatically be cut off from her will. She believes one of them will try and kill her for the money and wants to trap the murderer.

They all show up at the midnight hour requested. There's Garson, his wife Maxine (Minerva Urecal), Larry Denham  (Philip Trent), Tom Denham (John James), and Tom's mother Martha (Isabelle LeMal). Also in the house are the live-in paid companion Mary (Hazel Keener), Garson's cousin, and the help—Katie the cook (Kay Deslys), Michael the chauffeur (Dave O'Brien), and Eric the gardener (Lee Shumway). The next-door neighbor, an elderly gardener, Trowbridge Cadwalader Montrose (J. Arthur Young), is a frequent visitor.

Cassie also invites the wise-cracking NY Register newspaper columnist Bob White (Wallace Ford), his girlfriend secretary Nora O'Brien (Marian Marsh) and the genial photographer Eddie (Herb Vigran), who covered the trial at the request of Garson. He wants the press at the mansion because he sees the invitation as more of a reason to believe that Cassie is crazy and he fears that she plans to kill them all during their visit.


There will be three murders. The first has Garson knifed to death in the library. This brings in Sheriff Boggs (George Guhl) to investigate. It's followed by the murders of Larry and Tom Denham. The bodies of the first two corpses keep disappearing and then reappearing, which has the sheriff puzzled. But we observe that the house has secret passages and concealed panels in all the rooms, as the murderer hides behind the walls.


In the end, Cassie sets a lunatic trap to smoke out the killer. There's also a surprise when her money is revealed.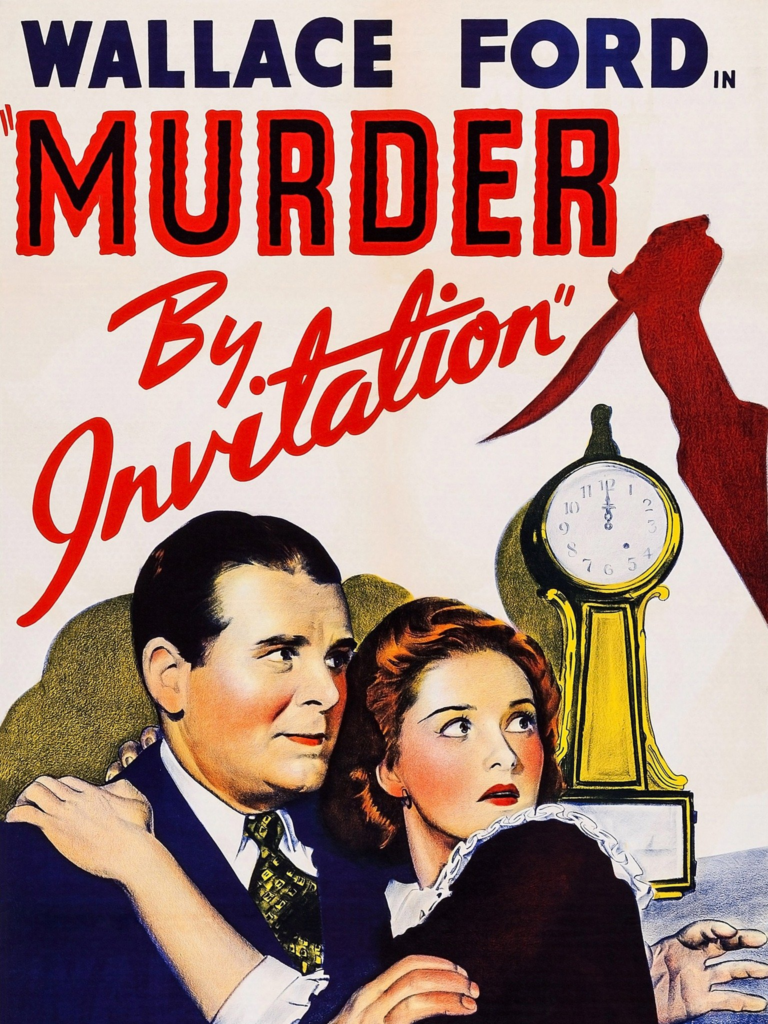 REVIEWED ON 7/8/2023  GRADE: B+