MICKEY HARDAWAY
(director/writer: Marcellus Cox; cinematographer: Jamil Gooding; editor: Jamil Gooding; music: Daniel Carlos Alfaro; cast: Rashad Hunter (Mickey Hardaway), Stephen Cofield Jr. (Dr. Cameron Harden), David Chattam (Randall Hardaway, father), Kimberly Christian (Voice of Reason), Charlz Williams (Mr. Pitt, guidance counselor), Gayla Johnson (Jackie Hardaway, mother), Samuel Whitehill (Nathan Hammerson), Dennis LA White (Joseph Sweeney,Art Teacher), Ashley Parchment (Grace); Runtime: 105; MPAA Rating: NR; producer: Marcellus Cox; Indie Rights; 2023-B/W)
"Delivers an angry message with a sense of urgency."
Reviewed by Dennis Schwartz

A social issue film that marks the auspicious directorial debut for the talented Los Angeles based writer-director Marcellus Cox. The filmmaker here expands his prior short film.

The drama chronicles the embittered life of the L.A. teen Mickey Hardaway (Rashad Hunter), a Black sketch artist/animator who suffers from years of abuse at home and later in his career. He seeks therapy with a shrink (Stephen Cofield Jr.), but things worsen and he begins to head down a violent path.

Mickey states "life is the problem, people and family are the issue." The family he refers to is his abusive father (David Chattam), who he calls out as a 'dick.' Dad downplays his son's supposed talents as an artist, and tosses in the garbage the letter received of Mickey getting a scholarship to an art school. Later on dad gets angry at his career choice, even if his art teacher (Dennis LA White) believes Mickey's animation project will bring him success.

But Mickey's problems go beyond bad parenting.

When Mickey finds romance with Grace (Ashley Parchment) there's hope her warmth can keep him in check, but even she can't calm him down.

The ambitious Mickey gets a chance to work with a veteran animator (Samuel Whitehill), but he withdraws the offer when he can no longer take the kid's bad attitude.

Instead of offering excuses for his fucked-up subject, Cox offers us ways of understanding him. He even gets the kid to own up to his faults by having him admit that "I don't know how to love."

The poignant film delivers an angry message with a sense of urgency.

Cox's film reminds me of the way Charles Burnett made films, especially his "Killer of Sheep" (1978).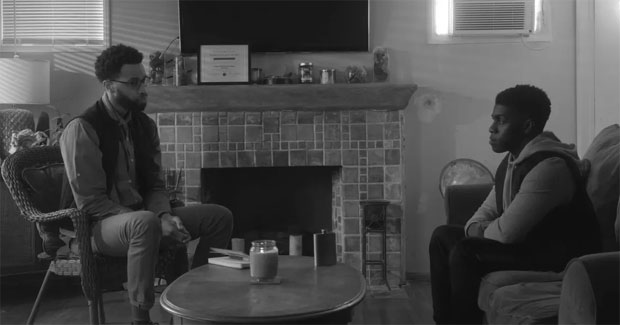 REVIEWED ON 7/18/2023 GRADE: B+