MASTER GARDENER
(director/writer: Paul Schrader; cinematographer: Alexander Dynan; editor: Benjamin Rodriguez; music: Devonte Hynes; cast: Joel Edgerton (Narwel Roth), Sigourney Weaver (Mrs. Norma Haverhill), Quintessa Swindell (Maya Core), Esai Morales (Oscar Neruda), Eduardo Losan (Xavier), Rick Cosnett (Stephen Collins), Victoria Hill (Isobel Phelps), Jared Bankens (R.G.); Runtime: 107; MPAA Rating: R; producers: David Gonzales/Amanda Crittenden/Scott LaStraiti; Magnolia Pictures; 2022)
"I felt best when it went on and on about the rudimentary things about gardening and felt lost when it turned to its unconvincing crime story contrivances."
Reviewed by Dennis Schwartz

Paul Schrader ("Auto Focus"/"Blue Collar") directs and writes this unfulfilling crime drama.

It's set at a prosperous former plantation somewhere in the Deep South called Gracewood Gardens, that's ruled over by the imperious dowager heiress Mrs. Norma Haverhill (Sigourney Weaver). Her head gardener is the eerily quiet Narvel Roth (Joel Edgerton), who has a kinky boss-worker relationship.

Narvel is asked by Norma to have her estranged mulatto grand-niece, Maya (Quintessa Swindell), be his apprentice in the summer to learn about gardening in case she inherits the garden (used as the film's metaphor for change). Maya tells the gardener she lives in a rough neighborhood, and is threatened by a drug gang. Narvel seeks to protect her, and in the process his secret violent past surfaces (he was a neo-Nazi) and he reveals some other secrets about who he is.

As the story goes on, taking a weird turn to violence, the viewer never learns how the austere Narvel, who feels compelled to sit in his room for lengthy time and write his diary, met the boss and what led him to become this great gardener.

This film is the last leg of a trilogy, that started with First Reformed (2018) and followed with The Card Counter (2021)- They're all about lonely men on an inner search for self-awareness. This one felt too creepy for me to fully embrace, but it had a few brilliant Schrader moments. I felt best when it went on and on about the rudimentary things about gardening and felt lost when it turned to its unconvincing crime story contrivances.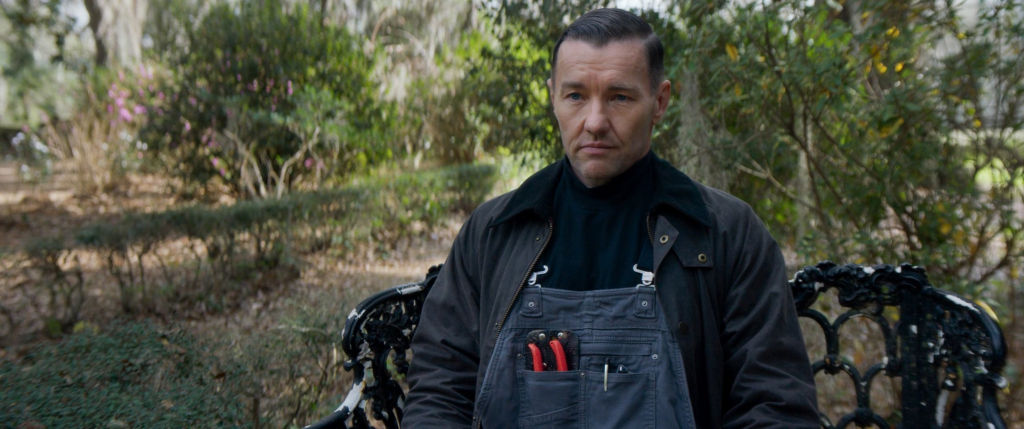 REVIEWED ON 5/27/2023  GRADE: C+